UConn students and administrators, joined by state and local officials, celebrated the start of construction on the University's new downtown Hartford campus by breaking ground and raising the UConn flag at the site Monday.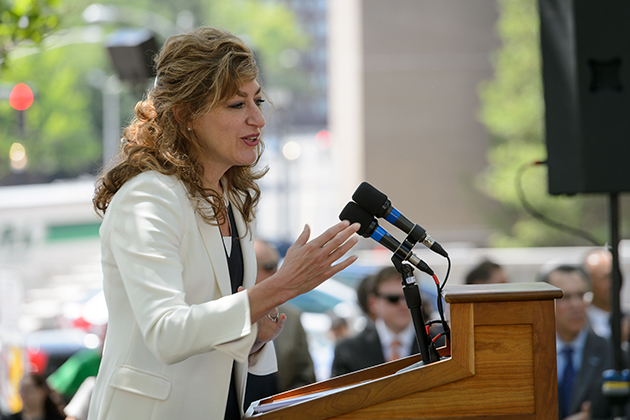 The campus will be anchored by the former Hartford Times building, where UConn President Susan Herbst was joined Monday by Gov. Dannel P. Malloy, UConn Board of Trustees Chairman Larry McHugh, Hartford Mayor Pedro E. Segarra, several legislators, and a crowd of other guests to celebrate the event.
The downtown campus will open for classes in fall 2017 with about 2,300 students and 250 faculty members. Construction includes the addition of a new attached five-story building, while retaining the iconic Beaux-Arts façade of the 95-year-old Hartford Times structure.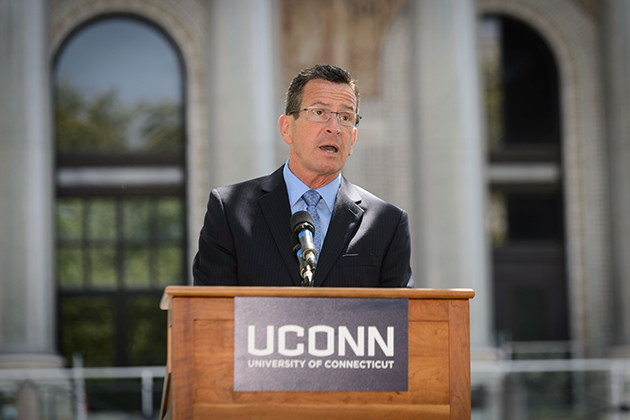 "With the creation of this downtown campus, we are helping to create a brighter, better tomorrow for students living in Hartford and nearby communities," said Gov. Dannel P. Malloy. "Returning UConn back to downtown Hartford will bring students closer to key resources within the city, better enable the campus to fulfill its urban education mission, and add vitality to downtown and the surrounding neighborhoods.
"The University of Connecticut and its fellow state universities are enacting a vision to make Connecticut home to the best educated, most skilled, and most productive workforces in the nation," Malloy continued. "The investments we are making now are critical to our economic development strategy, and will ensure that our state is home to workers with globally competitive skills that will attract 21st-century jobs."
The $115 million project is funded primarily through Next Generation Connecticut, the initiative supported by Malloy and the Connecticut General Assembly to expand STEM education and other offerings at UConn to drive economic growth and vitality throughout the state.
A return to urban roots
The move returns UConn to its roots in Hartford, where it had been located from its opening in 1939 until it moved in 1970 to West Hartford. It also helps UConn fulfill core aspects of its academic and service missions, while establishing a classic urban campus that complements the capital city and will become part of its fabric.
"This is a great day for UConn, but more importantly, it's a great day for Connecticut and its capital city," said University President Susan Herbst. "This neighborhood campus will be a vibrant part of downtown and will be deeply engaged in the life of the community, bringing tremendous benefits to both the city and our students."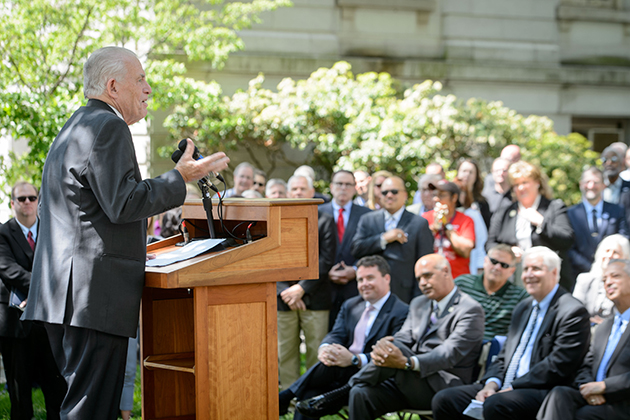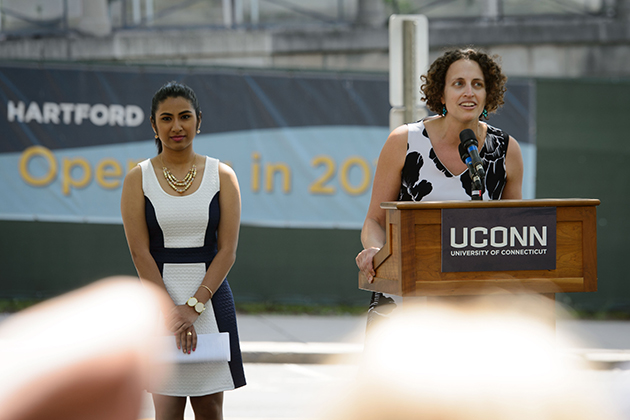 In keeping with the neighborhood campus concept, the building will have an exterior courtyard open daily to the public, and retail stores on three sides of the building to enliven the streets and encourage public visits.
In all, the campus will comprise about 217,000 square feet between the Times anchor building, a nearby building that UConn is purchasing at 38 Prospect St., and space in other nearby buildings in partnership with those neighboring entities.
"The iconic Times building becomes the centerpiece of UConn Hartford and the program spreads out around it, integrating into the neighborhood and community," says Laura Cruickshank, UConn's master planner and chief architect. "Launching this undertaking is a truly major and exciting event in the life of UConn."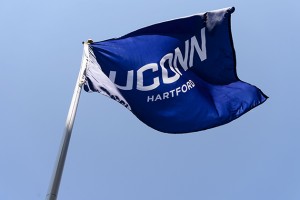 UConn's nearby Graduate Business Learning Center will also be consolidated with the other programs at the new campus, including the Department of Public Policy and School of Social Work. The University will also add a master's degree program in engineering at the campus, along with expanded public policy, urban studies, and education programs.
Being located downtown is expected to offer new experiential learning opportunities for students. They will be closer to internships, service projects, and jobs in urban K-12 schools, government agencies, businesses, nonprofits, and other entities.
"It's exciting to see the new UConn campus begin to take shape," said Hartford Mayor Pedro E. Segarra. "This is another example of revitalization happening downtown, and I eagerly welcome UConn to the neighborhood."
Parking for UConn employees and students will be available in nearby garages – primarily that of the Connecticut Convention Center – under an agreement with the Capital Region Development Authority. The permit costs will closely reflect those paid by UConn employees and students based at Storrs – costs that are far less than market rates for those coveted downtown Hartford spots.
Public transportation in the region is also plentiful, and UConn Hartford will have its own CT Transit stop at the campus. In addition, the University is discussing with the bus company the possibility of establishing a special pass for students, similar to those used by Trinity College students, to ride certain routes for free during the academic year.