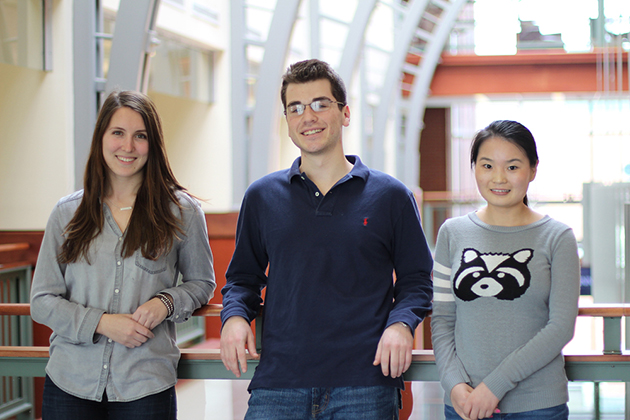 Erin DeMay '15 (CLAS) came to UConn with an interest in studying business and an affinity for learning languages. Though she had taken Latin and Spanish classes in high school, she decided to set her sights on mastering another language that would complement her economics major.
"I knew that I really liked languages and wanted to continue studying them," she says. "China was the second-largest economy in the world at that time, and now it's the first. So to me, studying Chinese was a no-brainer."
This May, DeMay will become one of the first UConn students to graduate with a Chinese major, thanks to a new program track in the College of Liberal Arts and Sciences. This Chinese program allows students from across the University to closely examine the language, history, and politics of one of the oldest and most far-reaching cultures in the world.
"It's an important major to have at such a large university, and the language and cultural elements are critical," says Chinese and accounting double major Marc Schuman '15. "To be able to travel, live somewhere else, and be in the position of the immigrant gives you a lot of perspective."
The Chinese Experience
Housed in the Department of Literatures, Cultures, and Languages, the Chinese major and minor programs were approved by UConn's Board of Trustees in 2014. Less than a year later, the track has attracted more than a dozen majors and nearly as many minors, with three Chinese double-majors graduating in the Class of 2015.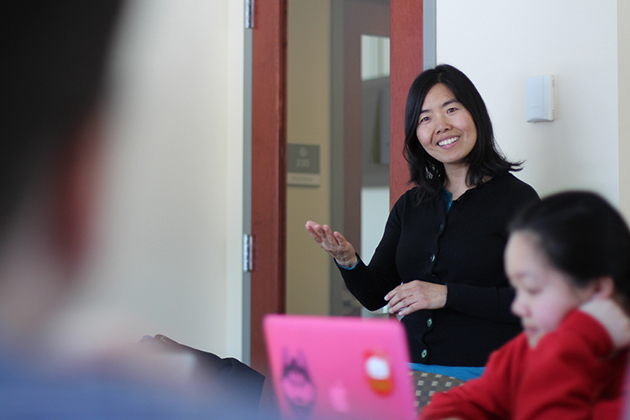 Assistant professor of literatures, cultures, and languages Liansu Meng, one of the Chinese program's primary advisors, says that students had become increasingly interested in the introductory-level Chinese courses offered at UConn over the past few years. The new Chinese program track now allows her and her colleagues to offer a well-rounded collection of advanced language, literary, and cultural studies courses.
"These courses can not only help student become better businesspeople, but also just develop more sophisticated perspectives on life," says Meng. "We talk about issues like gender, class, diversity, ecology, and equality on a global level. These things help students become more thoughtful global citizens."
Many of the students in the program have complementary majors in business-related subjects, and for good reason: China is the most populated and economically influential nations in the world, and an important trading partner of the United States.
Schuman says the curriculum is an excellent preparation for students who want to go into international business.
"We learn about Chinese culture and issues like pollution, economic growth, and over-population, as well as about traditional culture, relationships between people, and marriage," says Schuman. "I learned a lot about gender studies in these courses, and I've found it very interesting. I never would have taken a course like that otherwise."
The program also attracts students with a wide array of academic interests – ranging from molecular and cell biology to human development and family studies to engineering– and a mix of both second-language learners and native Chinese speakers.
Yanyan Freitag '15 (CLAS), a double major in mathematics-statistics and Chinese, came to the United States in 2008 from Kaifeng, Henan, China. She initially took courses in Chinese to refresh her memory on the written language, but says that her additional major will be essential if she decides to pursue a career in mathematics education.
"They say that Chinese characters are special. If you don't use them for a long time, they can be difficult to write," she says. "If I really want to become a teacher or tutor, I will have more choices with this degree."
Abroad and Beyond
Students in the Chinese program are also encouraged to travel abroad – an experience they say is essential for developing fluency and preparing them for life after graduation.
"Just being in China and being in such a radically different culture from what I was used to was really a new and interesting experience," says DeMay, who studied at Fudan University in Shanghai in 2013. "The one big thing I can take away from study abroad is fluency."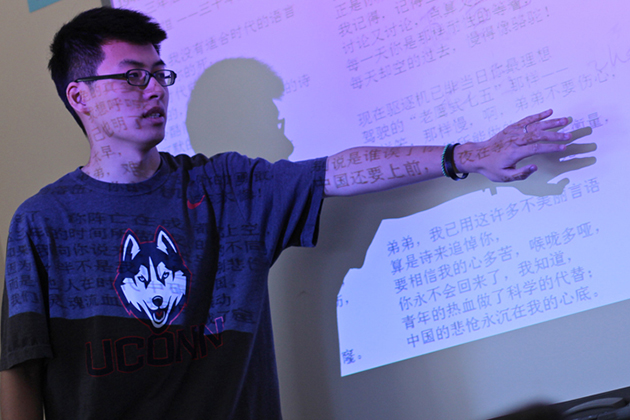 Schuman visited China three times, most recently in 2014 to study at the University of Nottingham in Ningbo.
During that trip, Schuman also interned with Moody's Corp. in Hong Kong. He landed the opportunity thanks to Thomas Marshella '79 (BUS), managing director of U.S./Americas corporate finance for Moody's Investors Service, whom Schuman met at a scholarship event on campus.
"He was shocked that I was majoring in Chinese, so the major has already opened a lot of doors for me," he says.
Schuman plans to work for PricewaterhouseCoopers in New York City after he graduates, and hopes to one day find an opportunity to move to Hong Kong.
DeMay has accepted a full-time position after graduation at Aetna, where she has interned and worked as a co-op student. There, she will work in a two-year consumer business professional development program, and hopes to keep her language skills sharp through her involvement with an Asian employee resource group.
Freitag, who is currently studying to take the GMAT exam and is also interested in teaching, says that she is certain of the personal and professional benefits of her Chinese major.
"There have been so many big changes in China since I left," she says. "We talk so openly [in our classes] about what's going on in China – about business, culture, modernization, and its relationships with different countries. Everything for me is so new."
Her classmates also say that the major has helped shape how they view themselves in the global community.
"It is important to be knowledgeable to a certain extent about other cultures – to understand more about the people you speak with and the world around you," says DeMay. "That's something that will stay with me."