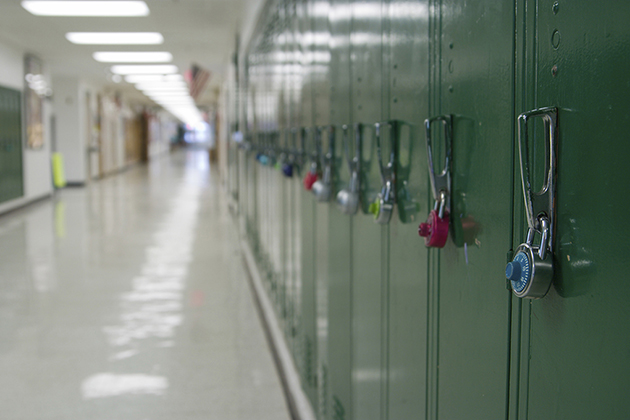 As the public educational system grows increasingly complex, many principals, assistant superintendents, and other educational leaders in school districts across the country are finding themselves having to attend to any number of legal matters throughout the year – from maintaining school safety to addressing cyberbullying to negotiating teacher contracts.
Brian Hendrickson '10 6th Year, principal of City Hill Middle School in Naugatuck, Conn., is one of them. Hendrickson, who earned a law degree prior to embarking on his career in education, says that his work as a school administrator has relied heavily on his background not only in educational leadership, but also in law.
"I use my legal training every single day," says Hendrickson, who is also an alumnus of UConn's Administrator Preparation Program (UCAPP), an educational leadership program offered through the Neag School of Education. Citing such issues as student discipline, special education mandates, and human resources – all of which school administrators face on a regular basis – he says school administrators need to have as much legal training as possible.
Next year, UConn's Neag School of Education and School of Law will partner for the first time to address this need head-on, launching a new graduate program designed for working professionals interested in obtaining a law degree as well as certification as an educational administrator. The program is believed to be the first of its kind in the nation.
A New Option for Aspiring School Leaders
The new program, slated to launch in fall 2016, will combine the Neag School's UCAPP program in educational leadership with the Law School's JD program. Graduates of the program will be able to seek admission to the bar and, upon completing five years of teaching, will also become eligible for endorsement as a Connecticut Intermediate Administrator, a statewide certification (CT-092) required of educators intending to serve as administrators in Connecticut's schools.
For aspiring principals, curriculum coordinators, assistant superintendents, and other would-be educational leaders, such a program will offer an option tailored for those interested in learning how to manage the wide variety of legal issues that school administrators encounter.
"So many times, administrators get themselves in hot water because they don't understand the legal ramifications of some of their actions," says Hendrickson. "Leaders can get bogged down in conflicts and issues that, if they had more training, they might have a clearer perspective and be able to be more efficient with teaching and learning."
Ted Donahue '07 6th Year, another school principal and UCAPP graduate, says he, too, can see how school administrators may benefit from having greater familiarity with legal issues. "I think the regulatory side of education at both the state and federal levels is becoming increasingly complex, and an understanding of the law can help one navigate that," says Donahue, principal of Irving A. Robbins Middle School in Farmington, Conn.
Like Hendrickson, Donahue had earned a JD prior to beginning his career in education. A law degree, he says, "teaches you to ask the right questions. It helps you work with people toward a common goal. It helps you examine issues through multiple lenses, and to look for common ground in order to find creative solutions to complex problems."
Enriching Public Education
Meanwhile, "states are also beginning to recognize the importance of legal training in the operation of schools and school districts," says UConn professor Preston Green III, who initiated and designed the program. Green, who has a JD from Columbia University, serves as the John and Carla Klein Professor of Urban Education in the Neag School of Education and has an affiliate appointment with UConn Law. "Our expectation is that this JD/UCAPP Program will provide a pathway for young people who wish to pursue careers that combine education and law," he says.
The program will incorporate UCAPP coursework into the JD degree requirements. Topics will include education policy and school climate – as well as an internship that places participants in public schools run by educational leaders with a successful track record of running highly functioning schools.
"It's a nice fit, and it's exciting to see two very different branches of UConn coming together for a common goal," Donahue says.
Hendrickson says he anticipates that this type of combined program will enrich public education. "If you have leaders who are able to sift through the issues and be as efficient as possible and make decisions that are solid," he says, "they can spend more time working on high-quality teaching and learning. This really gives an option for leaders who want to be in the know as much as possible."