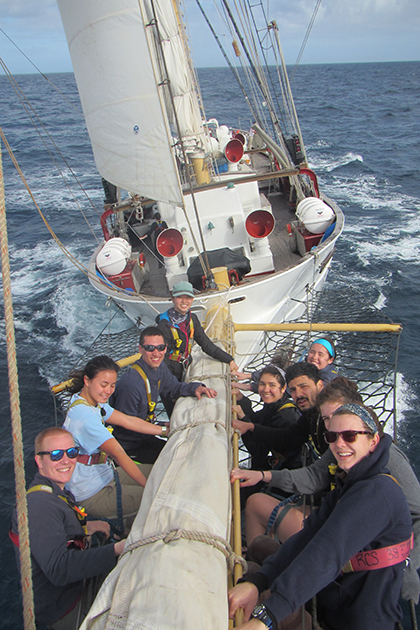 For some, the words 'study abroad' may conjure thoughts of London or Paris or Tokyo. But for three UConn marine sciences students this past spring semester, it meant taking to the high seas aboard a sailing ship equipped with sophisticated research facilities.
Tim Bateman '16 (CLAS) and Maya Thompson '16 (CLAS) spent five-and-a-half weeks sailing from New Zealand to Tahiti on the Sailing School Vessel (SSV) Robert C. Seamans, a 134-foot steel brigantine – a two-masted sailing ship – fitted with some of the most advanced oceanographic equipment in the world.
Olivia Robson'16 (CLAS) embarked on the SSV Corwith Cramer, another two-masted brigantine that also boasts state-of-the-art research facilities. Her voyage started in Puerto Rico on April 20 and took her to Bermuda and the Sargasso Sea in the North Atlantic, before docking in New York City a month later.
The programs that enticed the three UConn students to take to the high seas are collectively known as SEA Semester, and they are run by the Sea Education Association (SEA), an internationally recognized leader in undergraduate ocean education with an emphasis on developing environmental literacy. The educational focus of the semester for Bateman and Thompson's Pacific voyage was 'The Ocean and Climate', while Robson's North Atlantic voyage concentrated on 'Marine Biodiversity and Conservation'.
We were on ship 24 hours a day, studying, doing research, and learning to actually sail the ship. We stood watch and navigated by the stars. — Maya Thompson '16 (CLAS)
"I was attracted to what SEA Semester offered," Bateman says, "because it was so different from other study abroad opportunities. I figure that someday I can go see the Eiffel Tower or the Great Wall of China traveling on my own, but having the chance to spend time studying in Woods Hole, on Cape Cod, and then sailing in the South Pacific, was an opportunity too good to pass up."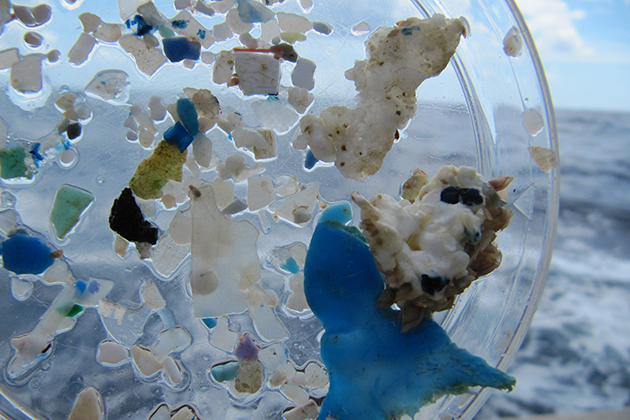 Before boarding one of the two ocean research vessels, students attending a SEA Semester program typically spend about six weeks in the classroom taking courses such as 'Ocean Science and Public Policy' and 'Oceans and the Global Climate Cycle.' They plan their seagoing research activities and also learn nautical science – literally how to sail a large ship – which is one of the requirements of the program.
Thompson calls the trip a life-changing experience due, in part, to the amount of discipline it required. "We were on ship 24 hours a day, studying, doing research, and learning to actually sail the ship. We stood watch and navigated by the stars. It was unlike anything I could ever imagine."
An unexpected benefit, she says, was going without Internet access for weeks at a time. "We were actually relegated to person-to-person contact for all those weeks when we were under sail, and when it came time to reconnect with the outside world through our smart phones when the voyage was over, it was kind of a shock – and not necessarily a welcome one!"
Prior to their trip, Bateman and Thompson were advised to pack everything from long johns and warm jackets to shorts and tee shirts. They soon discovered why, as they encountered all kinds of weather and variable sea conditions during their time on board ship.
"People probably think of the South Pacific as being sunny and calm," Bateman says, "but we experienced everything from 40-degree weather with 40 mile-an-hour winds and 20-foot waves, to lightning storms, to temperatures up over 100 degrees as we approached Tahiti. I was at the helm during some of the wildest weather – when the edge of the deck actually dipped to the water's level before the ship's natural buoyancy popped it back up again – and it was fun."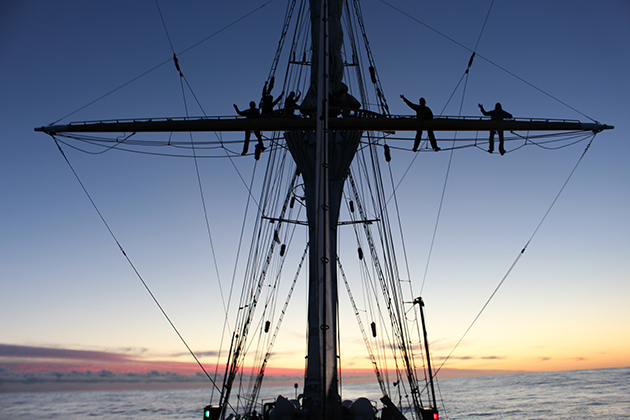 Some of the scientific study aboard the Robert C. Seamans included measuring how wind speed affects the temperature and concentration of salt in the 'mixed-layer' of the ocean, which is the layer between the ocean surface and a depth usually ranging between 80 and 650 feet. Other studies focused on various sea creatures, including phytoplankton – microscopic organisms that are part of the ocean's food chain – and terrapods, small sea snails that are important because the condition of their shells is a good indication of how acidic ocean waters are becoming, which, in turn, is a sign of global warming.
Robson is a native of Massachusetts, and she had previously participated in a summer program sponsored by SEA Semester when she was in high school, so the nautical elements of the semester weren't a surprise to her. She chose the Marine Biodiversity and Conservation program because of its academic rigor and emphasis on science.
She and her shipmates studied the diversity of various economically and ecologically important species in the Sargasso Sea – a 2 million-square-mile elliptical-shaped region of the North Atlantic Ocean. It gets its name because it harbors large amounts of free-floating seaweed called Sargassum, which provides a home to a wide variety of marine species such as shrimp, crab, and many fish and migratory birds.
Robson says she may change her career aspirations as a result of her experience. "I love science, and I have considered a career in research after graduate school," she says. "But one of our team projects has been the development of a management plan for the Sargasso Sea – my particular topic has been shipping – and I've become very excited about policy issues surrounding marine conservation.
"That's one of the best things about this program," she adds. "You get to do real work with people who are leaders in their fields – you are part of a crew on board ship, and part of a team when you're in the classroom – you learn by doing every step of the way. It's a great experience."