For the 2015-2016 academic year, the UConn Reads Steering Committee has selected the theme "Race in America." The theme is both provocative and poignant, especially in juxtaposition to various current events (such as Ferguson, Baltimore, and #blacklivesmatter) and several significant anniversaries, including the 50th anniversaries of the March on Selma and the subsequent passage of the Voting Rights Act of 1965. The year 2015 is also the 50th anniversary of the 1965 Immigration and Nationality Act, which removed – for the first time in U.S. history – race-based, nation-based quotas from immigration law. 
The committee welcomes your nominations for the 2015-16 UConn Reads selection, which can be submitted online. The deadline for nominations is Aug. 1.
Set in the tragic context of the recent Emanuel A.M.E. Church shooting in Charleston, S.C., and situated adjacent to seemingly endless reports of racial profiling and police brutality, this year's UConn Reads theme – "Race in America" – strikes a decidedly somber and all-too-relevant chord.
These events prompt a profound rethinking of the current state of race affairs in the United States; they likewise necessitate a need to reflect on our racist past and contemplate our still-racialized present. That is to say, such occurrences make visible the degree to which the United States as a diverse nation continues to profoundly struggle in matters of race.
This particular acknowledgement of "struggle" – which carries with it a sense of wrestling with America's racial past and present – is evident in one recent UConn Reads nomination: Harper Lee's To Kill a Mockingbird.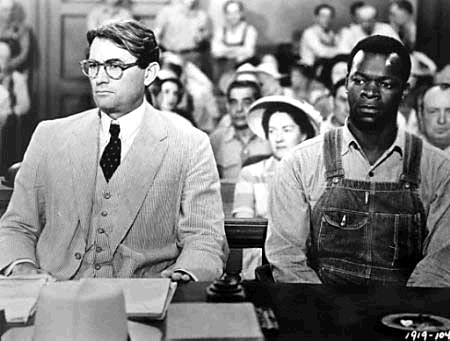 To Kill a Mockingbird was published in 1960; to date, the novel has sold more than 30 million copies, has been translated into over 40 languages, and has never been out of print. Now considered an American literary classic, Lee's debut novel – focused on racial injustice in Depression-era Maycomb, Ala. – has as its narrator six-year-old Jean Louise Finch, better known as "Scout," and features the now iconic Atticus Finch, a progressive lawyer appointed to defend Tom Robinson, an African-American male falsely accused of raping a young white woman, Mayella Ewell.
Despite the novel's success – it was the recipient of the Pulitzer Prize and is a staple in secondary school curricula – To Kill a Mockingbird remains a controversial work, in part due to its subject matter and use of racial epithets. According to the American Library Association, the novel is one of the most challenged books of all time: in 2011 alone, it ranked in the top 10 of books challenged that year.
In just a couple of weeks, on July 14, Lee's follow-up novel, Go Set a Watchman, will be published. Originally written during the 1950s, Go Set a Watchman is set roughly 20 years after To Kill a Mockingbird, and focuses on a now adult Scout Finch, who travels from New York to Maycomb, Ala. to visit her aging father.
[To Kill a Mockingbird's] focus on race matters, along with its depiction of racialized and gendered violence, makes painfully clear its relevance to the present. — Cathy Schlund-Vials
While seemingly set in a very distant past marked by Jim Crow laws and untouched by the Civil Rights movements of the 1950s and 1960s, To Kill a Mockingbird is both a product of its time and a potent reflection of our own. Lee's novel, after all, was published in the aftermath of Brown v. Board of Education (1954), Emmett Till (1955), and the integration of Central High School in Little Rock, Ark. (1957).
Its focus on race matters, along with its depiction of racialized and gendered violence, makes painfully clear its relevance to the present. And whereas peaceful sit-ins in Greensboro and marches on Washington have become part of a dominant movement narrative, what is at times forgotten is the very real violence experienced by protestors and people of color – young and old – and the extent to which for many "the right side of history" meant continued segregation and sanctioned racial oppression.
The recent debates over South Carolina's Confederate flag – along with Dylann Roof's murderous intent to start a "race war" – underscore that, despite the passage of more than 150 years since the American Civil War, 50 years since the enactment of the Civil Rights Act of 1964, and in the age of Obama, we like Scout must continue the struggle against systemic racial injustice and racialized violence.
The UConn Reads program was created to bring together the University community – from students, faculty, and staff to alumni and friends of UConn, as well as citizens of Connecticut – for a far-reaching and engaging dialogue centered on a book suggested by the community.