For the 2015-2016 academic year, the UConn Reads Steering Committee has selected the theme "Race in America." The theme is both provocative and poignant, especially in juxtaposition to various current events (such as Ferguson, Baltimore, and #blacklivesmatter) and several significant anniversaries, including the 50th anniversaries of the March on Selma and the subsequent passage of the Voting Rights Act of 1965. The year 2015 is also the 50th anniversary of the 1965 Immigration and Nationality Act, which removed – for the first time in U.S. history – race-based, nation-based quotas from immigration law. 
The committee welcomes your nominations for the 2015-16 UConn Reads selection, which can be submitted online. The deadline for nominations is Aug. 1.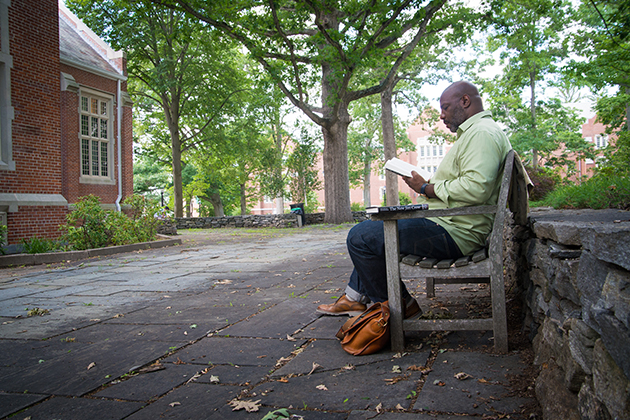 In the summer of 1984, I was a gangly, 14 year-old outfielder for a local baseball league in Queens, NY. We were a middling collection of neighborhood kids, decent enough to compile a winning record but not so good as to warrant any particular attention. I remember little of that season, but the details of one particular afternoon after a game have remained sharp in my memory ever since.
I was heading home, dressed in the gray and orange uniform of the Laurelton Summer League, when a police car pulled up beside me. The officer in the passenger seat asked me where I was going, and upon hearing me respond that I was a few blocks from home, he exited the vehicle and said they were investigating gang activity in the area. I was pushed against a mailbox and frisked. The officer checked my bag to be sure that there were no weapons or drugs, and then returned to the car and left.
This happened years before the term "stop and frisk" or "racial profiling" had any currency, but the absence of a descriptive language did not minimize the humiliation and anger I felt that day. I was an honor student, an athlete, and a volunteer at my church. I was also young, African American, and more than six feet tall, and I understood that in the eyes of many, including those officers, the latter qualities weighed more than the former ones did. I also recall thinking, with sad accuracy, that I'd crossed a threshold and that experiences like that one – experiences my parents had warned me about and tried to prepare me for – would now become a common feature in my life.
What we commonly refer to as the "Obama Era," the somewhat self-satisfied moment in which the United States has marveled at the progress represented by the election of the first black President, has also coincided with a heightened awareness of the realities of race and policing in the United States. This dynamic became clear early on. In the spring of 2008, many African Americans were torn between euphoria at Barack Obama's rising Presidential prospects and frustration at the acquittal of three police officers who had shot Sean Bell, an unarmed African American, as he celebrated with friends the night before his wedding.
Those kinds of contradictions are a sadly consistent theme in American social history. More than any other institutional problem, policing and criminal justice have been the most consistently explosive racial flashpoints in the United States. In Harlem, riots erupted in 1935, 1943, and 1964, each in response to incidents of police brutality. Similar eruptions took place in Detroit, Newark, Watts, Miami, Los Angeles, and many other cities for strikingly similar reasons. That upheaval often occurred in the context of social progress – the Watts Riot of 1965, for instance, erupted just five days after President Lyndon B. Johnson signed the Voting Rights Act. We've grappled publicly with this issue recently – with the deaths of Trayvon Martin and Jordan Davis, and with the contentious debates surrounding policing in Ferguson, Mo. and Baltimore, Md.
These dynamics have been charted in works like Khalil Muhammad's Condemnation of Blackness, Michelle Alexander's The New Jim Crow, David Oshinsky's Worse than Slavery, and Bryan Stevenson's Just Mercy. These questions have also animated both my personal and professional interests in the ways race intersects with American society. Sean Bell died in Queens, not far from the neighborhood where the police stopped me after my game many years earlier. I necessarily wondered if I might've suffered the same fate that day.
One of the simplest and most consistent responses to African American claims of unfair treatment at the hands of police has been to cite the higher incidence of crime in black communities. Yet those arguments also tacitly accept the idea that in a society that prizes individual rights a person's relationship to government should in some way be determined by their demographic category. It's an idea that would scarcely be acceptable were it applied more broadly in the United States.
The issues of race and policing are vexing and complicated, but one thing remains certain: there can be no real solutions that don't fully take the humanity of every single individual into account.
The UConn Reads program was created to bring together the University community – from students, faculty, and staff to alumni and friends of UConn, as well as citizens of Connecticut – for a far-reaching and engaging dialogue centered on a book suggested by the community.