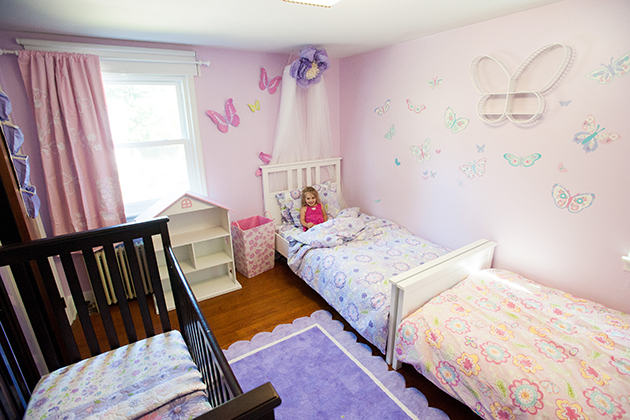 When three-year-old Grace Greiner walked into her (very) purple bedroom, to say she was thrilled is an understatement.
Like a lot of little girls, Grace really, really likes the color purple. She had even picked out the color scheme herself, adding just enough pink to make things interesting. And when she saw what her friend Jonathan had accomplished with volunteers from UConn's Avery Point campus over three days in August, she couldn't stop smiling.
"Her eyes were as big as saucers. She was so happy she wanted to climb right into bed to take a nap," says her mother Krista, remarking that it was an unexpected reaction from the normally energetic youngster. "She was just overwhelmed."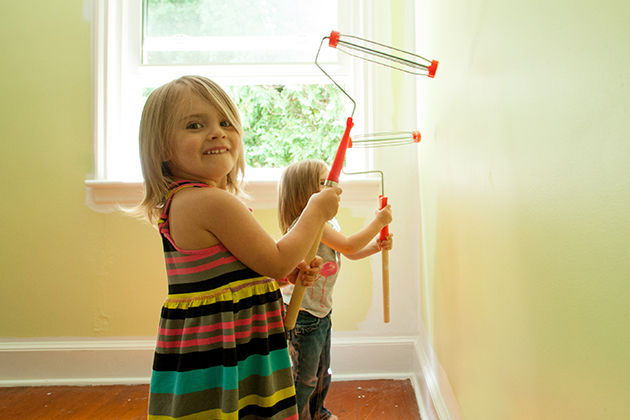 Grace is a cancer survivor. She has undergone successful treatment for a rare form of liver cancer called hepatoblastoma. Her friend is UConn student Jonathan Markovics '18 (CLAS), who was awarded an IDEA grant for 'Color Out Cancer,' his plan to give pediatric cancer patients a complete makeover of their bedrooms.
Grace, who lives in Uncasville, Conn. with her parents and three sisters, is one of two recipients of this special gift this summer, and her relationship with Jonathan is solid.
"Gracie is such a happy and fun little girl, with such a caring heart. She was always offering to help me, and was so excited to have us redecorate her room," Markovics says. "When she and her sisters walked past the room before we were finished, they always covered their eyes with their hands so they would not peek. The bedroom now matches her personality, exploding with her favorite colors, purple and pink, with butterflies galore, and a comfy reading area for her to learn and grow. "
UConn launched the IDEA grants program two years ago with the idea of providing undergraduates in any major a stipend of up to $4,000 to develop innovative, creative, and personally meaningful projects. While the ideas don't have to be tied to a major or minor field of study, they do need to be guided by a student's academic goals and plans for the future.
"I saw the IDEA grants advertised," says Markovics, an American Studies major at Avery Point, "and I immediately thought of a project that I'd participated in in high school. It was similar to Color Out Cancer, but everything was kept secret until the room was revealed. I wanted to develop a program where the kids were fully involved in the decision-making process."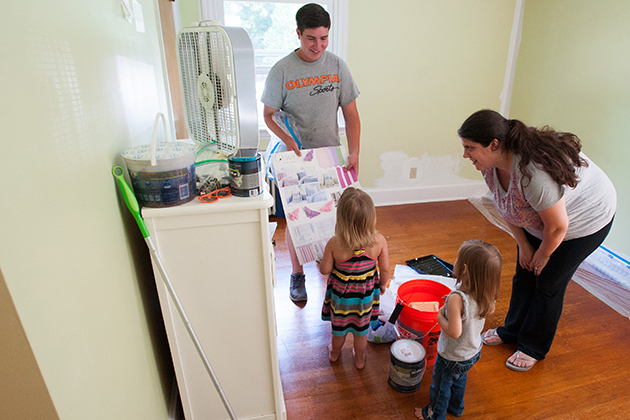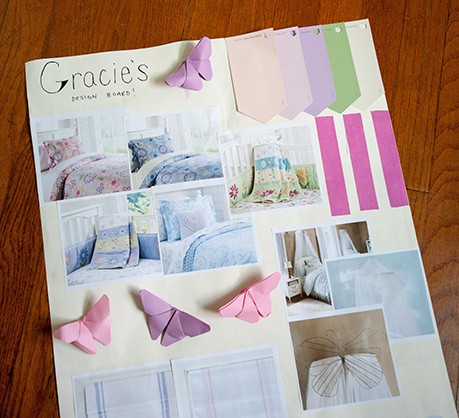 That, according to Krista Greiner, was a stroke of genius. "First, we were so excited that Grace had been chosen to have her room redone. With all the expenses surrounding her illness, we couldn't have afforded to do this ourselves.
"But what really made this special," she adds, "is that Jonathan involved Gracie from the start. He focused on her needs, and she gave her approval every step of the way – and that included changing her mind about a million times.
"This is really important, because when you are a cancer patient you don't have control over what happens to you. It's the medical people coming in and getting into your personal space. It's having to live by someone else's schedule. Even at three, that was probably the hardest thing for Grace to go through. I'm sure Jonathan doesn't even realize how significant that making her part of the whole process was, but it was a blessing."
For Markovics, the process of applying for the grant, doing all the planning, purchasing furniture and supplies, recruiting volunteers, and dealing with family members was both a learning experience and a labor of love.
"The Greiner family's appreciation and happiness from the room makeover is very touching," he says. "Gracie's gratitude at such a young age is truly inspiring. The bedroom makeover is our way of giving back to Gracie and her family, and bringing a smile to their faces every day."
Lisa Hastings who serves as the community outreach program coordinator at Avery Point says that the rising sophomore is the type of student who loves a challenge and has the ability to get his peers involved in a cause.
She notes that Markovics has already been a Student Outreach leader, a Husky Ambassador, an Alternative Break leader, as well as the recipient of an IDEA grant. He also runs a student group at Avery Point called "UConn Makes a Difference," and they reach out to the community in a variety of ways.
"I can't say enough about this positive, encouraging young man who has made himself not only a leader, but a role model for all students," Hastings says.
As for Markovics, he thinks maybe he'll end up doing market research and analysis for a non-profit or small business sometime in the future. But as a sophomore, he's still got three years as an undergraduate in which to champion the cause of student involvement at UConn.