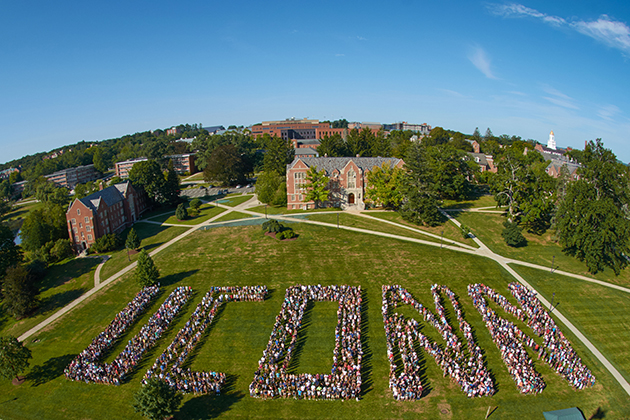 UConn is set to welcome its largest-ever freshman class, as thousands of students who have demonstrated academic excellence and potential for success will join the undergraduate student body this week at Storrs and campuses statewide.
The University is welcoming about 5,200 freshmen, including 3,800 at Storrs whose SAT scores place them among the most highly accomplished to join UConn in its history. About 1,100 students are also transferring to UConn from other colleges and universities, primarily from elsewhere in Connecticut.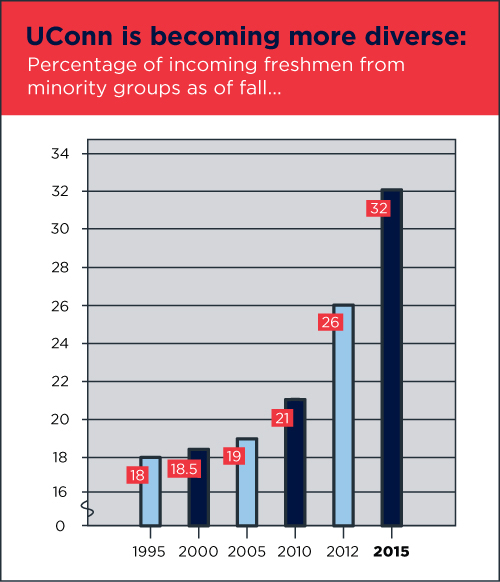 Although the number of high school graduates has decreased in the state and region, UConn is drawing an even larger slice of that shrinking pie – without compromising on its high acceptance standards and academic rigor.
"Our ability to offer an outstanding education and student experience at a competitive value for families continues to draw many of the very best students to UConn from across Connecticut, the nation, and the world," says UConn President Susan Herbst.
"This is the largest new class we have ever enrolled, and their high academic quality and diversity is another great example of how investments in UConn by the state and our donors are paying off," she adds. "We are proud to welcome every new class and do our part to keep great students in Connecticut, and bring new people to our state every year."
A record number of this year's freshmen have been accepted into UConn's competitive Honors Program, and almost one-third of the members of the Class of 2019 are from minority groups, making it one of the most ethnically diverse to join the University.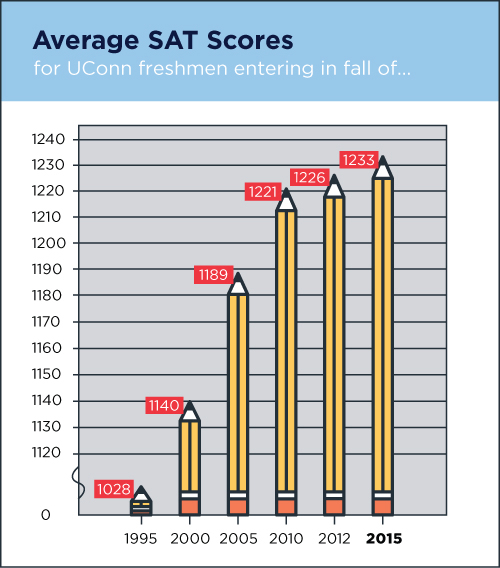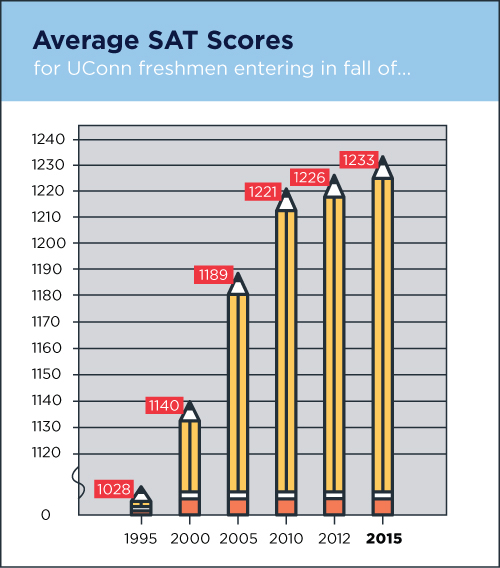 The Class of 2019 at Storrs had an average SAT score of 1233 – a significant increase over the 1221 average just five years ago.
This year's freshmen will witness many major milestones during their time at UConn, including the opening of the University's new 727-bed STEM residence hall and its new Engineering and Science Building, and the return of the Hartford campus to its city roots with the opening of a downtown campus in 2017.
In all, about 23,000 undergraduate students are set to resume classes Monday, with about 18,000 based at Storrs and the others attending UConn's campuses in greater Hartford, Stamford, Waterbury, Avery Point, and Torrington.
This year's freshman class includes 535 students enrolling in the highly selective Honors Program. With an average SAT score of 1405, they are the cream of an already illustrious crop, and the largest number of Honors Program students to enroll in UConn in a single year.
Over the past 20 years, the average SAT score of incoming freshmen has jumped from 1028 in 1995 to this year's average of 1233, and the number of valedictorians and salutatorians in the freshman class has increased from 40 in 1995 to 145 in 2015.
This year's nearly 35,000 applications for spots at Storrs set a new record high.
"We are thrilled with the record number of applicants, which has produced yet again one of the most academically talented and diverse classes in UConn's history," says Nathan Fuerst, UConn's director of undergraduate admissions. "Such strong growth in applications is a powerful endorsement from prospective students, who continue to view UConn as an incredible opportunity for higher education for a great many reasons."
Members of the freshman class will begin moving into Storrs residence halls on Friday, and will be joined by returning students throughout the weekend, with about 12,700 total students expected to live on campus.
Molly Hammack '19 (CLAS) of Granby, Conn., says she looks forward to getting involved in club sports, poetry groups, perhaps student government, and other social activities. She plans to study forensic psychology so she can help reform laws and services for victims of sexual assault and other crimes.
"Granby is a pretty small town, so I'm excited for the opportunity to be in a bigger school environment at UConn," she says. "I really want to meet a bunch of new people from different cultures and backgrounds, and I think UConn is a really good school in terms of providing all of these opportunities to be around different people."
That said, Hammack also will have a comforting reminder of home and an on-campus confidante she already knows: By coincidence, she was paired with one of her fellow Granby classmates as her UConn roommate in the Towers complex.
I always had a dream of coming here, but never really thought it could happen. — Ben Nicholas '19 (CLAS)
Ben Nicholas '19 (CLAS), a resident of Cornwall, Conn., who attended Northfield Mount Herman School in Gill, Mass., says UConn's strong academic programs and financial benefits of in-state tuition made it an ideal choice.
Nicholas, who will study pre-med subjects in preparation for medical school, also is a new member and midfielder on the UConn men's soccer team, as is his roommate, fellow freshman and midfielder Mamadou Moustapha Samb of Dakar, Senegal.
"I used to come to UConn for soccer games as a kid, and I'd sit in the stands and look at the players like they were some sort of gods," Nicholas says. "I always had a dream of coming here, but never really thought it could happen."
"If you'd told me my junior year that I'd actually get the chance to come to UConn and play here, I would have said, 'Shut up, no way,'" he adds. "It's such a strong academic institution and everything about it felt just right, so I decided to go for it. I feel like it's going to be great here for me, all the way around."