Dear Students and Colleagues,
For all those who returned to UConn's campuses this week for the start of the fall semester: welcome back!
As always, the semester promises exciting events and opportunities on all our campuses, thanks in large part to our outstanding faculty, staff, and students.
I wanted to first draw your attention to one in particular:
This year is the 20th anniversary of the Thomas J. Dodd Research Center, located on UConn's Storrs Campus.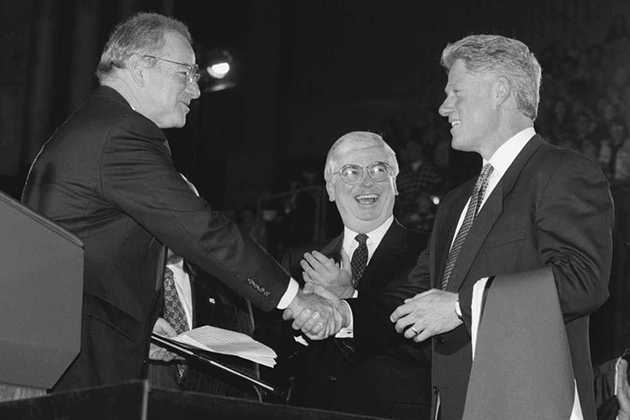 To commemorate this anniversary celebration, President Bill Clinton will be the keynote speaker at the Oct. 15, 2015 ceremony. He will receive the Thomas J. Dodd Prize in International Justice and Human Rights along with Tostan, a vital human rights organization which works to bring about sustainable development and positive social transformation in Africa. President Clinton spoke at the dedication of the Dodd Center when it opened in 1995.
The UConn community is invited to attend this event, to be held in the Jorgensen Center for the Performing Arts on the Storrs campus. Information regarding the distribution of free tickets for the event will be shared later this month.
More information on the award itself and past recipients can be found here.
As you can see, the Dodd Prize is about human rights and social justice. In that same vein, important conversations continued to take place throughout the nation this summer, especially on the issue of race. It is my hope that similar conversations will take place on our campuses; there is no better place for people to discuss the critical issues that face our society than a university, where we are free to argue, agree or disagree, and to challenge one another. For example, I asked that the book selected for this year's UConn Reads campus-wide book program focus on race in America. The hope, of course, is to understand each other more thoroughly and build an even better UConn – not just for this year, but for the long-term.
The Division of Student Affairs and our faculty and staff have organized numerous events this semester on race, civility, speech, and many other issues that are vital to our community. We began this past Sunday with a moving event on The Race Card Project hosted by Michele Norris, former host of National Public Radio's All Things Considered.
A list of these events can be found here.  Please watch UConn.edu, UConn Today, and the Daily Digest for these and other events as the semester progresses.
Many of the conversations taking place on university campuses concern diversity, community, and civility. As part of that ongoing effort, UConn convened a Diversity Task Force last October. The Task Force has generated a draft report, including recommendations, which can be found here. I urge you to read it. The University will accept each of its recommendations, beginning with the hiring of an Associate Vice President and Chief Diversity Officer. Please send any feedback or comments you have on the report to Vice Provost Daniel Weiner at Daniel.Weiner@uconn.edu.
Diversity, integrity, excellence, and service are all at the core of our character as Huskies. Living and experiencing these values begins and ends with our students.
Once again: welcome back, and have a wonderful fall semester.
Sincerely,
Susan Herbst
President, University of Connecticut