A $4.3 million grant from the National Science Foundation will allow University of Connecticut researchers to collaborate with colleagues around the world in order to help local governments and communities in Ethiopia's Blue Nile river basin better manage their agricultural and water resources.
The funds, released today, come from NSF's Partnerships in International Research and Education or PIRE program.
"This grant will position the University of Connecticut as a global leader in the multidisciplinary field of water and food security," says Provost Mun Choi. "We particularly value the quality of scientific and cultural exchanges that are made possible through the PIRE program for students, faculty, and researchers from UConn, Ethiopia, and other international universities."
Maximizing existing resources
A team led by environmental engineering professor Manos Anagnostou will use the funding to develop a novel forecasting system for the region that integrates predicted seasonal rain forecasts with climate, watershed, and crop yield models. In doing so, the team hopes to keep local farmers and civic leaders better informed of environmental conditions so they can improve crop yields and minimize losses in times of drought.
At the same time, the funding will allow UConn assistant professor of sociology Elizabeth Holzer and her team of social scientists to identify and try to reduce local political and institutional barriers that have made it difficult to implement scientific forecasting and other relief measures, hindering efforts to protect the land and improve conditions in the largely arid region.
"This is a very important and prestigious grant, and it is the first NSF PIRE grant UConn has received as the lead institution," says Jeff Seemann, UConn's vice president for research.
With 12 river basins and an estimated 122 billion cubic meters of water, Ethiopia's water problems aren't due to a lack of water. But a lack of technological resources and expertise in water management – along with other barriers – had kept all but a small fraction of it from being used domestically. Close to 50 million Ethiopians don't have access to safe and reliable sources of drinking water due to recurring drought and domestic issues. Rural areas are hit the hardest, with some family members walking four hours a day to access water from open sources that may be limited to shallow pools contaminated with animal and human waste. Water-borne illnesses, like cholera and diarrhea, are the leading cause of death of children under five in the region.
Recognizing the urgent need for relief, UConn researchers have been working in Ethiopia since 2010 when the University first entered into a partnership with Addis Ababa University with the support of a $2.45 million grant from the U.S. Agency for International Development/Higher Education Development (USAID-HED). The result of that work led to the establishment of the Ethiopian Institute of Water Resources, Ethiopia's first institute dedicated to addressing critical water-related challenges at the national and regional level.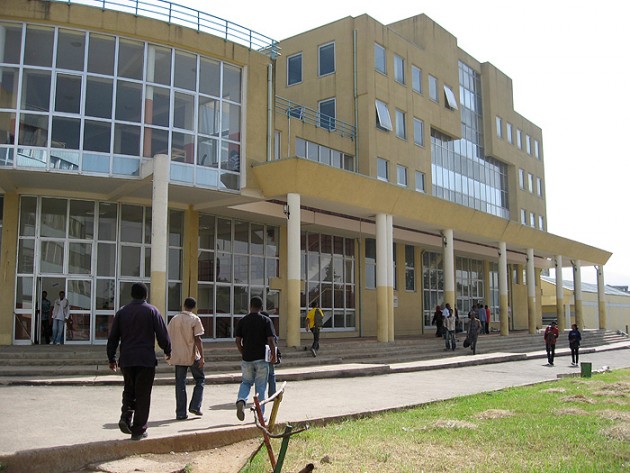 In the ensuing years, UConn has helped educate and train a skilled local workforce to address local and regional water issues. The program has supported 38 students toward completion of their graduate degrees, 14 of whom were women. Two students recently completed the Ph.D. program, and another 50 students are currently pursuing their doctorates. The Institute's outreach activities have connected with more than 16,000 local residents, teaching the importance of hand-washing, providing experiential learning for undergraduates, and guiding one local community on how to install a defluoridation vessel.
The PIRE grant, however, is much more research-intensive. NSF's PIRE program is intended to advance the frontiers of science and engineering, while forging robust collaborations among scientific experts around the world.
"By linking together researchers from around the world, PIRE allows us to leverage U.S. dollars and improve scientific outcomes," said Rebecca Keiser, head of NSF's Office of International Science and Engineering, which manages PIRE. "These rich partnerships will tackle some of today's most pressing research questions, from predicting natural disasters to understanding intricacies of the human brain."
The highly competitive five-year grant also supplies funding to UConn's partner institutions on the project. Those partners include the University of Wisconsin, University of Oklahoma, and the International Food Policy Research Institute in the U.S. The project leverages resources and research expertise from international collaborators as well. Those additional collaborators include Addis Ababa University and Bahir Dar University in Ethiopia; the University of Kassel in Germany; Université Joseph Fourier, France; University of Reading, UK; and Sunmoon University, South Korea.
While the engineers develop a forecasting system that is flexible enough to serve both local farmers and regional water managers, Holzer, who holds a joint appointment in UConn's Human Rights Institute, and her team will be using social science – including stakeholder feedback, surveys, and qualitative analysis – to investigate and analyze local decision-making in different communities to see how it can be improved when it comes to managing land and water resources. Social scientists at Addis Ababa University and Bahir Dar University will assist with this part of the project.
"We're delighted to have the opportunity to work more closely with our colleagues in Ethiopia in such a vibrant interdisciplinary collaboration," says Holzer.
Ultimately, the researchers hope to develop a model practical road map that can be used by low-income communities vulnerable to climate variability.