UConn's student-athletes are often lauded for their on-field achievements, but there's an equally important – often unseen – dimension to the student-athlete. UConn Today is publishing a series of profiles to highlight the academic prowess of these student-athletes. Follow along as we profile two athletes each month, and provide an inside look at the academic pursuits of these high-achieving student-athletes.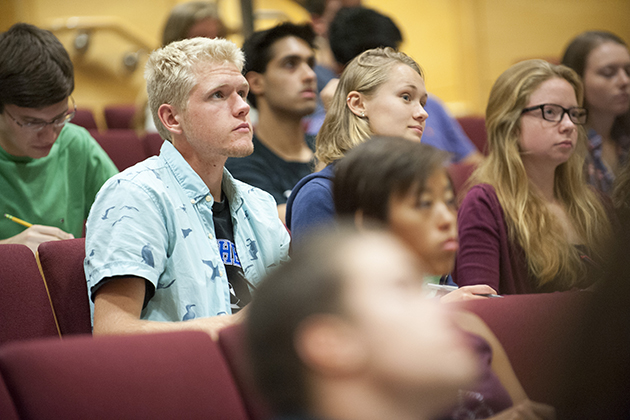 Wyatt Million '17 (CLAS)

Hometown: Wrightstown, N.J.
Sport: Men's Cross Country and Track
Major: Biology (Honors Program)
Anticipated graduation: 2017
What event(s) do you compete in? I compete in the cross country 8k and 10k; and for track, the 3,000 m steeple chase.
What's your favorite class? Wetlands Biology and Conservation, because it's very interactive.
How do you balance the demands of your sport as well as a full class load? I hold myself to high standards in both running and school, so if I begin to waver from those standards, I try to be quick to correct that. Being on the cross country and track team benefits my education, with my coaches and teammates setting the same kind of standards. But I have so much fun in both, and that makes it easy to put in the time to do well.
What does your schedule look like on a typical day during the season? I start with a hearty breakfast of my favorite cereal. I like to have my classes in the morning, so I have a reason to be up early. I have lunch between some classes, then I go to practice around 3 p.m. each day. During practice, all I think about is running, so I get a break from school for a bit. I get dinner with teammates as much as I can, then I head back to my room to study. I take occasional breaks to walk around and eat. If there is any time before midnight, I may watch 'Top Gun' or 'Frozen.'
Describe someone you've met here who has already impacted your future. I went to study abroad in Sub-Antarctic Chile last winter, and the leader of the trip, Bob Capers, has already had a great impact on my future. He took several students, including me, up a mountain to plot samples of the forest floor. Working so closely with Bob made me see how much he really loved what he did, and his knowledge of the plants in the area was impressive. We had a lot of time to talk about things besides plants, and he is one of the most calm and caring people I have met. He has inspired me to be curious and explorative, while respecting nature and the things around you. He has helped me since then with any question I have had about school or my future.
What does it mean to you to be a Husky? To me, being a Husky means being tough and loyal.
Where are you headed after graduation? I plan on going to graduate school for marine biology, possibly at Avery Point.