UConn's new Student Recreation Center will be built on Hillside Road in the center of campus, becoming part of what planners envision as a new "Main Street" of student-focused sites and services.
Rachel Conboy, president of UConn's Undergraduate Student Government and a member of the Recreation Student Advisory Committee, announced the site selection in an email Thursday to the student body.
The facility is slated to open in fall 2019 on land where the aging Connecticut Commons residence halls currently stand, across the street from the UConn Co-op.
The 45-year-old residence hall complex, which is approaching the end of its useful life, will be demolished by summer 2017 to make way for the recreation center. The new state-of-the-art facility will consist of about 200,000 square feet of space on three floors.
"The advisory committee will participate in all phases of design and development of the new recreation center, and will remain active post-construction to ensure that programs, services, and access represent the interests of the UConn community," Conboy wrote. "I'm sure you'll agree that this project will have a great and lasting impact on the quality of life that future students enjoy at UConn."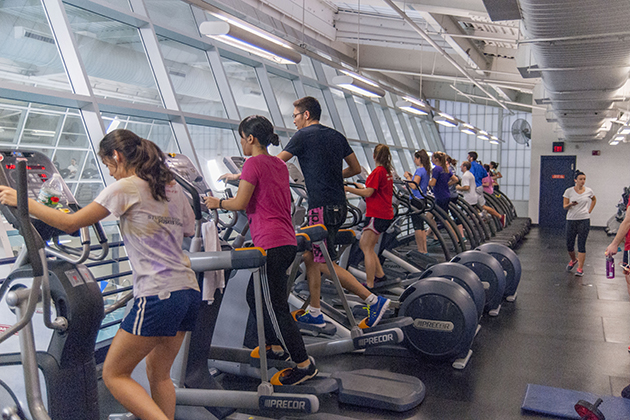 Plans for the new recreation center come after considerable input from students who expressed concern about inadequate space and amenities at the current site. Club sports teams also have found themselves limited in the times and locations where they could practice, and students have reported long lines to use the fitness equipment.
The new facility will feature a 20,000-plus square-foot fitness center; five full-size basketball courts; a running track; an aquatics center with a 50-meter swimming pool; a wellness center; squash and racquetball courts; space for club sports; and other flexible spaces to support UConn's recreation programs and activities.
"We are excited to begin the design and development phase of this exciting project. The new recreation center will be a destination facility for the entire UConn community," said Cynthia Costanzo, executive director of UConn Recreation.
In addition to the new Hillside Road recreation center, the project will include building a multi-purpose outdoor recreation field at parking Lot D, off Alumni Drive. The University's Master Plan intends to replace that parking elsewhere on campus.
The entire project will cost approximately $100 million and will be repaid through student fees, which are not to exceed $250 per semester for full-time undergraduate students and not to exceed $200 per semester for graduate students.
The fees will not be charged to students until the building opens its doors.
Several members of the Recreation Student Advisory Committee will observe University interviews with architectural firms and will provide feedback in coming days, and a firm will be selected to design the building by late September.
The opening of the 727-bed STEM residence hall in fall 2016 will add 285 of net new beds to campus, meaning UConn's housing stock can absorb the loss of Connecticut Commons.
That 16-building residence hall complex opened in 1970 and housed graduate students for years, although it currently houses undergraduate students. The complex is approaching the end of its useful life, and poses increasingly difficult and expensive challenges regarding use of space, maintenance, and repairs.
Building the new Recreation Center on that site is also in keeping with the University's newly updated Master Plan, which envisions a student-centric "Hillside Road District" from Gilbert Road to the Jorgensen Center for the Performing Arts. It's already home to the Co-op, the Student Union, and Gampel Pavilion.
The recreation center will be open for all students to use. While UConn varsity athletes could use the facility on an individual basis in the same manner as any students, it would not be used by the intercollegiate teams for practice or competition events.
Students will not be charged to use the facility, but faculty and staff members will have an opportunity to purchase membership.