Cato T. Laurencin has been elected a Foreign Fellow of the National Academy of Sciences in India. He is one of only two 2015 Foreign Fellows elected, and the first from the University of Connecticut and UConn Health.
Laurencin was honored by India's National Academy of Sciences "for his pioneering work in the field of material sciences." He was recognized as a world leader in polymer-ceramic composites, and recognized for his contributions in tissue generation and bioengineering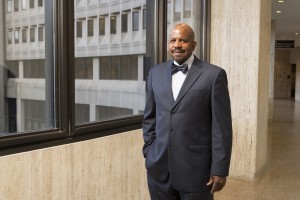 Laurencin is a University Professor at UConn, the eighth to be named in the school's history. He is director of the Institute for Regenerative Engineering at UConn Health and director of the Raymond and Beverly Sackler Center for Biomedical, Biological, Physical, and Engineering Sciences.
The National Academy of Sciences in India was founded in 1930. It is that nation's forum for research work, publications, and opportunities for the exchange of ideas.
At UConn, Laurencin is a professor of chemical and biomolecular engineering, materials science and engineering, and biomedical engineering. He is the Albert and Wilda Van Dusen Distinguished Endowed Professor of Orthopaedic Surgery at UConn Health. And he serves as chief executive officer of the Connecticut Institute for Clinical and Translational Science (CICATS) at UConn and UConn Health.