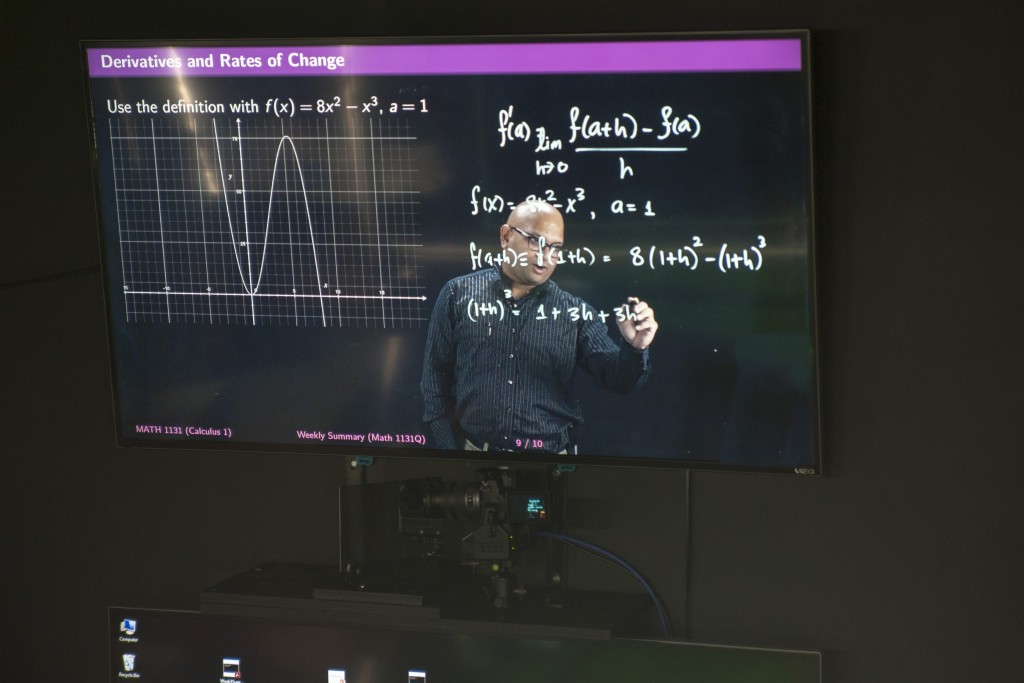 A glass chalkboard filled with light is the newest teaching tool available to UConn faculty to create engaging online videos that simulate a face-to-face classroom lecture.
The new technology, known as Lightboard, was launched at UConn this semester by the University's Center for Excellence in Teaching and Learning to enable faculty to face students while drawing or writing information the same way they would write on a chalkboard or whiteboard in class.
Lightboard enables faculty to present the information by video ahead of time, then spend the time in class interacting with the students, answering questions and focusing on problem solving and applications of the lecture material.
Designed for creating videos to complement lecture topics, faculty speak from behind a special glass panel with LED lights attached to its edges to illuminate the inside of the glass, causing anything written on the panel to glow like neon.
The panel's transparency allows the faculty member to face and speak directly to the camera, while writing and pointing in a natural way standing behind the glass. Presentations such as PowerPoint can also be mixed into the produced video, allowing instructors to interact with their lecture material.
A video camera records the lecture from a mirror to reverse the image that is projected onto the front of the glass panel so that the faculty member and his or her writing appear correctly to viewers.
Peter Diplock, assistant vice provost and director of the Center for Excellence in Teaching and Learning, notes that students are accustomed to consuming material on their own terms at their own time. He says Lightboard may be one of the best digital bridges to keep the current generation of students engaged.
"We can now manipulate space [the classroom] and time [when the lecture is given] because of technology," says Diplock. "We put these video lectures up into HuskyCT, and students can access them anywhere and anytime they want."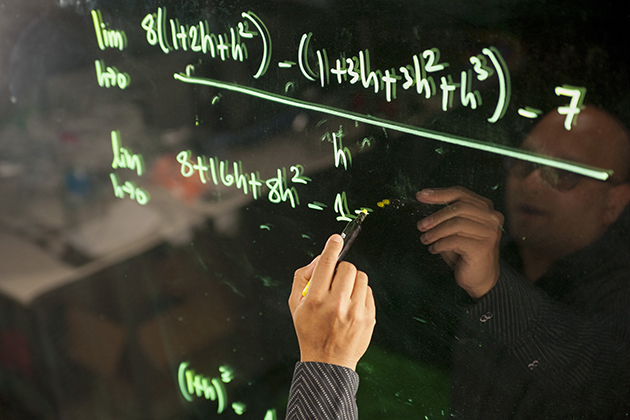 "This technology is outstanding and once you get used to it, absolutely thrilling," says Amit Savkar, associate professor-in-residence in the math department, who is using the Lightboard to record a 10-minute weekly summary video for the more than 250 students taking his Math 1131 class. "Lightboard lets me to take teaching to another level. It actually allows me to fine tune my pedagogy to enhance the students' understanding."
Savkar says common questions emerge from student visits to his office. The class homework platform also shows him how many attempts a student is making to do a calculus problem correctly. He uses feedback from both these sources to develop his weekly summary, concentrating on the concepts that students are struggling with.
Using video technology to help present lecture content is not new; since 2009 UConn faculty have augmented traditional lectures by recording content with Mediasite, the University's lecture capture system and posting it on HuskyCT, the University's online learning management system. Mediasite has had more than 1.1 million views since it was put into effect, and now has more than 8,000 presentations on its online blackboard.
Prior to the introduction of Lightboard, lecture recording tools offered by the Center for Excellence in Teaching and Learning ranged from voice over-narrated Power Point lectures to video desktop recorders used during inclement weather, to a studio that records narrated lectures using smart boards for screen capture, as well as a larger studio to record multi-camera video productions.
Savkar has been recording teaching videos since 2010, but says the Lightboard technology is a huge improvement, allowing students to see body language and facial expressions. "It makes for much more compelling viewing," he says.
To date, some 15 UConn faculty have recorded Lightboard videos in a specifically designed all-black studio located on the fourth floor of the Rowe Center, using open-source hardware plans from Northwestern University professor and Lightboard inventor Michael Peskin, as well as knowledge gained through a visit with John Mocko, at the University of Florida, who also built a Lightboard.
Although the technology is new at UConn – the studio is the first to be built in Connecticut and one of about a dozen nationally – faculty are finding it easy to adopt, Diplock says: "They get to a point of effectiveness much more quickly than with any other technology I've seen, because in reality all that it requires is that they write and talk." He anticipates the Center for Excellence in Teaching and Learning will have trained 150 faculty members to use the technology by the end of the year.
Additional information about UConn's Lightboard can be found on the Center for Excellence in Teaching and Learning website.