UConn's student-athletes are often lauded for their on-field achievements, but there's an equally important – often unseen – dimension to the student-athlete. UConn Today is publishing a series of profiles to highlight the academic prowess of these student-athletes. Follow along as we profile two athletes each month, and provide an inside look at the academic pursuits of these high-achieving student-athletes.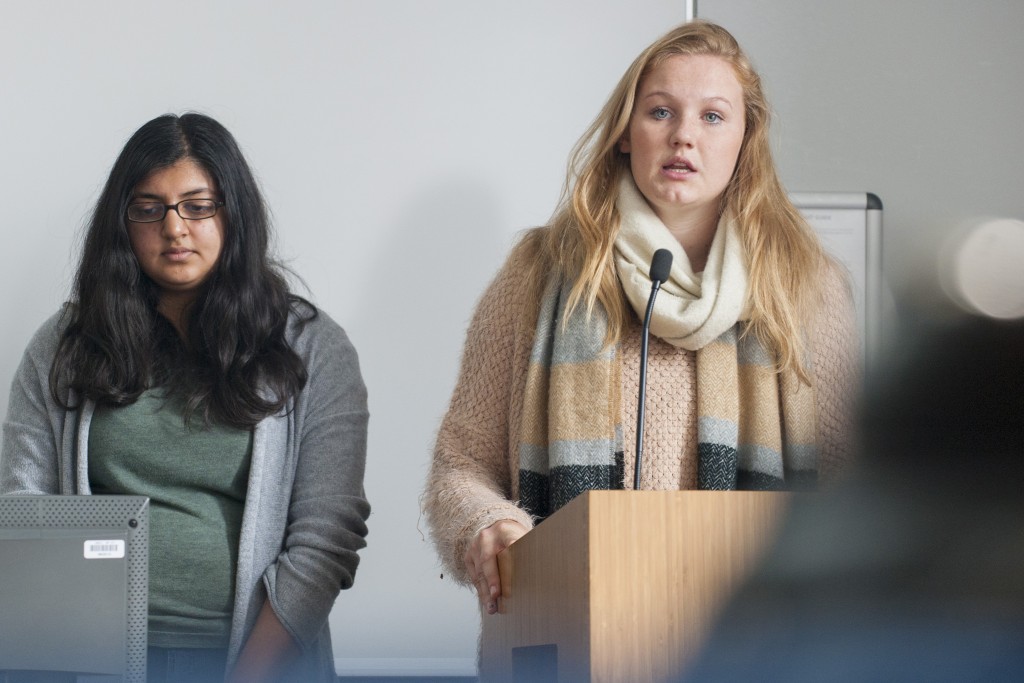 Anna Middendorf  '17 (CLAS)

Hometown: Bremen,  Germany
Sport: Field Hockey
Major: Political Science with a double minor in Economics and Human Rights
Anticipated graduation: 2017
What position do you play? I play center back (defense) on the field hockey team.
What's your favorite class? My favorite class is Comparative Perspectives on Human Rights.
How do you balance the demands of your sport as well as a full class load?
On my team, we are very blessed in the way that our coaches have an "academics first" policy that prioritizes academics over anything else. They give us a very predictable schedule, outlining how our week is typically structured. For example, knowing that we have every Monday off, it has become easier to manage my time accordingly. Also, if we ever have a really busy week of traveling coinciding with midterms, they will take that into consideration when scheduling practice.
Our academic support system is amazing. Our academic advisor Alana [Butler] will proctor exams on away trips, help us with scheduling, or go through our work with us. We also have tutoring available to us for most of our classes.
Overall, I really believe that within UConn Athletics it is true that if you have a desire and ambition to do well in your classes, you can and will, because the support framework is in place. Sometimes I even think that our busy schedule is what drives us to do well. If you have very limited amounts of free time, you seem to learn, either the easy or the hard way, that you can't really afford to waste it.
What does your schedule look like on a typical day during the season?
On a typical Tuesday during the season I usually have class from 9:30 a.m. to 1:45 p.m. I will then have a conditioning session at 2 p.m. and weight training at 3 p.m. Practice will then go to 5:30 p.m. or 6 p.m., depending on our weekend ahead and whether we have a team film session or not. I actually have an evening class on Tuesdays at 6 p.m. to 8:30 p.m., but not all my days are that busy. When I have time between classes, I usually have rehabilitation with our athletic trainers or individual film with our coaches.
Describe someone you've met here who has already impacted your future.
This semester, I have been privileged to have Shareen Hertel as my professor for a human rights class. From day one, she has been straightforward with us about what she expects from us and how much she is willing to do for us in return. I really appreciate that quality in people. Apart from that, she is quite simply an inspiration to me, vocationally, but also as a strong female role model. The amount of recognition she has achieved in the realm of human rights, whether in the UN or other NGOs is quite frankly impressive and incomparable to anyone I have ever interacted with intellectually.
What does it mean to you to be a Husky?
Coming from Europe, I was never able to grasp the extent to which American varsity sports could draw you in and create an immense feeling of community. As a Husky, this part of University life has become the part I value the most. The connections that I've made with the people I am surrounded with and influenced by every day are beyond anything I could ever have imagined.
Where are you headed after graduation?
Well, there's always a difference between our dreams and some sort of tangible reality, but my dream is to work on improving human rights in an international institution like the UN or Human Rights Watch. The protection and enhancement of refugee rights is something I feel extremely drawn to, especially with current political developments demanding international involvement. I hope to do some research and field work on this during a master's degree before I step into the real world.