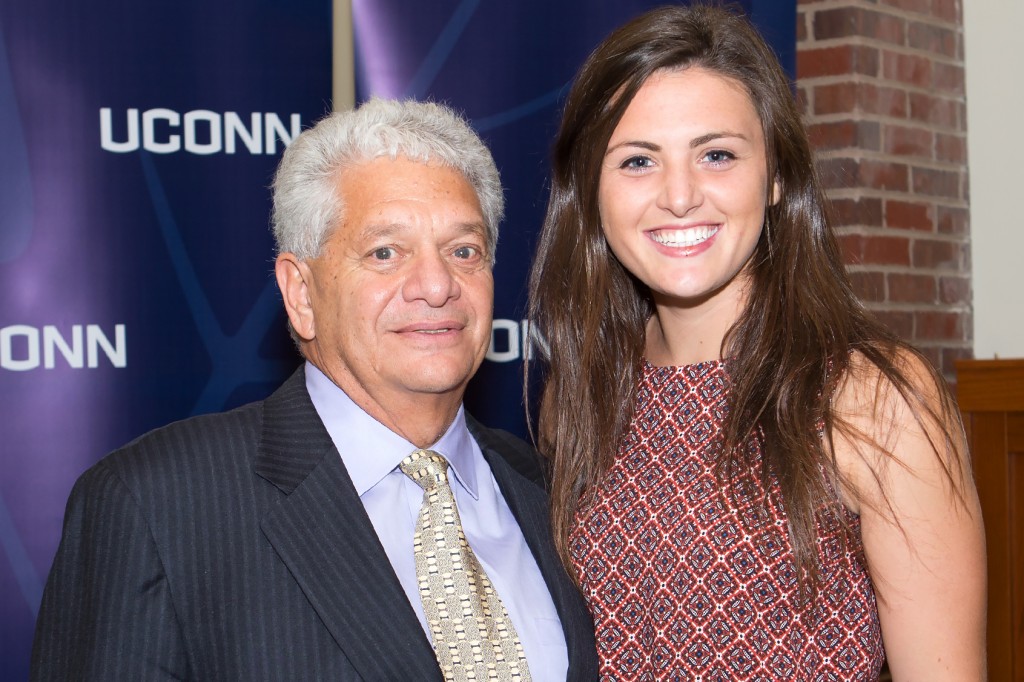 UConn baseball pitcher Nico Darras looked out at fellow Husky student-athletes and donors at a recent UConn Athletics Endowment Dinner, and talked about how easy it is to get caught up in the day-to-day grind and glory of being a Husky champion.
"There's the 6 a.m. lift, the hours of study hall, the walk-off home runs, the buzzer beaters, and the fourth-quarter field goal," he said. "Then it hit me. None of those things were possible without you — the donors."
Darras, a junior from Laguna Beach, Calif., said he and other student-athletes are grateful to be able to play the game they love while getting a top-rate college education. Darras told the 250 students, coaches, and donors gathered in the Rome Ballroom that scholarships not only make it possible to be a student-athlete at UConn, but in many cases enable the recipients to go to college at all.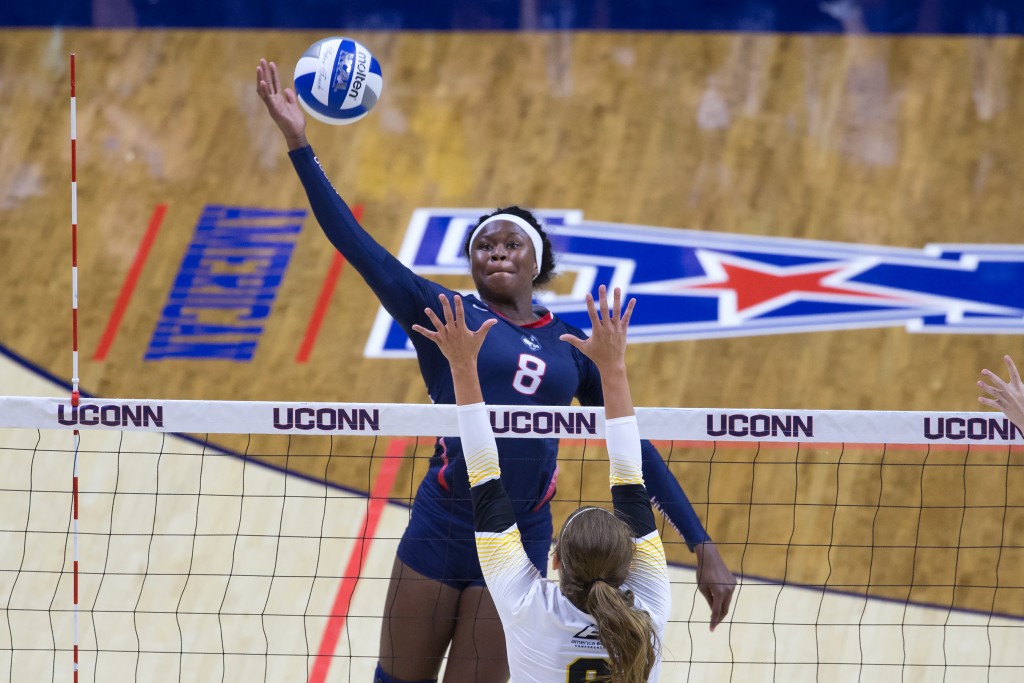 Such is the case for Immanuella Anagu, a marketing major from Culver City, Calif., who has an endowed scholarship to play volleyball.
"It's pretty much the reason I can go to a school like this," she said. "I know if I didn't have volleyball and didn't have the support from UConn I wouldn't be here. I wouldn't be able to afford it. The fact that these people give their money and put their trust in us, I think that's amazing."
Senior Lexi Gifford, a softball shortstop from Natick, Mass., said her scholarship has made college more affordable.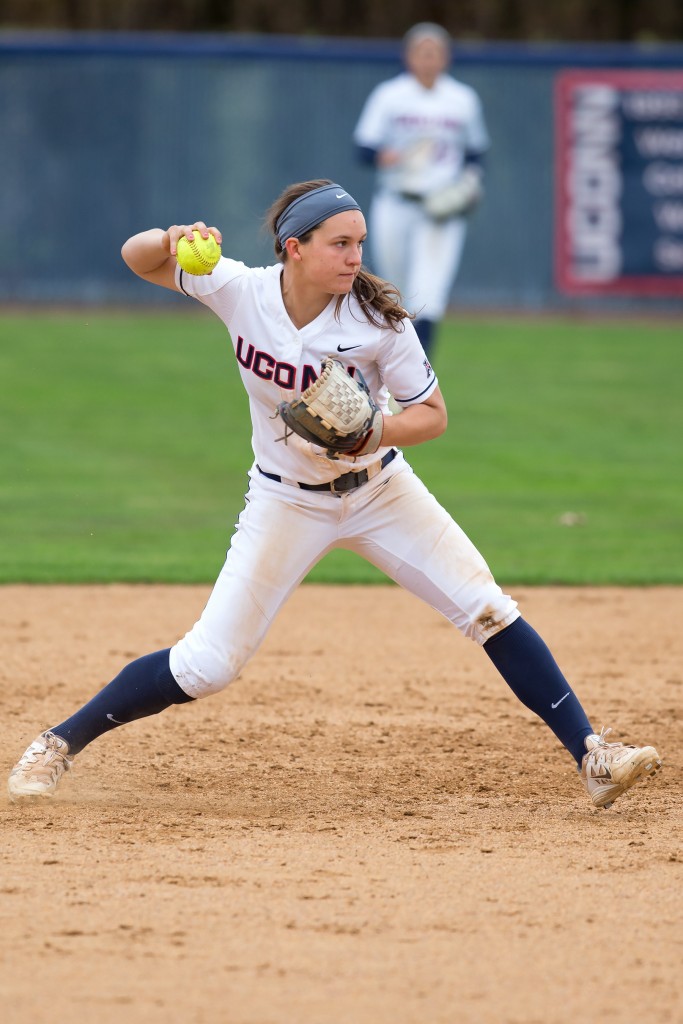 "I don't come from a wealthy background, so it opened a lot of doors being able to earn a scholarship," she said. "I'm really grateful. I don't think 'thank you' covers it, but thank you [to donors] for everything they've put into the University, the athletics, and the athletes. We just look to pay it forward for the next generation."
Private support from donors is more essential than ever for the success of UConn's 24 varsity sports and more than 700 student-athletes. This year a new fundraising initiative, the "Drive for 5K," is being launched with the goal of increasing the number of donors to athletic scholarships from 4,400 to 5,000.
During the dinner, endowed scholarship donor Mark Sinatro, '88, himself a scholarship recipient in men's tennis during his undergraduate days at UConn, congratulated the student-athletes for their determination, hard work, integrity, and character. He predicted their drive would spill over into their professional life, and urged them not to forget their alma mater.
"I know for a fact you will all be successful," he said. "You are going to hang up the cleats, hang up the sneakers, and you are going to go out there and knock the professional world dead. I want you to always remember UConn. I want you to stay connected."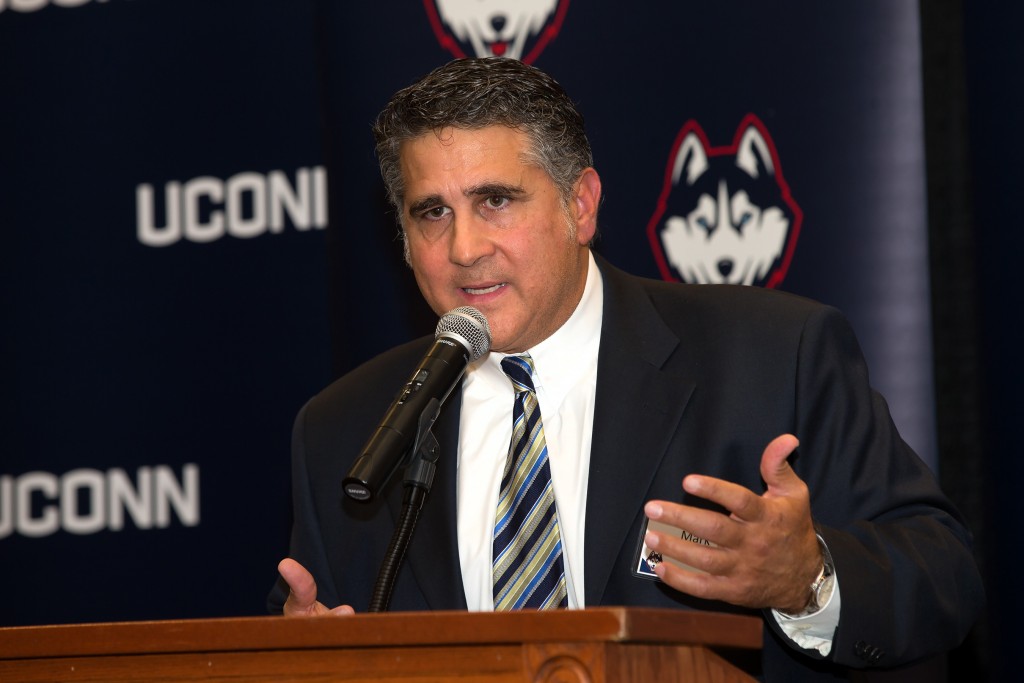 Sinatro also thanked the donors for making a difference in the lives of the student-athletes.
"I know firsthand the sacrifices that you make to make that contribution year in and year out," he said.
Field hockey midfielder Roisin Upton, of Limerick, Ireland, said the foundation for athletic excellence has been laid down over the years by dedicated donors.
"Year after year, the legacy grows, the standard rises, and the community and winning culture exists," she said.
"I have made some friends for life from all corners of the world, and also have been surrounded by the types of people that have shaped and formed how to act and think my whole life long. On top of all this, I have been given the opportunity to broaden myself holistically by giving back through community service through the Student Athlete Advisory Committee and their community outreach programs.
"In this way, it's fair to say that being a recipient of a sports scholarship at the University of Connecticut is definitely a golden ticket," she said.
Director of Athletics Warde Manuel noted that UConn student-athletes continue to perform well academically. More than half achieved at least a 3.0 grade point average and 28 student-athletes earned a 4.0 in the fall or spring semester during the 2014-2015 academic year.
"The momentum and success on and off the fields of play are the result of your belief and support of this exceptional institution," he told the donors.