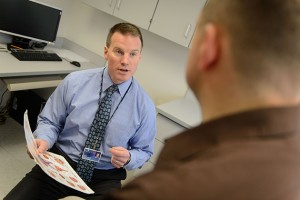 UConn's John Dempsey Hospital has received a top A-rating by the national Leapfrog Group in recognition of its high level of patient safety.
The Leapfrog Group is a nonprofit organization committed to raising awareness among consumers about the importance of choosing a hospital that provides safe and high-quality clinical care.
This year marks the first time UConn Health has been awarded an 'A' letter grade. UConn Health has steadily increased its safety score to an A up from its 2014 B-rating, and 2013 C-rating. Only 31 percent of the 2,532 hospitals nationwide have an A safety rating. UConn Health's current 2015 Hospital Safety Score is 3.387 (of 4.0) which is above the nearly 3.0 national average.
In addition, this year Consumer Reports awarded UConn's John Dempsey Hospital one of the three highest patient safety scores in Connecticut and ranked its safety higher than some other nationally leading institutions.
"Patient safety is our number one priority," says Anne Diamond, Chief Executive Officer of UConn's John Dempsey Hospital. "We are excited to be recognized as a top-rated hospital and destination for safe and high-quality patient care. Our A-rating from Leapfrog now matches the great patient experience our doctors, nurses, and staff have been providing each and every day for a long time."
Each year Leapfrog issues letter grades in the fall and the spring. This fall's letter grades of an A were given to hospitals with a calculated safety score at or greater than 3.151, a B to those at or greater than 2.962, a C for those at or greater than 2.485, and D for those at or greater than 2.048, or F for below 2.048.
Hospital Safety Scores by Leapfrog are determined after review of 28 nationally reported evidence-based patient safety metrics. These indicators are used to assess how well hospitals are protecting inpatients from preventable medical and medication errors, injuries, and infections.
"We thank our hospital's faculty, nurses, and staff for their excellent clinical care and commitment to always putting patients first and helping to improve the patient experience," says Anne. "UConn Health is very proud of their hard work."
Hospital data is collected from the annual voluntary Leapfrog Hospital Survey, and the public data from the Agency for Healthcare Research and Quality (AHRQ), the Centers for Disease Control and Prevention (CDC), the Centers for Medicare and Medicaid Services (CMS), and the American Hospital Association's Annual Survey and Health Information Technology Supplement.