UConn's School of Engineering is celebrating its centennial in a big way. The school, together with the UConn Foundation, has set a fundraising goal to establish 100 new scholarships.
The need for more scholarship support is driven by a sharp rise in enrollment. Over the past decade, the number of engineering students has increased 100 percent – now at 4,255 students – and the next decade will see further growth.
From a modest beginning in 1916, UConn's four-year engineering program has evolved into a top-tier program attracting record numbers of applications.
With eight applicants vying for every space, all admitted are worthy of merit-based scholarship and most also have financial need. Scholarships from private donors currently provide partial or full support for only 183 students a year. For that reason, the School of Engineering is encouraging all alumni and friends to consider creating a permanently endowed scholarship in their own name – a commitment of $50,000 over five years.
"During these extraordinary times, I delight in helping talented young people achieve their dreams," said Kazem Kazerounian, dean of engineering. "Now, more than ever, private funding is vital to the school's future."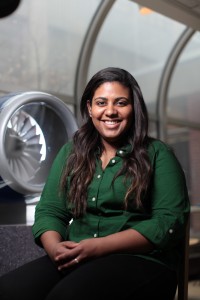 Amy Hernandez is one of those talented students. She had no thought of becoming an engineer until her junior year in high school when a chemistry teacher encouraged her to try something totally new.
Taking that advice, Hernandez joined a robotics team and discovered engineering. She loved the challenges and the creativity and set her sights on UConn.
"My parents don't make enough to pay for my education, so there were worries that I would be working while studying, and that would be a huge distraction," said Hernandez. "Having scholarships didn't just take a financial weight off my shoulders, it also helped me decide where I was going to go to school."
Hernandez is on track to graduate in 2016 with a degree in materials science and engineering.
The School of Engineering is committed to helping other bright young people realize their dreams, envisioning a future where every admitted student will be able to attend regardless of financial circumstances, said Kazerounian.
The School of Engineering's "100 Years, 100 Scholarships" goal is part of the UConn Foundation's larger "Transform Lives" initiative, which aims to raise $150 million in student support.
Support 100 years of excellence with a gift to the Engineering Scholarship Fund.