UConn's student-athletes are often lauded for their on-field achievements, but there's an equally important – often unseen – dimension to the student-athlete. UConn Today is publishing a series of profiles to highlight the academic prowess of these student-athletes. Follow along as we profile two athletes each month, and provide an inside look at the academic pursuits of these high-achieving student-athletes.
Margaret Zimmer '16 (CLAS)
Hometown: Saint Charles, Ill.
Sport: Women's Ice Hockey
Major: Biological Sciences and Molecular Cell Biology double honors major
Anticipated graduation: May 2016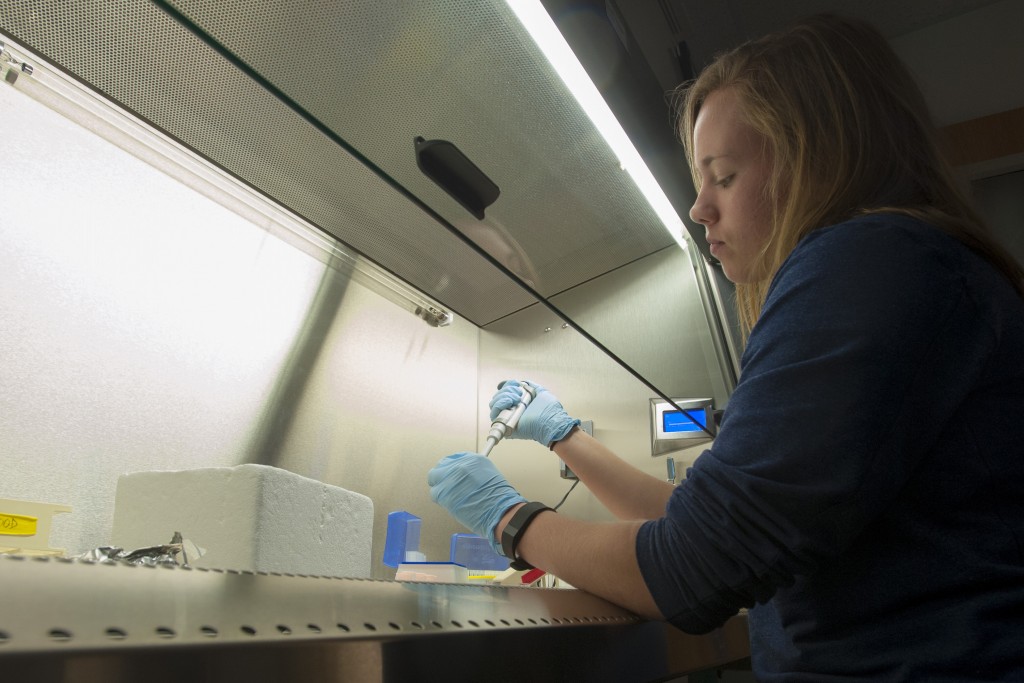 What position do you play?
I am a forward on the ice hockey team, mainly left wing. I always wanted to be a goalie growing up, but my parents didn't want to have to carry around all of that gear.
What's your favorite class?
My favorite class this semester has been a cancer biology writing course with Dr. [Mary] Bruno, in which I've learned an unbelievable amount about a wide range of cancer topics. I've also enjoyed the writing component of the class, comprised of review and commentary papers about current cancer research topics. I also had biochemistry with Dr. Bruno, which is another one of my favorite classes. It was interesting to learn the detailed mechanisms of how the human body functions.
How do you balance the demands of your sport as well as a full class load?
I wish I could say that I don't ever procrastinate, but that's not the case (I'm only human). For me, it's all about to-do lists and efficiency. I always have an updated to-do list on my computer so that I know what exactly needs to be done for that day or week, and that keeps me focused. Also, I often make use of the awkward gaps between whatever I have on a given day to cram in some studying. I do my best to get work done during weekends away on the bus or at the hotels. There are often lengthy periods of time between steps of the experiments I do at the lab, so I get a lot of work done in there too.
UConn Athletics does an amazing job to create a culture that values the "student" half of student-athlete. The Counseling Program for Intercollegiate Athletes (CPIA) here at UConn provides us with outstanding academic advisors (shout out to Lindsay, Becky, and Alana), tutors, study rooms, and (best of all) free printing! The resources available for student-athletes here are instrumental in our academic success.
What does your schedule look like on a typical day during the season?
A typical in-season day (which is a majority of the year … we have a long season) consists of waking up to make breakfast (usually an egg sandwich) before my morning classes, going to weight lifting/practice, rushing to my afternoon classes (since the rink seems to be 27 miles away from my usual classroom buildings), and then going to the lab to do my lab job (unloading the dishwasher … super scientific) and to finish whatever experiments need to be done for the day. I sometimes squeeze in short trips to the lab throughout the day if I have time or need to start an experiment, and on some nights I tutor other student-athletes for the CPIA tutoring program. Once I'm done with everything I need to do on campus for the day, I usually either go home or to CPIA to study, hang out with teammates, or watch Netflix (my guilty pleasure is Vampire Diaries).
Describe someone you've met here who has already impacted your future.
My first semester here at UConn I took a class through the Honors Program with Dr. [Thomas] Abbott about biological research. His excitement about the topic was truly contagious, and the class spawned my interest in getting involved with undergraduate research. Dr. Abbott has provided key guidance throughout my entire undergraduate career and he is a huge reason for my success with research. He's also a hockey fan, which definitely gains points in my book!
I can't neglect to also mention Dr. [Kenneth] Campellone (partly because I work with him almost every day and he would never let me live it down), who has been an exceptional research mentor. I have worked in his molecular cell biology lab for three years now undertaking a variety of research projects, including my honors thesis project. Dr. Campellone makes research fun while expecting nothing but the best from the students in his lab, and because of that I have become a much better scientist, writer, and student. In addition, the experiences that I've gained from my undergraduate research opportunities have prompted me to contemplate pursuing a Ph.D. after graduation.
What does it mean to you to be a Husky?
To me, being a Husky means pursuing excellence in everything you do (taken from my team's mission statement, sorry coach). UConn has seen a whole lot of athletic success: the basketball teams are always national title contenders, field hockey has recently won two more national championships and had another Final Four appearance this year, and our club teams have shown recent success, with our women's rugby team winning the 2015 D1 National Championship (it would take way too long to list all of the successes that teams have had at UConn). However, the Husky culture of undeniable excellence that past, present, and future students have created and will maintain has led to much more than athletic accomplishment. It's also led to the wide range of academic and research achievements earned by students; the coaches and academic staff members that encourage us to reach our full potentials and improve every day; and the vast amounts of community service performed by organizations throughout the school, including our annual HuskyTHON, and the overall Husky pride that can be seen and felt throughout campus every day. Being a Husky also means standing in ridiculously long lines at the Dunkin' Donuts in the U, and constantly finding ways (and sometimes failing) to avoid buying some of the delicious smelling cider donuts being sold on Fairfield Way.
Where are you headed after graduation?
I'm taking a year off after graduation to travel and make some money (in an ideal world). In June, I'm going to Europe for two+ weeks with my Mom and Grandma as a graduation present; I'm very excited for that trip. I'll also be applying to medical schools and hopefully getting accepted into one of them for the 2017-2018 school year. I still haven't decided if I'm going to apply for just an MD (four years) or an MD/Ph.D. (eight+ years), so I should probably figure that out.