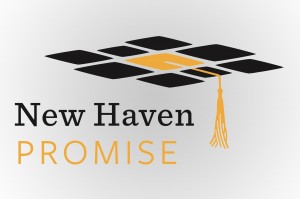 Students who enroll in UConn through the New Haven Promise program will soon receive $5,000 in extra scholarship money each year to help ensure that college is affordable and accessible to them.
UConn President Susan Herbst announced today that UConn is committing $5,000 in scholarship money to each New Haven Promise scholar attending UConn, starting in fall 2016. It will supplement the scholarship that New Haven Promise provides to those who remain continuously enrolled in city public and charter schools, maintain satisfactory grades, contribute service to the city, and enroll in UConn following their graduation.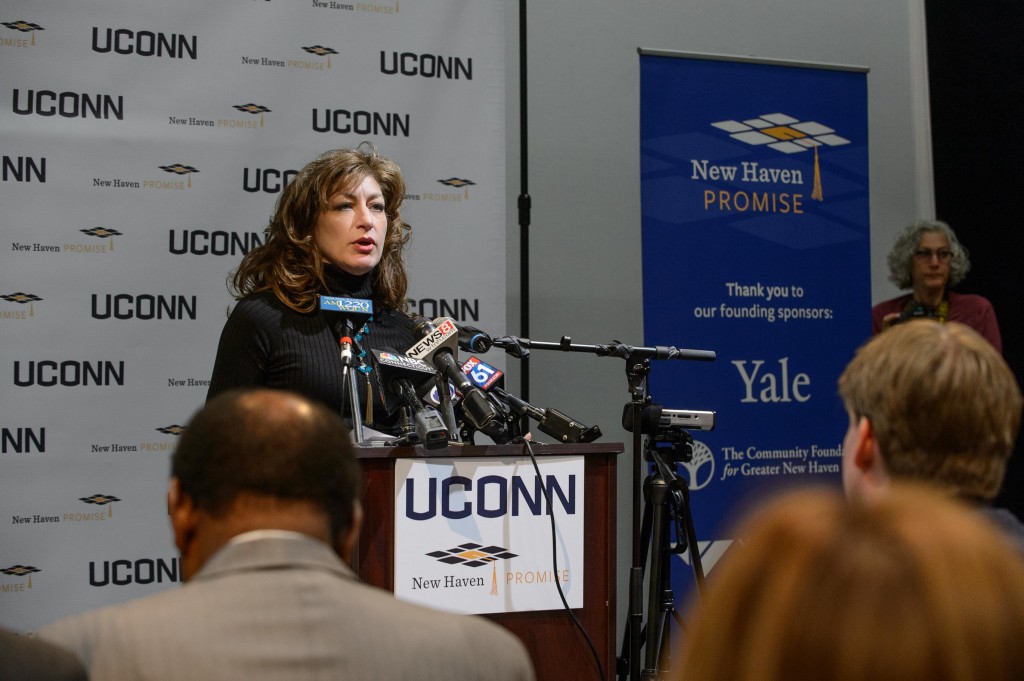 Herbst announced the additional financial commitment Dec. 1 at New Haven's Cooperative Arts and Humanities High School. She was joined by Yale President Peter Salovey, who is New Haven Promise's board chair; Mayor Toni Harp; Superintendent of Schools Garth Harries; and many other supporters of the program.
Yale funds New Haven Promise's scholarships, while the Community Foundation for Greater New Haven provides administrative support and Promise's Partnership program is funded by Yale-New Haven Hospital, Wells Fargo, and others.
"It is wonderful to see our investment in New Haven Promise embraced and augmented by a fellow university that, like Yale, is deeply committed to serving its home state," Salovey said of UConn's commitment. "I am also delighted that so many students from New Haven earn their degrees from the University of Connecticut and then return here to live, work, and contribute their perspectives to our community."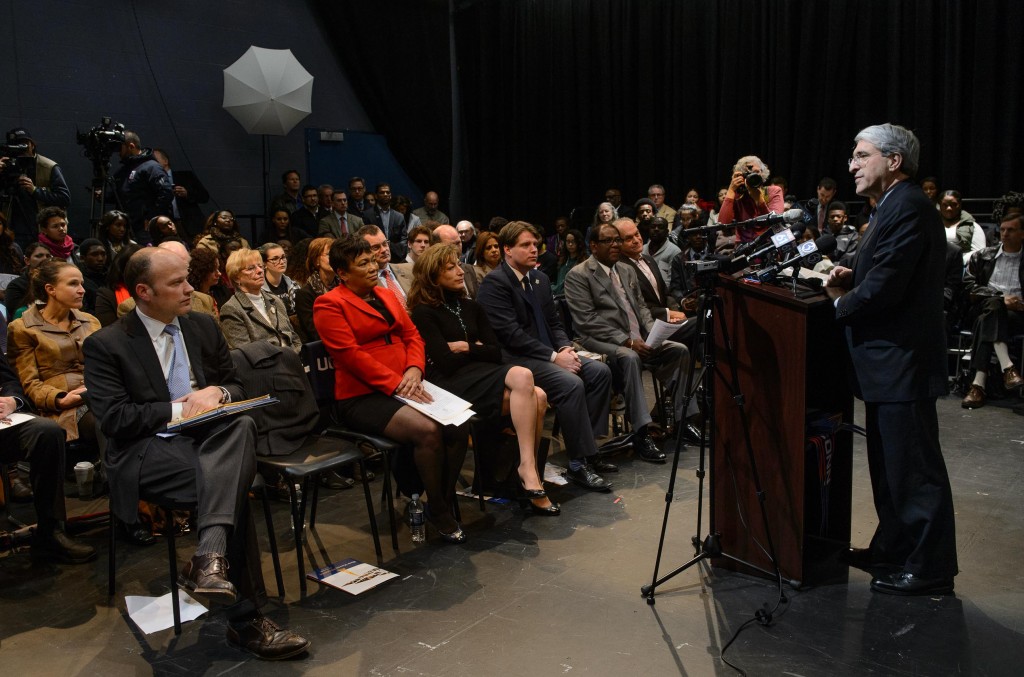 Since 2010, nearly 1,000 New Haven public school graduates have qualified for the Promise program, including 132 currently attending UConn.
Fourteen Promise Scholars graduated from the University of Connecticut last spring, and more than 20 are expected to join them in 2016. In addition, 22 UConn students gained real-world experience in a paid summer internship through the New Haven Promise-Yale Community Hiring Initiative program last summer.
The additional $5,000 that UConn is committing for enrolled students will be awarded on top of the Promise benefit, and can be used for whatever costs remain, including uncovered tuition, room and board, fees, books, and other related educational expenses while at UConn.
"This generous financial commitment to New Haven students who choose to attend the state's flagship university will make college even more accessible to our city students," said Patricia Melton, executive director of New Haven Promise.
"As legislators discuss ways to make college affordable for families, UConn and our funders – Yale University, the Community Foundation for Greater New Haven, and Yale-New Haven Health – are doing it," she said. "Between this unique commitment, Promise dollars, and federal aid, our future UConn scholars will have the majority of their total cost of attendance covered."
New Haven Promise Scholars reflect the student body in New Haven's schools, with a large proportion of students of color, first-generation students, and those from households with incomes of less than $60,000.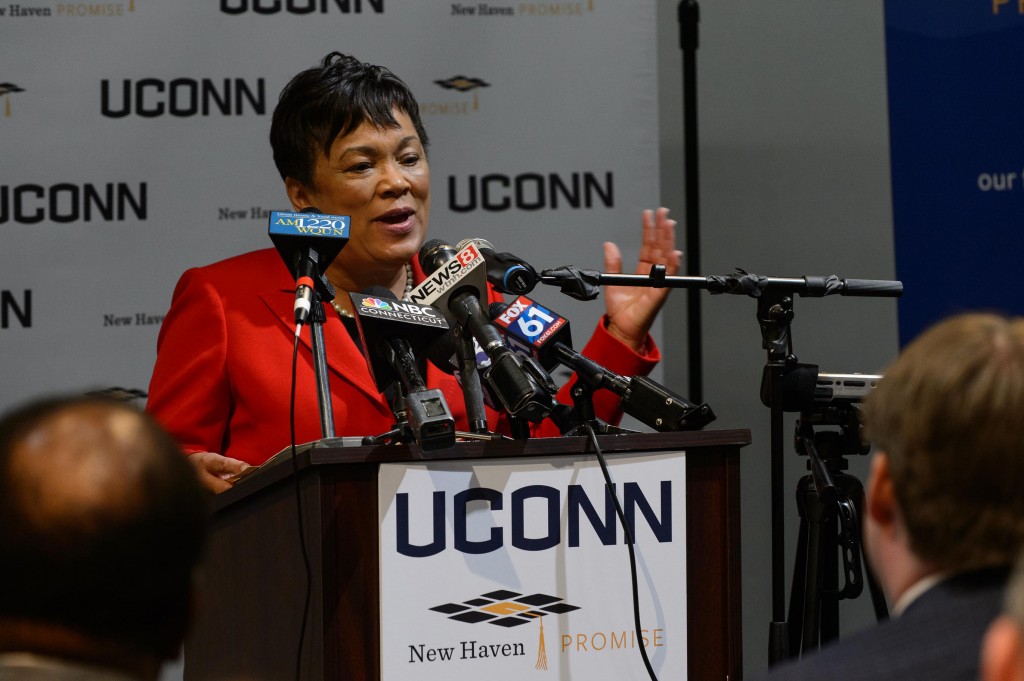 "This commitment from the University of Connecticut is a powerful testimony about the success of the New Haven students at the school," New Haven Mayor Toni Harp said. "UConn has its greatest presence ever in New Haven, and I would expect to see an invigorated alumni chapter making new commitments to the city and both current and future Huskies."
As part of the new commitment, the UConn Foundation has established a fund to directly support the New Haven Promise partnership, Herbst said. This means donors can specify that Promise program students are to benefit from their generosity.
"The groundwork for this partnership was laid by the remarkable successes of New Haven students at UConn," Herbst said. "None of this would be possible without the track record they established, so they really deserve the lion's share of our gratitude."