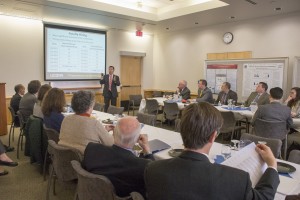 In addition to producing more physicians and dentists in the coming years, UConn Health is seeking collaborations to form accountable care organizations, planning to open a walk-in clinic in the next few months, and preparing to open a modern hospital tower with 169 private rooms by next spring.
That's among what University leadership told state lawmakers and legislative staffers who spent Monday afternoon at UConn Health for an update on Bioscience Connecticut and a campus tour.
President Susan Herbst thanked the lawmakers for their continued support and told them investments in UConn Health are money well spent.
"It's a never-ending quest with the health center to create jobs through research, to take care of people, and to lay the foundation for a new kind of Connecticut economy," Herbst said. "We feel like we're a pillar of the governor's plan and the legislature's plan to rebuild the basic industries of Connecticut, and that is something that we love to do."
Herbst told the lawmakers they can be extremely proud of the work taking place at UConn Health. "Bioscience Connecticut was and is a program to transform the physical plant so that we can improve our research facilities, attract the best scientists, do the kind of research that will bring in federal money, and that will save lives," Herbst said.
Dr. Andy Agwunobi, recently appointed CEO and executive vice president for health affairs after a year serving in an interim capacity, announced plans to offer a walk-in clinic on campus.
"We're starting a new clinic probably within the next month or two, onsite here, specifically for patients who can't get in on short notice to our medical clinics," Agwunobi said. "And that came from me talking to our call center people and being told that on Monday, you have people calling for visits and they can't get in, and we're sending them out to urgent care centers around us. We're trying to get more patients, not less."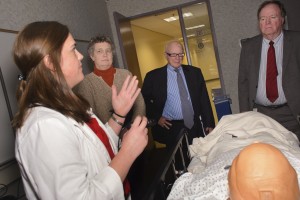 UConn Health also is moving toward joining accountable care organization (ACO) models in an effort to maximize quality and efficiency in patient care in a coordinated way. In the long run this puts UConn Health in a position to maximize reimbursements from Medicare.
Agwunobi told lawmakers he's been in touch with most of the health care entities in the area about collaborating, and the responses have indicated various levels of interest thus far.
"It's a very positive discussion, and at minimum we're learning a lot about what we should be doing and probably what we should have been doing, and it's progressing," Agwunobi said. "We think by the end of February we'll be able to make a decision, but at this point we're still in the process of talking."
The medical and dental deans described their plans for larger class sizes. Dr. R. Lamont MacNeil, dean of the UConn School of Dental Medicine, said his school is in the process of expanding from 40 to 52, and that more than 1,200 applicants apply for those spots each year.
The UConn School of Medicine's class size went from 80 to 98, and eventually will increase to 110, according to the dean, Dr. Bruce Liang. He also announced Dr. Montgomery Douglas will join UConn Health from New York Medical College in February as chair of the Department of Family Medicine.
UConn Foundation President Josh Newton gave a briefing on fundraising.
"The last two years have been our most successful ever," Newton said. "The last two years we reached $81 million and $78 million, respectively. We are playing a much greater role in the University, and I think want to be a partner as we move forward in meeting the needs and demands that the University has, with philanthropy playing a much stronger part of that conversation."
Today, 27 percent of UConn's budget comes from the state, compared to 50 percent 20 years ago. Over that time, the UConn Foundation's endowment has grown from less than $50 million to nearly $400 million.
Dr. Marja Hurley, associate dean for Health Career Opportunity Programs, described how support from the Aetna Foundation and other donors makes it possible for UConn Health to attract students into a pipeline of programs that prepare them for the scholastic track toward careers in health fields. The Aetna Health Professions Partnership Initiative, of which Hurley is the founding director, has grown to the point where several hundred students participate in at least one of the programs each year.
"Without philanthropy, we wouldn't be able to have this," Hurley said.
Campus Tour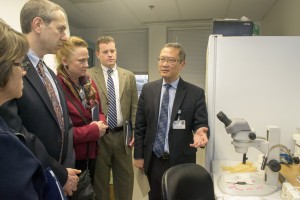 Liang's cardiovascular research lab was one of the stops on the campus tour. The medical school dean is also director of the Pat and Jim Calhoun Cardiology Center.
"Our laboratory uses mouse models to closely study heart attack and heart failure," Liang said. "We are able to identify and manipulate cardiovascular disease genomics, study heart function, and translate our mouse model findings into patient care and therapies."
Liang also demonstrated how his laboratory has the capabilities to perform echocardiograms on the tiny hearts of mice to monitor their heart function.
Lawmakers and legislative staff also stopped in the lab of Dr. Pramod Srivastava, director of the Carole and Ray Neag Comprehensive Cancer Center.
"In our laboratory we are working on a new vaccine for ovarian cancer, the most lethal gynecological malignancy of which most women die since there is currently no effective, advanced treatment available," Srivastava said. "We now know that every patient's cancer is unique, just as individual as our fingerprint. We can now read the genomics of an ovarian cancer patient's cancer cells to see exactly what type of that cancer they have, and we work to make a personalized vaccine based on their specific tumor's mutations with the aim to extend their survival."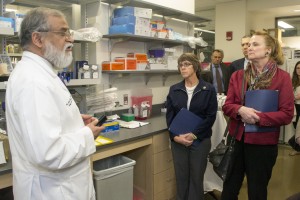 Srivastava told the visiting lawmakers and staff, his ovarian cancer vaccine is the first of its kind that is based on a person's own genomics, and that he has FDA approval to start testing the vaccine in a new clinical trial.
"Our hope is that 2-3 years from now we will be able to show a real-life impact of the vaccine on ovarian cancer patients' survival," he said.
Srivastava said his research team is starting with its ovarian cancer vaccine, and if successful, plans to expand its testing for bladder cancer and other cancers.
Dr. Suzanne Rose, senior associate dean for education, led a tour of the UConn School of Medicine. "We are here to train the next generation of physicians to take care of our patients and our communities," Rose said.
Dr. John Harrison, associate professor of craniofacial sciences, showed off the renderings of the medical school's planned academic building's additions and renovations. Also, legislators were able to play with UConn Health's latest high-tech medical education tool called Anatomage, a virtual anatomy lab table technology.
The smart table gives medical students the capability to examine real 3-D renditions of the male and female anatomy. Second-year medical school student Samantha Lee gave a demonstration. "The technology lets you look at layer upon layer of the body, from looking at tiny vessels to the skeleton," Lee said. "Also, you are able to use your finger as a scalpel and scroll through the body. You can look at parts of the body in several views, and it can help you get creative for surgery."
"It is a very valuable and impressive learning tool for medical education students," Harrison said.
Fourth-year medical student Mary Cearley showed how she trains on a high-tech simulation patient to learn to be a physician. "The technology allows you to apply your skills for what may happen in real-life," Mary said, and then demonstrated how the simulated patient technology teaches her to examine the heart and lungs of patients even using tools such as ultrasound imaging.
The visit ended with a brief bus tour around the UConn Health campus led by Tom Trutter, associate vice president of campus planning, design and construction, to view the latest construction projects, including the new Outpatient Pavilion that opened this year and the new hospital tower under construction set to open in spring 2016.