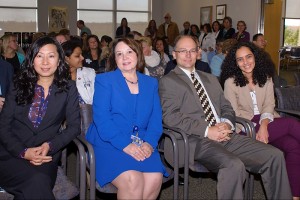 This fall, UConn Health's recognition program, supported by the Human Resources Department, hosted a variety of successful events including the Dr. Peter J. Deckers Employee Appreciation Award and the annual celebration of employee years of service. These recognition events serve to highlight the excellence faculty and staff exemplify, every day, across UConn Health.
The sixth annual Dr. Peter J. Deckers Employee Appreciation Award, one of the highest employee award honors, was presented to Susan Garthwait, administrative program coordinator. The award goes to an employee consistently demonstrates passion and commitment, going above and beyond to help meet the goals of the UConn Health.
"Susan has served UConn Health for decades," John Dempsey Hospital CEO Anne Diamond wrote in her nomination. "Her dedication to improving patient safety and employee engagement through her always positive and creative touch is a true asset to our organization. Susan's out of the box approach, coupled with her enthusiasm, reaches all levels of the organization in a positive way. Additionally, Susan's work is being circulated and recognized nationally as a best practice by our High Reliability consulting group, HPI."
UConn Health's High Reliability consultant, Steve Kreiser, says, "Susan's dedicated efforts in the production of the Friday Flyer newsletter has helped to message our mission of safety, quality and satisfaction across the organization, helping to reduce complacency and raise risk awareness."
The three other finalists for the Deckers Award were:
• Qi Cheng, IT project manager, Strategic Projects and Clinical Systems
• Elaine Chojnowski, executive staff assistant, Dean of School of Dental Medicine
• Greg Sznaj, budget director, Budget and Data Analytics
"I'm delighted and honored to be presented with an award in Dr. Deckers' name," Garthwait says.
Milestone Years of Service
Earlier this fall, 862 employees celebrated their years of service milestones at the annual Employee Recognition Dinner and Open House. At the Employee Recognition Dinner Oct. 14, 153 employees and guests enjoyed a full evening at the Farmington Club including a cocktail hour, dinner and an awards ceremony where employees who reached milestones of 25, 30, 35 and 40 years of service were recognized with their UConn Health pin by senior leadership. The following week, honorees were recognized at a breakfast open house in the Onyiuke Dining room where senior leadership presented service pins to the 5-, 10-, 15- and 20-year employees.