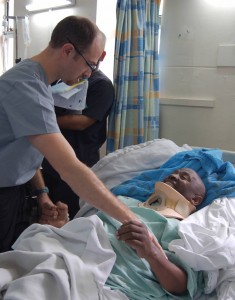 In the spirit of giving, Dr. Isaac Moss, a UConn Health orthopaedic spine surgeon, took the opportunity from his busy schedule to "give back" and volunteer at a medical facility in Nairobi, Kenya.
Part of a two-physician team, Moss recently returned from a five-day mission trip to the Kenyatta National Hospital where he saw patients, operated, and taught the hospital's orthopaedic surgeons to perform the most straightforward to the most complicated spinal surgeries.
Moss volunteered for this trip for several reasons. "The primary goal of the mission is to teach the local surgeons advanced spine surgery techniques. I volunteered because, as a faculty member of an academic medical center who teaches residents and others on a daily basis, I thought I was well suited for this task. Additionally, I'm grateful for the training I've had, and this trip was a mechanism to "pay it forward" in a very meaningful way to both patients in need of care and other doctors in need of training," says Moss.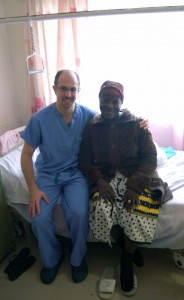 Because Kenya's public health care system is underfunded, some patients can wait months or often years to receive the treatment or procedure they need. During his time in Nairobi, Moss evaluated more than 50 patients and performed nine surgeries, most with spinal cord compressions who were losing their ability to walk. "We performed complex reconstructive spine surgery that no one else in Kenya can do, on patients that would otherwise have no access to care," says Moss. "This was also a great forum for self-improvement, because I had to perform surgery in less than ideal conditions, making me a better surgeon and doctor," he added.
The trip was sponsored by the NuVasive Spine Foundation™ dedicated to providing life-changing spine surgery to individuals in disadvantaged communities in the U.S. and abroad, and developing sustainable spine care programs and advancing spine surgery technology by training and educating surgeons in disadvantaged communities.
"The most rewarding part of the trip was seeing the smiling faces of the patients who were given a chance to get better," added Moss.