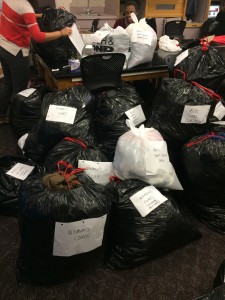 If you've been on the UConn Health campus this month, chances are you've seen those festively decorated boxes for donations of gently used winter clothing, footwear and toiletries.
Here's what happened with them:
"This year the magnitude of items, so generously donated by the UConn community, required 14 students, three full cars, and nearly 45 trash bags to contain," says Christina Klecker, who helped organize this year's student-run winter clothing drive at UConn Health.
Klecker, along with classmates Elise Mester and Karen Xiao, led the group that took part in this year's clothing drive, a joint effort of the UConn chapters of the American Medical Association and the Christian Medical and Dental Associations. The students spent last Friday sorting, packaging and delivering the collected goods to John Dempsey Hospital and the Institute of Living. The intended recipients are patients of inpatient and outpatient psychiatric services.
"The majority of patients who benefit from these services are also homeless, so the warm clothing, provided to them at no cost, makes a huge difference in their health and well-being," says Klecker, a second-year student at the UConn School of Medicine. "We hope all those who donated know what a tremendous contribution they have made for the greater Hartford community."
Fourth-year medical student Ela Banerjee started this effort at UConn Health as a first-year medical student in 2012.