Dry mouth. It's listed as a possible side effect for hundreds of prescription and non-prescription medications, and can also be brought on by factors such as aging, tobacco use, cancer therapy, or autoimmune diseases such as HIV/AIDS and Sjogren's Syndrome.
Also known as xerostomia, chronic dry mouth due to lack of saliva affects the quality of life for an estimated 20 million Americans. Yet over-the-counter mouthwashes are currently the only available treatment.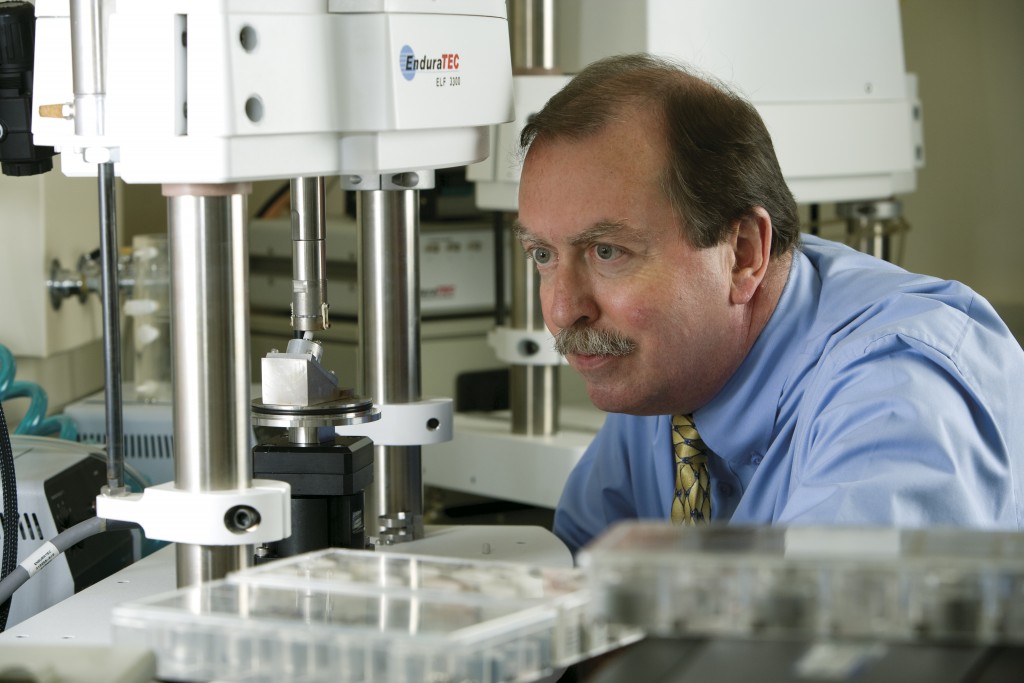 Dr. Robert Kelly, a professor of reconstructive sciences in the School of Dental Medicine, and his colleagues have set out to develop and commercialize a technology that could help: an artificial salivary gland that, when surgically implanted into a patient's mouth, mimics natural saliva production and relieves dryness.
The researchers, using techniques from both chemical and mechanical engineering, hope to create a device that relies on a reservoir that collects the patient's own fluid, then filters and adjusts it to mimic the chemistry of saliva fluid.
"This isn't just a question of discomfort," says Kelly, a seasoned inventor who holds eight patents and counting. "Along with symptoms like frequent thirst, bad breath, and sticky mouth, chronic xerostomia can also result in rapid tooth decay, fungal infections, and problems eating and speaking due to insufficient saliva production. We expect our product will drastically improve quality of life for patients suffering from this condition."
To get their product closer to market, Kelly and his colleagues applied to the University's new National Science Foundation Innovation Corps Site, Accelerate UConn, in the fall of 2015. They were among nine teams selected to participate in the entrepreneurship program's first funding cycle.
One of 13 sites nationwide for the NSF I-Corps program, Accelerate UConn is an entrepreneurship program that helps faculty, staff, and students determine the commercial potential for their new ideas, technologies, and products.
Accelerate UConn teaches participants how to find their target buyer and get feedback, before spending time and money on a technology without a customer. — Timothy Folta
"The University fully supports the commercialization of cutting-edge technologies developed by our entrepreneurial faculty and students," says Jeff Seemann, vice president for research. "Programs like Accelerate UConn provide the seed funding, educational framework, and industry connections to propel innovative ideas along the path to commercialization."
To round out their team, Kelly and his existing industry partners were connected with Gopinath Rajadinakaran, a Ph.D./MBA student who had the necessary mix of science and business expertise to help the busy researcher advance his technology. Rajadinakaran was responsible for conducting one-on-one interviews with different stakeholders to find out if customers wanted their product; if doctors would recommend it to their patients; and if insurers would cover it.
"The number one reason that startups fail is they make products no one wants," says Timothy Folta, professor of business and faculty director of CCEI. "Accelerate UConn teaches participants how to find their target buyer and get feedback, before spending time and money on a technology without a customer."
As the group's "boots on the ground," Rajadinakaran was tasked with finding potential early adopters of the artificial salivary gland technology, which wasn't easy, but provided valuable insight. He also attended training sessions where he learned not just how to find his customer, but how to ask them the right questions.
"At first progress was slow, because it was hard to connect with people suffering from the condition," says Rajadinakaran. "But Accelerate UConn encouraged me to step out of my comfort zone and taught me how to ask questions that got us the information we needed to advance our technology. Eventually I was able to make connections with patient support groups both in the U.S. and abroad, and I learned a lot about who our early adopters might be, what they are looking for in a medical device, and how we can improve our product."
Unlike many other teams participating in Accelerate UConn, Kelly and his colleagues had already made significant progress in commercializing their technology. Before entering the program, they had conducted successful proof-of-concept experiments, received two awards from the UConn SPARK Technology Commercialization Fund, had filed patent applications to protect their technology, and had incorporated their startup, Oral Fluid Dynamics LLC.
As an experienced faculty entrepreneur and inventor, Kelly wasn't sure what he would gain from Accelerate UConn. But after completing the six-week program, he was enthusiastic about the progress his project had made.
"Now we have a much more functional team, our commercialization plan and data are strong, and we've gained the support of early adopters and important groups like the Sjogren's Foundation," Kelly says. "With all of these advances, I'm very positive about our chances to receive future funding and get this product to market. We're going to keep building on this momentum."
Accelerate UConn is currently accepting applications for the spring 2016 funding cycle. The deadline to complete the brief participation application is Jan. 15. Learn more on the Accelerate UConn website.