Months ahead of the scheduled opening of UConn Health's new hospital tower, the parking garage attached to it will be open for staff parking next week.
Starting at 6 a.m. Tuesday, Jan. 19, about 160 spaces on the first three levels of Garage 2 will be available to those with Area 1 parking tags. Access will be through a gated entrance and exit off of West Road, which last month opened to two-way traffic.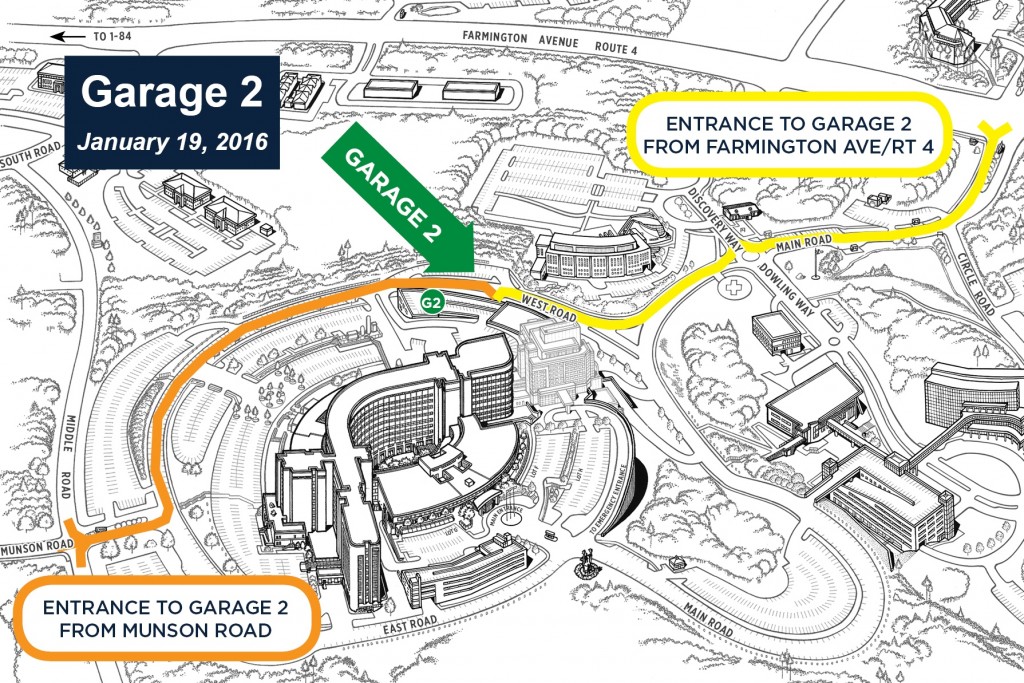 "This should provide some relief for Area 1 parkers who've been displaced by the construction at the academic entrance," says Allan Peterson, UConn Health's director of parking and transportation. "We'll open more spaces as we can leading up to the opening of the tower."
Once University Tower opens, in the spring, Garage 2 will offer nearly 330 employee spots. Additionally, Level 4, the rooftop, will hold more than 40 emergency department patient and visitor spaces, 14 ambulance spaces, and four emergency physician spaces. The ED spaces eventually will be accessible from a second entrance on Level 4 and, similar to in Garage 3, will be separated from the employee spaces by a mechanical gate.
University Tower will not be directly accessible from Garage 2 until the tower opens. At that time, an employee entrance to the new hospital building will be available from Level 3, as will two elevators. Until then, employees should take the stairwells to walk out of the garage on Level 1 and take the sidewalks along the west dock driveway to enter the main building from the loading dock or Lot D to enter from the temporary academic entrance. Handicap parking spaces will temporarily be unavailable until construction is completed and the entrance to the University Tower is accessible from the garage.