Imagine that due to your family medical history, you had an almost 100 percent risk of developing cancer in your lifetime. Now imagine that you discovered this fate before you even started high school. Today that is the reality for many patients with classic familial adenomatous polyposis (FAP), a hereditary colon cancer syndrome.
A team of researchers at UConn Health is exploring ideas for novel approaches to prevent FAP and other inherited colorectal cancer syndromes, and they're getting out of the lab to do it with help from the University's new National Science Foundation Innovation Corps Site, Accelerate UConn.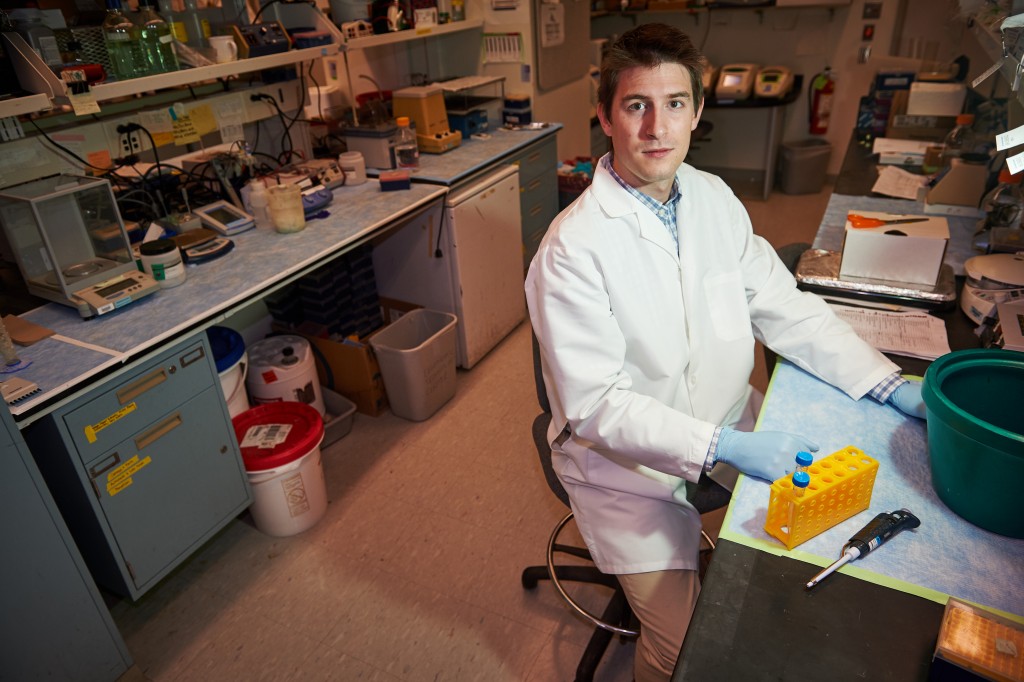 UConn Health professor of medicine Daniel Rosenberg and fourth-year doctoral student Matthew Hanley are in the earliest stages of developing a colorectal cancer vaccine that they hope could someday be used both as a personalized immunotherapy against existing tumors, and as a preventive treatment before tumors become malignant due to hereditary colorectal cancer syndromes.
The two researchers were among the first teams selected to participate in Accelerate UConn, which launched in May 2015.
One of 13 sites nationwide for the NSF I-Corps program, Accelerate UConn provides a framework for entrepreneurial faculty, staff, and students to assess the market potential of early-stage technologies developed in their labs. Along with early customer contact, the program also provides rigorous NSF-endorsed entrepreneurial training; $3,000 in seed funding to assess market potential; and connections with knowledgeable business mentors to help researchers navigate the specific industry they hope to enter.
FAP is a rare condition that can cause hundreds or even thousands of benign polyps to develop in the large intestine. Approximately half of patients living with the disease will develop polyps by the time they are 15, and 95 percent will develop them by age 35. The risk of these growths becoming cancerous is almost 100 percent, usually by the age of 40. Surgically removing the colon is currently the only way to prevent cancer from forming, which means the patients must live with an ostomy (a surgically created opening for discharging waste, and a collection bag) for the rest of their lives.
It's not just about developing a working technology. It's equally important to get inside the head of your potential customers to understand their problem and the type of solution they want. — Matthew Hanley
Rosenberg and Hanley have already learned valuable information about the people they hope to help that they didn't know before joining the program.
"We're really excited about this idea's potential," says Rosenberg. "And we're also really excited about the opportunity to hear directly from patients at such an early stage in the process. We'll have a much better chance of successfully applying for future funding, and to hopefully develop a product that could help people with colorectal cancers one day in the future."
Hanley served as the "Entrepreneurial Lead" for his team, and conducted many of the customer interviews. "Coming into this, we had a lot of assumptions about how treatment decisions were being made for these patients that were completely wrong," he says. "Knowing this so early in the process lets us adjust before we move forward with an expensive and time-consuming development strategy that wouldn't get our technology any closer to market or patients any closer to an effective alternative therapy.
"It's not just about developing a working technology," he adds. "It's equally important to get inside the head of your potential customers to understand their problem and the type of solution they want."
As participants in Accelerate UConn, Rosenberg and Hanley also worked with seasoned entrepreneur and scientist, Bijan Almassian, the CEO and a co-founder of CaroGen Corp., an emerging vaccine company that is part of the UConn Technology Incubation Program. Each has brought specialized resources and expertise to the development of new ideas.
CaroGen's novel and transformative platform technology is based on replication-proficient virus-like vesicles (VLVs) for the treatment of infectious diseases and cancer, in particular chronic hepatitis B virus infection. These vesicles generate a strong immune response, which amplifies the immune system in much the same way that standard viral-based vaccines would. However, CaroGen's technology is much safer, since VLVs are not viruses at all.
"CaroGen was already exploring ways that our existing, proven technology could be applied as a cancer therapy, but this is the first time we've considered its potential application to genetic diseases," says Almassian. "Dr. Rosenberg and Matt Hanley have been instrumental in providing technical know-how related to molecular targets, mutated genes in FAP, and mouse models of colon cancer, to name just a few. The collaboration is definitely mutually beneficial."
The program, which is the only NSF I-Corps site in the state, is jointly operated by the Office of the Vice President for Research and the Connecticut Center for Entrepreneurship and Innovation (CCEI), housed in the School of Business.
"UConn's world-class researchers have extraordinary knowledge and expertise that is currently being applied to create cutting-edge technology, life-saving discoveries, and solutions to the world's grand challenges," says Jeff Seemann, UConn's vice president for research. "Accelerate UConn is yet another means by which the University is helping commercialize innovations to the benefit of the state economy, as well as society as a whole."
UConn professor of business and CCEI faculty director Tim Folta says teams that successfully complete the program, like Rosenberg and Hanley, are much better positioned to continue on and advance their technologies: "The knowledge that participants gain from Accelerate UConn makes them more attractive for additional funding sources, like the CCEI summer fellowship or federal SBIR grants, which means that more UConn technologies will one day successfully make it to market."
Approximately 20 teams will be selected annually through a competitive process to participate in Accelerate UConn. Nine teams took part in the program's first cycle. Applications are currently being accepted for the spring 2016 cycle, which begins in February. The deadline to apply is Jan. 15.
Learn more on the Accelerate UConn website.