UConn's student-athletes are often lauded for their on-field achievements, but there's an equally important – often unseen – dimension to the student-athlete. UConn Today is publishing a series of profiles to highlight the academic prowess of these student-athletes. Follow along as we profile two athletes each month, and provide an inside look at the academic pursuits of these high-achieving student-athletes.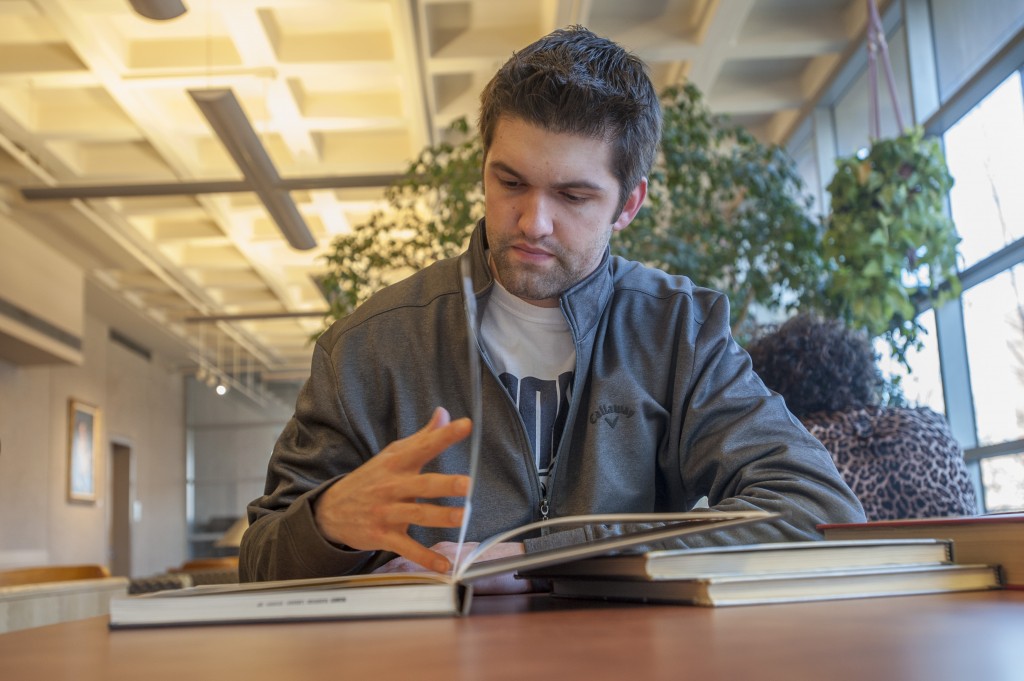 Kyle Huson '16 (CLAS)
Hometown: Parker, Colo.
Sport: Ice Hockey
Area of study: Double major in journalism and communication
Anticipated graduation: May 2016
What position do you play? I play defense.
What's your favorite class, and why? My favorite journalism class has probably been Visual Journalism with Professor Steve Smith. My favorite communication class has been Interpersonal Communication.
How do you balance the demands of your sport as well as a full class load? At the beginning of each semester, I look through the syllabus for each class and mark down the important due dates, tests, quizzes, etc. on my calendar. If I know I am going to be traveling, I will get my work done before I leave so I can focus on hockey while I'm on the road.
What does your schedule look like on a typical day during the season? On a typical day during the season, I'll have my classes in the morning. Once those are done, I'll grab some lunch and head up to the rink. We'll have a meeting and then practice. Usually twice a week, we'll have a lift after practice. Once practice or the lift is over, I'll go back to my house and make dinner before I work on my homework or relax.
Describe someone you've met here who has already impacted your future. Aside from my teammates, the athletes I have met in the group Athletes in Action have really impacted my future. They have all helped me to balance and prioritize faith, school, and athletics. A lot of what I have learned from being a part of that group I will take with me into my future endeavors.
What does it mean to you to be a Husky? To be a Husky means that I am a part of an outstanding athletic and academic tradition. I work as hard as I can, both in the classroom and on the ice, so that I can help this tradition. There is great pride in this university, and I certainly have great pride when I put on my jersey every day.
Where are you headed after graduation? I don't know exactly where I am headed after graduation. My goal is to become a sports broadcaster, so I have been looking into options in that field.
The men's ice hockey team takes on Vermont this Friday, Jan. 22, at the XL Center in Hartford at 8:30 p.m. The game will be televised on SNY.