UConn's student-athletes are often lauded for their on-field or on-court achievements, but there's an equally important – often unseen – dimension to the student-athlete. UConn Today is publishing a series of profiles to highlight the academic prowess of these student-athletes. Follow along as we profile two athletes each month, and provide an inside look at the academic pursuits of these high-achieving student-athletes.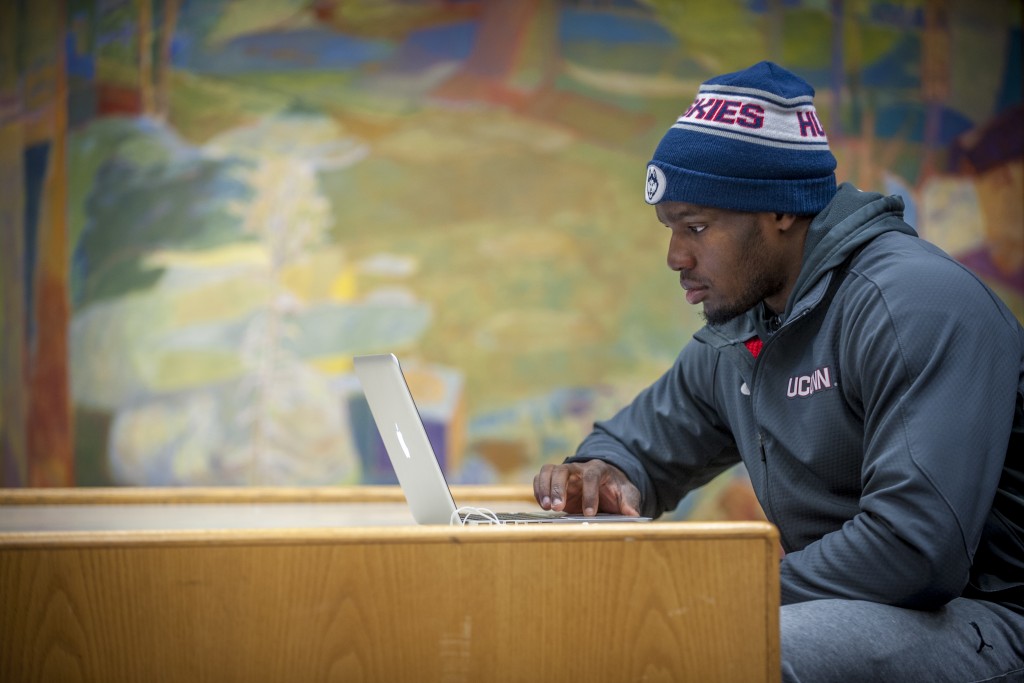 Nnamdi Amilo '16 (CLAS)
Hometown: New Fairfield, Conn.
Sport: Men's Basketball
Major: Molecular and Cell Biology
Anticipated graduation: May 2016
What position do you play? I play forward for the Men's Basketball team.
What's your favorite class, and why? So far my favorite class has been cell biology. It provided the first in-depth look into the topics of my major. Aside from that, the professor for that class taught in a way that was easy to understand and made the information very accessible in case you had to miss a class.
How do you balance the demands of your sport as well as a full class load? Juggling sports and a full class load can definitely be tricky at times, but ultimately it's possible if you remain on top of your work. That means not only getting work/studying in whenever you can, but also being proactive and informing professors of any conflicts. In my experience, as long as I've communicated with my professors and coaches they were always willing to accommodate me.
What does your schedule look like on a typical day during the season? A typical day in-season starts with class at 8 a.m. From there I head to lab from 9:15 to noon. After this, I head to the Werth Center for weight-lifting, followed by practice. By the time this is done, it is usually about 5 to 5:30 p.m. From here, my schedule changes depending on the day. Some days I have class after practice. Other days I have club meetings to attend. Either way, the day usually ends around 8:30 to 9 p.m. From here I head to my apartment, eat, do my class work, and eventually go to sleep.
Describe someone you've met here who has already impacted your future. When I first joined the team I was a bit unsure of how I would handle the time commitment of basketball in addition to my academics. Luckily for me, I had Pat Lenehan '15 (CLAS) to learn from. He had the same major as me and was also pre-med, so I was able to learn a lot of tips and tricks on how to make the demands of basketball and school a bit more manageable.
What does it mean to you to be a Husky? To me, being a Husky means acting with pride and representing the school wherever I go. The lessons I've learned here will help me well beyond my time here, and will travel with me to the next stages of my life and career.
Where are you headed after graduation? After graduation I will be heading to medical school. At this point, I have been accepted at UConn and am waiting on a couple more decisions from other schools.