UConn's student-athletes are often lauded for their on-field or on-court achievements, but there's an equally important – often unseen – dimension to the student-athlete. UConn Today is publishing a series of profiles to highlight the academic prowess of these student-athletes. Follow along as we profile two athletes each month, and provide an inside look at the academic pursuits of these high-achieving student-athletes.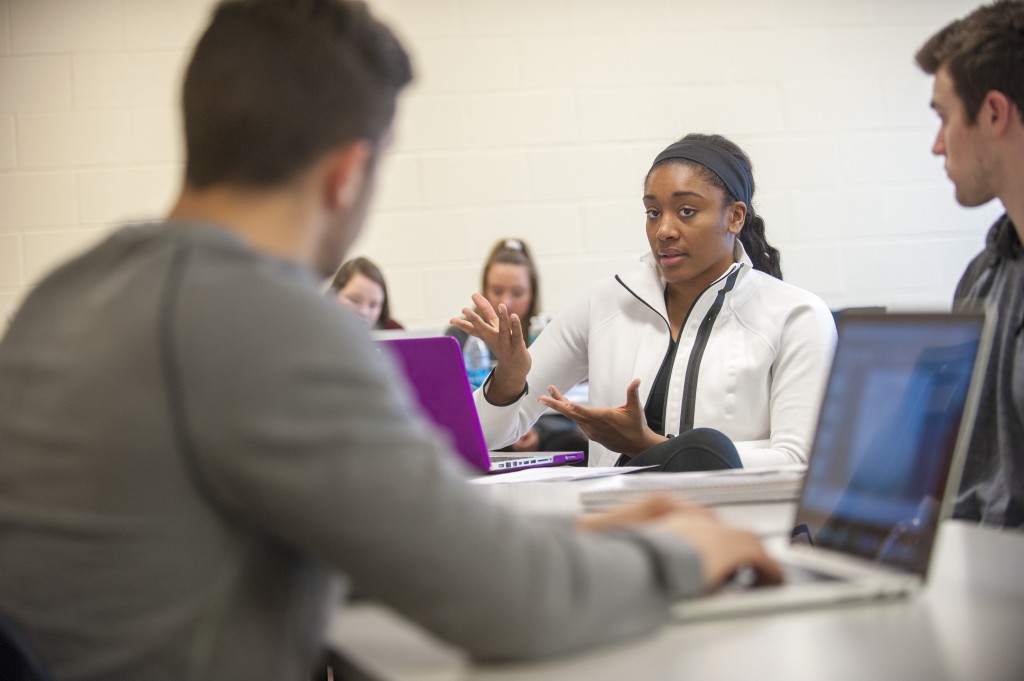 Morgan Tuck '16 (BUS)
Hometown: Bolingbrook, Ill.
Sport: Women's Basketball
Major: Business
Anticipated graduation: May 2016 or May 2017 (after sitting out for a year because of injury, Tuck has one more year of eligibility to play basketball)
What position do you play? I play forward, but it's a little more versatile. I'm around the basket a lot, but I'll also step outside to the parameter. Breanna Stewart and I work really well together, we play the same position, but we'll have one of us inside and one outside, then alternate. My favorite part of playing is being out there with my team, that's what makes it fun; it's a fun environment.
What's your favorite class, and why? I would have to say managerial negotiation with [associate professor of management] Nora Madjar[-Nanovska]. The reason I like it is because it's real life stuff that we're learning. Each week we get a scenario and we're either the seller or the buyer, and then in class we negotiate it. You actually have to negotiate it, and this teaches you life skills that will help when you're out there trying to get a job and in real life. In so many classes, they don't teach you how to apply what you learn to real life, and this class does; it's not just sitting in front of a Power Point.
How do you balance the demands of your sport as well as a full class load? It's with the help of our advisor, our team, and having study hall on the road. These resources make it so we're not just focusing on basketball. Our coach also sets very high standards for how we do in school, and if we don't do well we might not be able to play, so it's a big incentive for doing well in school.
What does your schedule look like on a typical day during the season? Usually we'll have class in the morning before 12, then I'll lift [weights] with the conditioning coach, or lift first and then go to class. After, I'll have practice, study hall for a few hours, and then some free time.
Describe someone you've met here who has already impacted your future. Lucy Gilson [head of the management department in] the business school. I'm doing an independent study with her now, and she has made a big impact because she embodies a lot of the characteristics of women that I try to be. When speaking with her, she makes me think about things I never thought of, and she's a great role model.
What does it mean to you to be a Husky? To me, it means to be great in everything that you're doing: basketball, life, and school. We travel a lot and and go places wearing our UConn gear, and when people see us, they have big smiles on their faces and they know us; they know we work hard.
Where are you headed after graduation? I'm not actually sure, because [I have another year of eligibility, so] I could stay another year or graduate. I haven't figured that out yet.