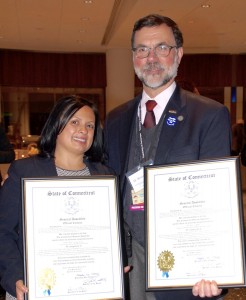 Leaders of the Connecticut Area Health Education Center Network (CT AHEC) based at UConn Health were honored recently by state legislative leaders for their long-term commitment to community service.
During Eastern AHEC's annual meeting earlier this month, Dr. Bruce Gould, founding director of CT AHEC and associate dean for primary care at the UConn School of Medicine and Maritza Bond, executive director of Eastern AHEC, received citations from Connecticut legislators. An honorary proclamation from Gov. Dannel P. Malloy was also presented acknowledging Eastern AHEC's 20th anniversary.
Gould's citation recognized his long-standing leadership and vision:  "We commend you for your tireless work throughout your career for those in need. Your numerous awards include the 2013 Distinguished Service Award from the Connecticut State Medical Society. Your extensive publications and speaking engagements also show your passion and dedication. We hope you will continue in all your achievements and in sharing your vision."
As a citation honoree, Bond noted that as a network, CT AHEC provides vital services to address local community needs.  "Time is valuable to each of us and we are all valuable to our communities–those who need us most," said Bond. "Independently, we are small, but together we are mighty. Together we make a difference."
More than 165 people attended the annual meeting including the executive director of the National AHEC Organization, legislators, community and educational partners, students, board members and members of the CT AHEC network.
CT AHEC is comprised of four regional AHEC centers and its program office at UConn Health in Farmington. As one of 46 AHECs nationally, CT AHEC has been a leader regionally and nationally by connecting students to health careers, health professionals to communities, and communities to better health.