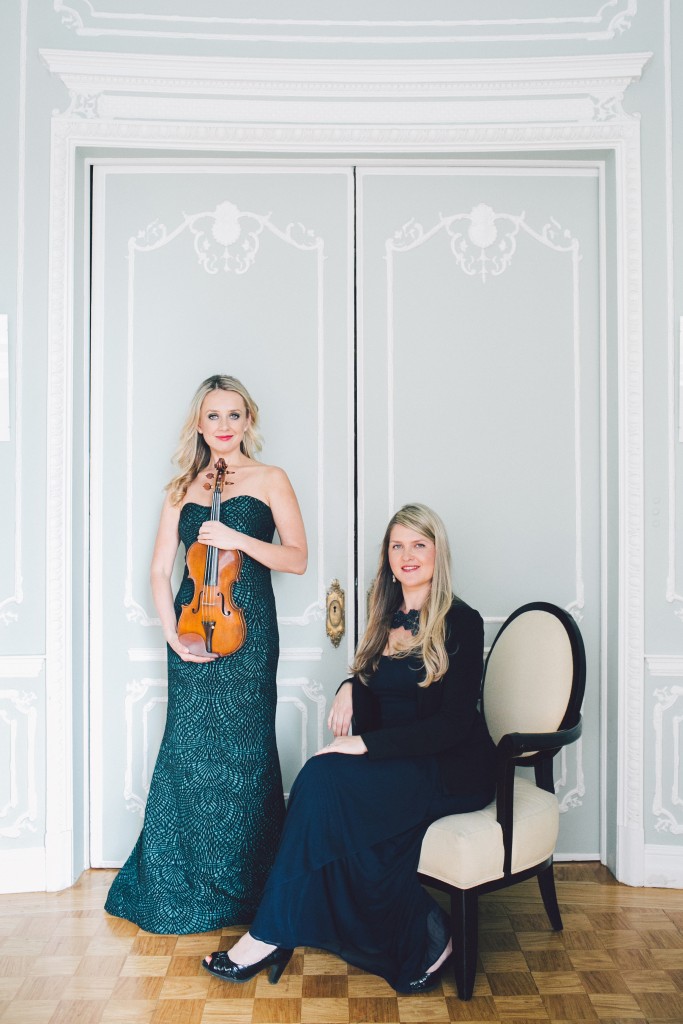 For UConn's Solomiya Ivakhiv, recording a CD of Ukrainian classical music wasn't just a professional endeavor, it was personal.
This past July, the Ukrainian-born assistant professor of violin and viola Ivakhiv and her colleague, Juilliard-trained pianist Angelina Gadeliya, began recording pieces by eight Ukrainian composers for a CD titled "Ukraine: Journey to Freedom, A Century of Classical Music for Violin and Piano." The work chronicles different styles of classical music, such as post-modern and neo-folklorist, from 20th and 21st‑century composers who emerged and thrived professionally, despite the obstacles they faced in Soviet Ukraine.
"As a child, I grew up in the Soviet Union and experienced firsthand what this dark and painful period of world history can mean for artists," says Ivakhiv. "With this project, we try to expose the personal journey of the featured composers, and offer them the opportunity to 'speak' in a way that wasn't possible for them before."
Ivakhiv and Gadeliya also hope to expose listeners to the sophisticated musical history from their homeland, and to raise awareness about Ukrainian culture in general. There has been increased recent interest in the region as a result of Russian military intervention in Ukraine, which began in February 2014.
Each of the composers featured on the album, which is largely comprised of previously unrecorded pieces spanning the period 1919-2014, faced many obstacles in order to maintain their personal, artistic voices during times of harsh communist oppression. Forced to compose music that glorified the Soviet government above all, the artists chronicled in Ivakhiv's recording were denied the freedom to openly express their creative identities, and clashed with government officials as a result.
One such composer, Borys Lyatoshynsky, paid a considerable price for deciding to follow his own artistic vision rather than adhere to government restrictions imposed on composers. Despite being the first Ukrainian composer to write large symphonic works, Lyatoshynsky was excluded from the Composers' Union of the USSR and blacklisted from all concerts and radio programs in 1948. He wrote that he was "dead as a composer" for using his own characteristic musical language.
It is exactly this sort of silencing of artistic expression that Ivakhiv aims to correct with the album and related performances.
Ivakhiv had been working on the project for some time, but was only able to turn her vision into something tangible when she received a Dean's Grant through the Office of the Vice President for Research and the School of Fine Arts.
"Creative scholarship such as this project significantly enriches the entire research enterprise at the University of Connecticut," says Jeff Seemann, UConn's vice president for research. "We're thrilled to have the opportunity to support such outstanding artistic projects that benefit the community both within and beyond UConn."
"Solomiya's recording project is not only artistically exciting, but also emphasizes the dynamics of history and human rights that shape this music and ultimately connect her project to the work of many scholars here at UConn," says Anne D'Alleva, dean of the School of Fine Arts.
For Ivakhiv, who moved to the U.S. when she was 17, the project has proven to be both professionally and personally fulfilling, and has given her the chance to celebrate her Ukrainian heritage while at the same time taking advantage of the artistic freedom she enjoys in her adopted country.
"I am grateful for the opportunity to speak up and to express my opinions and values in my art, which I wasn't always able to do," says Ivakhiv. "I also feel an obligation to let the voices of others be heard. I hope that this album restores a bit of that voice for composers from Ukraine's past and present who haven't been so lucky."
"Ukraine: Journey to Freedom" was released internationally last month, and is also available on iTunes and Amazon. Ivakhiv will be performing some of the music from the CD at a solo recital at the Jorgensen Center for the Performing Arts on March 21. For more information, go to the Jorgensen website.