When Ornella Tempo '16 (ENG) arrived in the United States from Colombia in April of her sophomore year in high school, she didn't speak any English. By June of that year, she was taking part in hands-on summer research opportunities offered by UConn for rising high school juniors and seniors interested in the STEM fields of science, technology, engineering, and mathematics.
And now? She's graduating with a degree in chemical engineering and has a job waiting for her as a research chemical engineer in private industry. Once she gets some practical experience, she's planning on returning to school to earn a Ph.D. so that she can teach and take 'real world' expertise back into the classroom.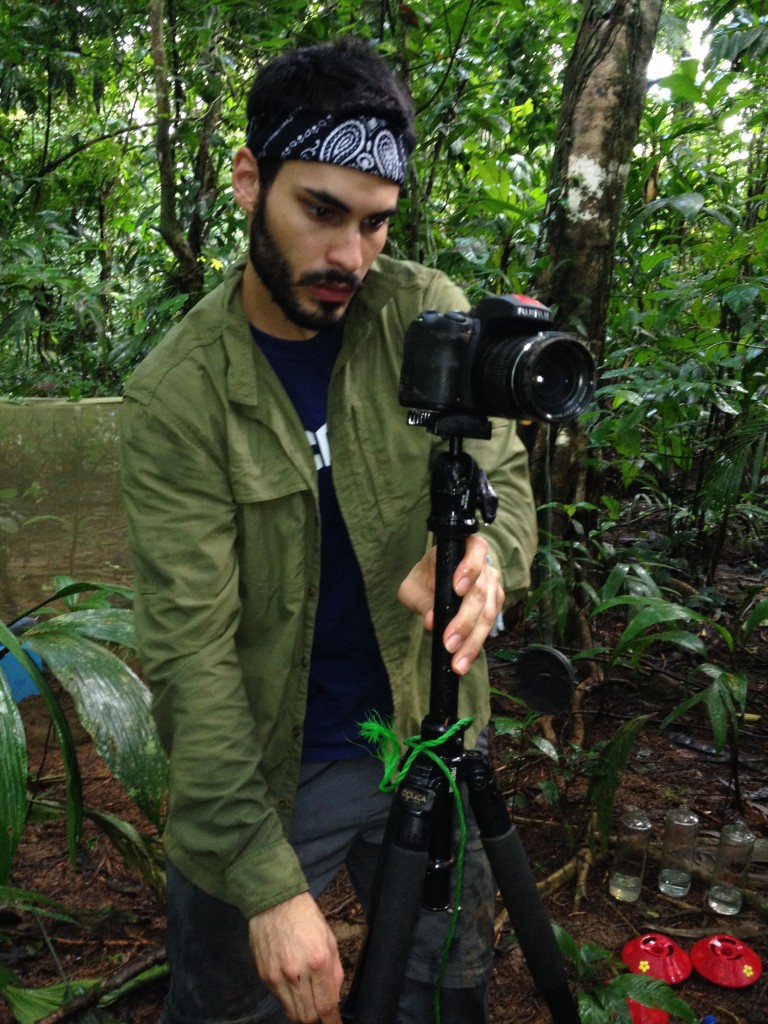 Throughout his four years at Bunnell High School in Stratford, Conn., Virgilio López III '16 (CLAS) had his sights set on attending Fordham University in the Bronx as a pre-med student. He was accepted at his 'first choice school,' but then UConn came along with a strong financial aid package and an enticing campus tour. "That changed everything," he says, "and deciding to enroll here instead of at Fordham was the best decision I ever made."
Along the way, López realized that medicine didn't hold the allure he had anticipated. He found that he loved doing research in the Department of Ecology and Evolutionary Biology, and that he has a knack – and a passion – for mentoring and teaching others. His goal is to enter a Ph.D. program that will prepare him to teach science at the college level.
Tempo and López are among the first students to become McNair Scholars at UConn, and they represent exactly the type of individuals the program is designed to attract.
McNair is one of the U.S. Department of Education's TRIO Programs. It is named after astronaut Ronald E. McNair, who was on board the ill-fated Challenger space shuttle when it exploded shortly after liftoff in 1986. UConn's McNair program is open to low-income, first-generation college students and those from populations underrepresented in STEM graduate fields who hope to pursue a Ph.D. degree.
According to program director and assistant vice provost of the Institute for Student Success Maria D. Martinez, "McNair is a small program in numbers, but it makes a huge difference to those who participate in it."
Chemical engineering as career goal
In Tempo's case, she was bitten by the engineering bug during one of the STEM summer research programs she attended shortly after arriving in this country. After graduating from Wethersfield High School, she began her UConn studies at the Greater Hartford campus, where she concentrated on strengthening her math and chemistry skills. She transferred to Storrs as an engineering major in her sophomore year.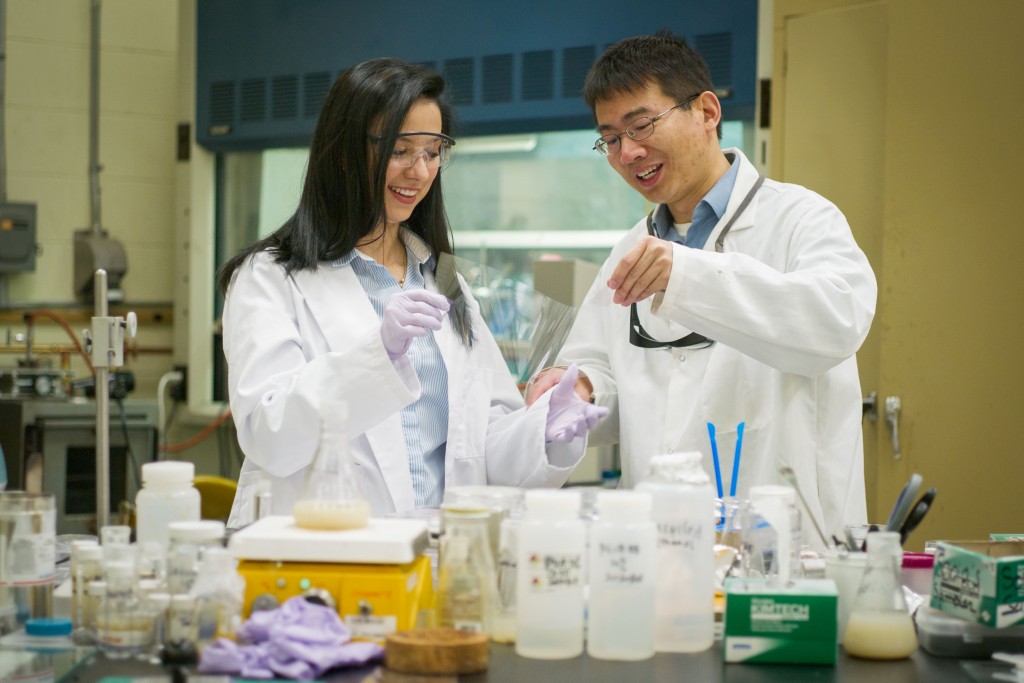 "I was really scared when I started taking classes here," she says, "especially since everyone told me my background wasn't good enough and that engineering was really, really hard. I had a strange accent. Most of my classmates [in engineering] had been here since their freshman year. They all knew each other, and they all seemed so smart. I really felt left out."
To make matters worse, Tempo failed her first test in Introduction to Chemical Engineering taught by associate professor of chemical & biomolecular engineering William Mustain. And then she failed the second one. To say she was initially discouraged is an understatement.
"I went home crying after both of those tests," she says. "But then I just got angry at myself, and I made up my mind that there was no way I was going to fail. I studied and studied, and I passed the third exam with a really high score. I did really well on my final project, too. I passed that course and Professor Mustain told me that I'd set a great example for anyone who is struggling with difficult course material. He said that from then on, he was going to use me as a positive example of what hard work and determination can accomplish. That made me feel really proud."
But that wasn't the end of it.
Also a 2014 Rowe scholar, Tempo has been doing research at the Institute for Regenerative Engineering at UConn Health under the guidance of Professor Yusuf Khan. She represented UConn at the Universitas 21 Undergraduate Research Conference in Auckland, New Zealand in the summer of 2015, where she presented details of her tissue engineering project to researchers from around the globe. She has also devoted many hours to mentoring students at the Sport and Medical Sciences Academy and Bulkeley High School in Hartford.
"My closest mentee is a girl from Colombia who also wants to be an engineer," Tempo says. "Like me, she started at the Greater Hartford Campus, and she'll be transferring to Storrs next year as a sophomore. And the best thing is, she's coming to my graduation in May."
Tapeworms lead to teaching
López was pretty sure he was headed for medical school when he first arrived at UConn, but an opportunity to participate in the two-week introductory STEM research program as a McNair Fellow and then work in the lab of Board of Trustees Distinguished Professor of Ecology and Evolutionary Biology Janine Caira caused him to rethink that goal.
"Dr. Caira is an amazing person and she has guided me every step of the way, López says. "She's an expert in the biology of tapeworms, and I was able to help in developing a global database of tapeworm species. Working in her lab really showed me how much I love research. She even let me name a new species, so now my little brother Jeremiah has a tapeworm named in his honor – Platybothrium jeremiahi!"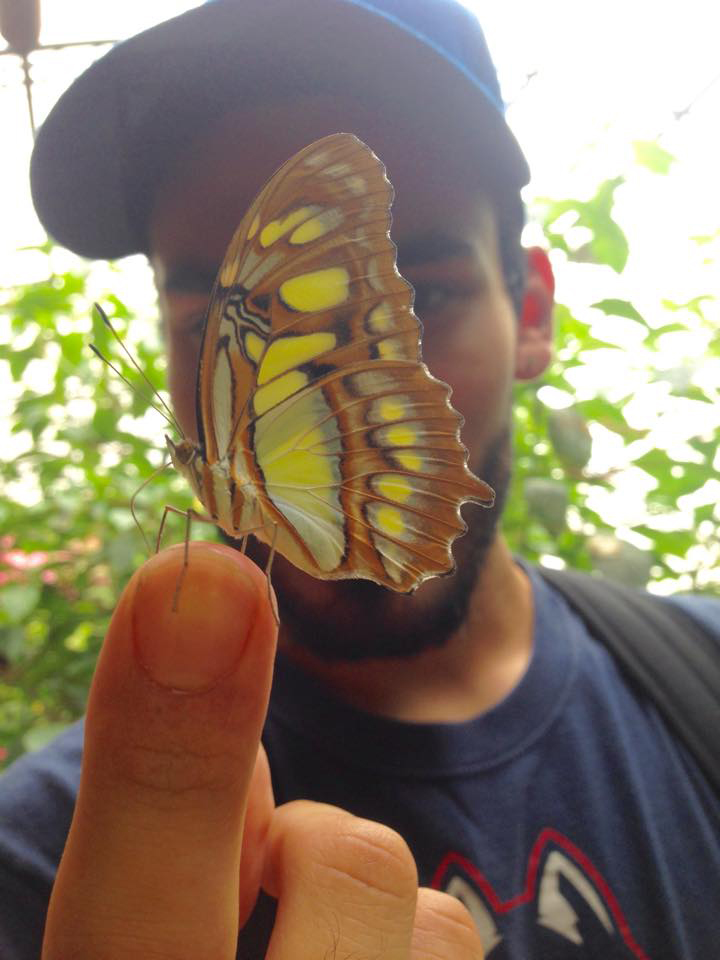 As part of Research Experience for Undergraduates (REU), a summer study-abroad program funded by the National Science Foundation, López spent 10 weeks in the rainforests of Costa Rica observing the behavior of the long-billed hermit hummingbird. After studying the bird's vocalizations, his hypothesis is that the more intelligent a hummingbird is, the more likely it will produce song variations that distinguish it from other hummingbirds.
He has presented his findings at several different venues, including UConn's Frontiers in Undergraduate Research poster exhibition, the GEN Consortium GRAD Lab at Tufts University, and an REU symposium at the La Selva Biological Station in Costa Rica. He is also in the process of writing articles on his research for publication.
But while he's always been interested in science, and doing research is something he loves, when López  became a Supplemental Instruction leader for introductory biology courses at the Academic Achievement Center, he made another discovery. "I've found that I absolutely love teaching," he says, "and now that's my goal. I want to get a Ph.D. in biology and one day become a professor."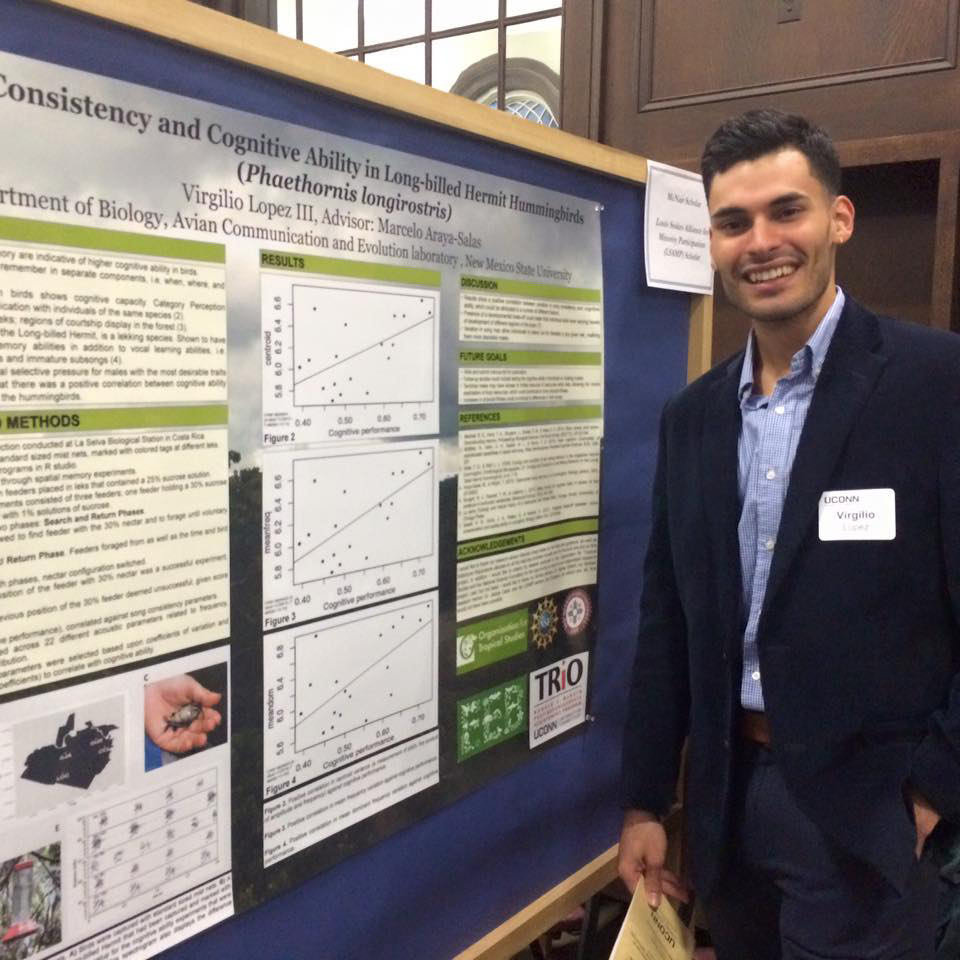 As a minority student, López says he understands what it's like to feel marginalized. Particularly during his freshman and sophomore years, he sometimes felt out of sync with his fellow students. But with the help of the McNair Program, and as an LSAMP Scholar as well, he became increasingly comfortable with his surroundings. For the past two years he has been a Resident Assistant, and that helps drive him.
"Once I finish my Ph.D. program and begin teaching, wherever that may be, I want to emphasize relationships and connecting with students. I want to let others know that even though they may be a different color or speak a different language or come from a different culture, there's a place for them — and plenty of people willing to help them achieve their goals."
Once a McNair Scholar …
UConn, one of only 151 McNair programs in the country, was first awarded a five-year, $220,000 grant in October 2012. The first group of Scholars were rising sophomores and juniors when they were accepted in January 2013. Since then, three Scholars graduated in May 2014 and 12 in May 2015. This year, 14 students from the program will receive their diplomas.
Martinez says that an unusual aspect of the program is that participants are followed closely for 10 years after they finish their undergraduate degree, to make sure they remain on track to earn their Ph.D. degrees and receive the support they need to succeed.
"There's an informal 'McNair Network' among all the schools that have the program," she says, "and we're always interested in our graduates. We say 'Once a McNair Scholar, always a McNair Scholar' – and we really mean it.