A pilot reading initiative led by two UConn professors is showing dramatic results four years after its implementation, much to the delight of lawmakers and advocates who have struggled for years to close Connecticut's significant reading achievement gap.
In a presentation at the state Capitol last week, Professor Michael Coyne announced that schools adopting the CT K-3 Reading Model for three years or more had more than doubled the number of students meeting grade-level literacy goals, while also reducing the number of students at significant risk for reading failure by more than half.
"The results are clear, the CT K-3 Reading Model works," said Coyne, a professor in the Neag School of Education and research scientist with UConn's Center for Behavioral and Educational Research. "Across all of our outcomes, we're consistently showing that students experience greater growth in early literacy skills across grade levels and across literacy measures when their school implements the CT K-3 Reading Model."
My friends used to say, 'You can't read.' Now they can't say that because I am a GREAT reader. — Louis
With 50 percent of African-American, Hispanic, and economically disadvantaged students in Connecticut reading below proficiency levels, Connecticut Gov. Dannel P. Malloy and the General Assembly approved legislation in 2012 establishing the pilot initiative. The legislature's Black and Puerto Rican Caucus, which was instrumental in getting the legislation passed, sponsored last week's Capitol event, along with the Connecticut Commission on Children and the state Department of Education.
"The results of this program prove we can move the needle in child literacy," said State Rep. Patricia Billie Miller (D-Stamford), a member of the Black and Puerto Rican Caucus.
While Connecticut is one of the wealthiest states in the nation, it is one of the worst states in the country when it comes to the academic gap in reading, Billie Miller said. Lawmakers – particularly those in the Black and Puerto Rican Caucus – and advocates have struggled to reverse the trend.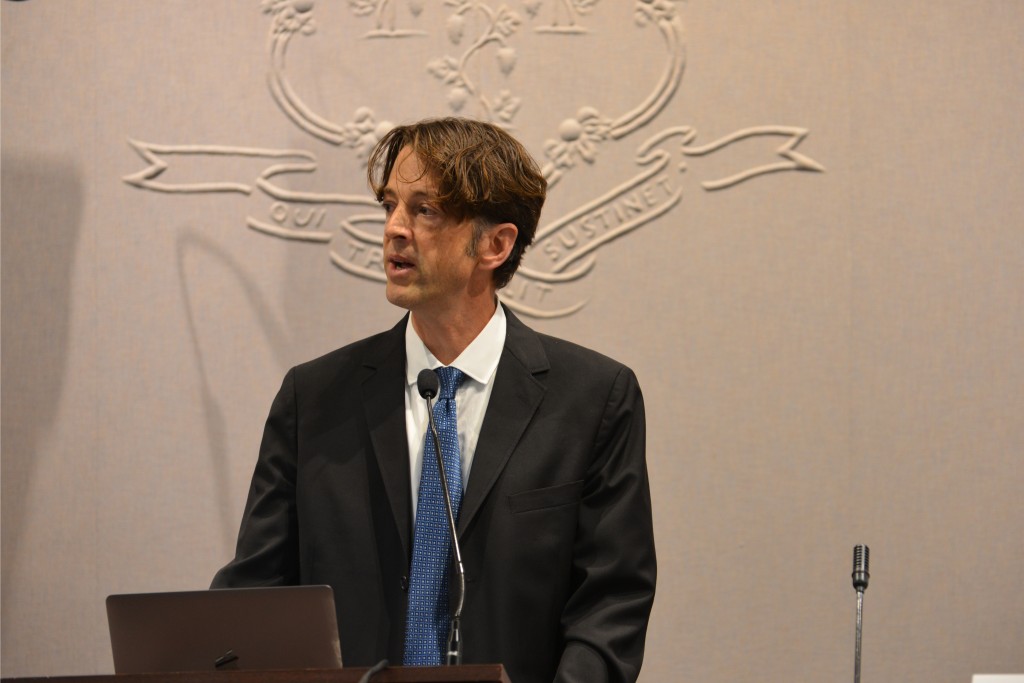 "It's been very frustrating for me to get this ship to move in a direction so all of our children can benefit from the wonderful resources of this state," said six-term State Rep. Douglas McCrory (D-Hartford), a former middle school teacher who is now a vice principal for the Capitol Region Education Council. "We will not allow anyone to get in the way of what we want to do, and this program – we know it works."
The CT K-3 Reading Model led by Coyne and Neag professor George Sugai is based on proven, effective, empirically-validated practices for teaching and assessing reading. It is a framework that incorporates a school-wide reading improvement plan, a comprehensive literacy assessment system, high-quality classroom reading instruction, evidence-based supplemental intensive reading interventions, ongoing coaching, and targeted professional development for teachers. It also emphasizes the importance of forging partnerships with parents.
The initiative started with five schools, but has since expanded to 34. Supporters would like to see the model adopted statewide.
Making reading a top priority
Connecticut Education Commissioner Dianna Wentzell, who attended the presentation, was impressed with the results.
"Once you prove you can do it, then you must do it," said Wentzell. "When kids fall behind early, we know catching up isn't easy. … This is really an inspiring event."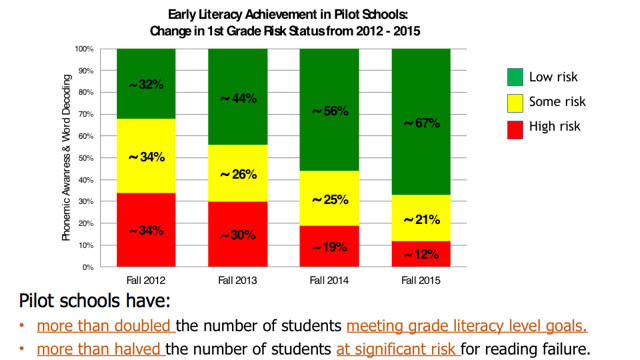 More than 1,000 students in 50 classrooms in five schools in Hartford, East Hartford, New Haven, and Windham have been exposed to the model for the past four years. While outcome data revealed successes early on, schools that participated for three years or more showed the most dramatic improvement. In those schools, first grade students considered at high risk for reading failure dropped from 34 percent to 12 percent over four years, and those considered at low risk for reading failure jumped from 32 percent to 67 percent, Coyne said.
"These schools committed to reading as a top school priority," Coyne told lawmakers. "They approached this challenge with a sense of urgency, a level of intensity, and an attention to detail that frankly is highly unusual for typical educational reforms and initiatives. But I think that level of detail is absolutely necessary to ensure that no children slip through the cracks."
While much will be made of the significant improvements in student performance, Coyne said the initiative also shows that providing teachers ongoing support, training, and sufficient resources is critical to the model's success.
"The CT K-3 Reading Model is not about adopting a program or intervention," Coyne said. "It's about changing systems. It's about changing the way we teach reading at a system level to ensure that all students become successful readers."
Melissa Hickey, Connecticut's statewide reading director, urged proponents to continue their push to expand the CT K-3 Reading Model, so that other children struggling with reading can get the help they need.
"Today we've seen data that clearly shows that we, in Connecticut, are narrowing the reading achievement gap," Hickey said. "Please know that this work matters, your work matters … we are making a difference in the lives of children."
To underscore her remarks, Hickey read a letter from Louis, a third grade student at Hartford's Burns Latino Studies Academy who participated in the new reading model.
"Reading used to be hard for me because the words were too big and I couldn't read them," Louis wrote. "But I've been reading a lot with Ms. Gordon [his classroom reading instructor] and she helps me read. … I like the books she gives me and I ask her if I can read them again. Now I am a good reader. My friends used to say, 'You can't read.' Now they can't say that because I am a GREAT reader. I am proud of myself because I worked hard to learn to read better. Now I don't watch TV that much. I feel awesome!"