UConn's flourishing collection of Learning Communities will expand this fall with the addition of two new residential communities, one for incoming transfer students and another for young men interested in the experience of being an African-American male on campus.
Transfer Connections House will welcome about 60 students joining UConn from other colleges when the learning community launches in August in Busby Suites, and about 50 male freshmen and sophomores will comprise ScHOLA2RS House on part of a floor in the new Next Gen Hall.
Also known colloquially as Scholars House (Scholastic House of Leaders who are African-American Researchers & Scholars), the grant-funded initiative is designed to provide support, mentoring, and professional development to encourage young black male students to make social and academic connections at UConn and stay throughout their college careers. Males of all races can apply.
UConn has 30 learning communities, 17 of which include the residential component in which students share space on certain floors or areas of particular residence halls. Transfer Connections and Scholars House will be the 18th and 19th residential learning communities.
"Learning communities provide a small college feel within a larger university," said David Ouimette, executive director of UConn First Year Programs and Learning Communities, noting that research has shown them to be effective.
"By creating interdisciplinary and major-based learning communities, you're also taking advantage of the chance to align the students' experiences and interests with faculty and staff and graduate student support," he said. "Students can create and build a community that will allow them, early in their college careers, to set a foundation for their learning. Their intellectual life doesn't stop at the classroom door; their intellectual life continues in their residential life."
UConn decided to launch Scholars House as a way to build community and provide support and mentorship tailored to the needs of black male undergraduates, who comprise a small percentage of the overall student population in the UConn student body.
Learning communities provide a small college feel within a larger university. … Students can create and build a community that will allow them, early in their college careers, to set a foundation for their learning. — David Ouimette
In recent years, about one of every two black male undergraduates left UConn before completing their degree, often having displayed strong academic performance but feeling isolated because they knew so few students whose experiences were similar to theirs. Of the approximately 18,800 undergrads based at Storrs, only about 450 are black males.
Among all undergraduates, about 83 percent stay at UConn and earn their degree within six years. Among black males, the figure is 55 percent, the lowest among any group.
"It's overwhelming to feel dropped down in the middle of such a big school and try to navigate where to find classes, where the dorm is, where people socialize, and how to adjust," said Reuben Pierre-Louis, a junior who transferred as a sophomore from Norwalk Community College where he was a commuter student who lived at home in Stamford. He had been raised in a housing project and saw several friends die young as he threw his focus into sports and school.
Pierre-Louis, who plans to be a special education teacher, will be a resident assistant in Scholars House next year. He hopes to use his own experience to help incoming freshmen and sophomores find the academic and social supports that will help them feel at home at UConn, and want to stay to complete their degrees here.
"Most people make friends because they're around in the same environment," he said. "If you have a small number of black people all scattered around on such a large campus, it's difficult to connect with them. In a class of 300 people, you may see one other black guy, or maybe none at all."
Phillip Lewis Jr., a sophomore from Boston, said he relied heavily on his regular phone calls with his parents to help him get through his earliest days on campus. Having been one of five black males in a predominantly white prep school, being in the minority was not a new experience for him – but navigating the social and academic offerings was.
"I feel like I can make a difference in Scholars House and help the freshmen make an easier transition to college," said Lewis, who will be a mentor to Scholars House freshmen in their First Year Experience classes. "I feel that this program will make a positive impact on the campus and on the students, and I feel like I can be a positive part of that."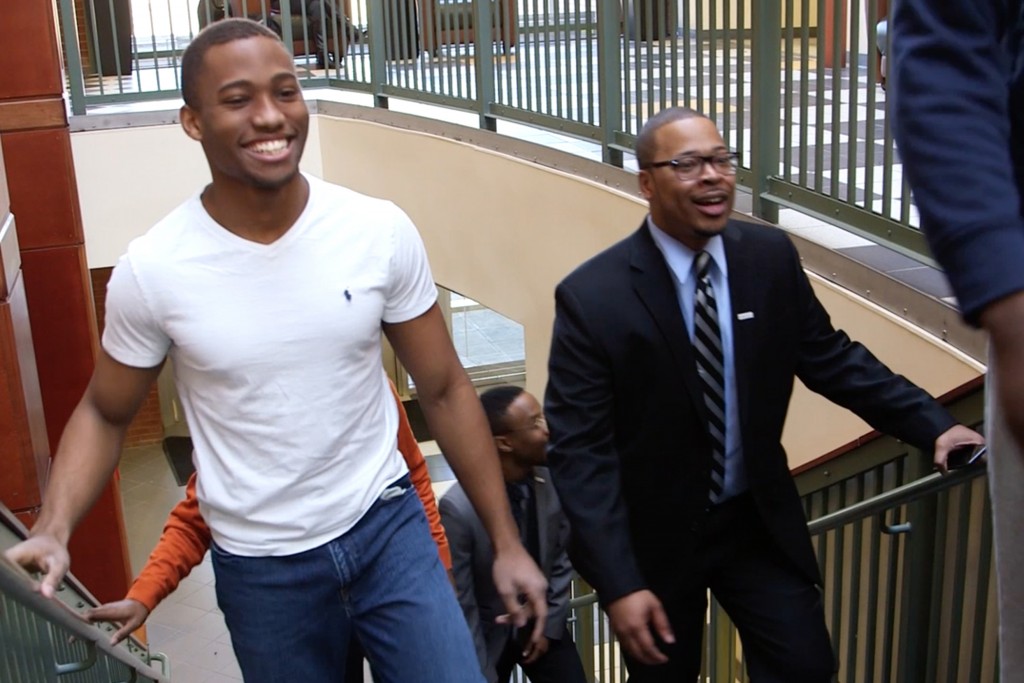 Scholars House will draw upon many resources throughout the University – including the African American Cultural Center, the Africana Studies Institute, and Student Support Services – to provide its residents with tools for success and engagement at UConn.
For instance, it is designed specifically to include mentoring from faculty and other professionals; guidance and encouragement for students to aim toward graduate school and beyond; involvement with on-campus clubs and organizations; and Education Abroad opportunities.
Several other universities have similar learning communities in place, including the University of Minnesota, University of California-Santa Barbara, UC-Davis, Harris-Stowe State in St. Louis, Texas A&M, and many others.
As is the case in similar programs, UConn's Scholars House will not be separate or segregated, and its programming will be open to all in the University community. Male students who will be first- or second-year students in the coming academic year will be prioritized in selection. However, any male student in any year interested in engaging in topics related to the experience of black males in higher education is invited to apply and will be considered.
Scholars House and similar initiatives also support the goals outlined in the White House's My Brother's Keeper Task Force report. That task force, which was created by President Obama, found that a strong need exists to expand opportunity for young men of color through education, career development, and other initiatives.
"Given that many of our young men are coming to UConn at the top 10 to 15 percent of their high school class, it is imperative that we as a University community continue to celebrate and support their scholastic achievements. We can do that by providing the resources needed to build on their continued success," said Erik Hines, assistant professor in the Department of Educational Psychology in UConn's Neag School of Education, who also will be faculty director of Scholars House.
"Additionally, as a faculty member in the counseling program, I want to ensure that I understand the background of my students, as I know each of them have various needs and supports I must consider to help them matriculate through the program and have a memorable college experience at UConn," Hines said. "I believe when we [faculty] do this for all of our students, those students are able to adjust and navigate the college landscape successfully."
The University wants to foster the same sense of support, camaraderie, and belonging in undergraduates transferring to UConn, and will work with the new residents of Transfer Connections to help those students navigate all that the University has to offer academically and socially.
UConn enrolls about 1,200 undergraduate transfer students each fall at all of its campuses, often from Connecticut community colleges and regional universities. This is the University's first learning community specifically designed around their needs.
Overall, participation in UConn learning communities has grown significantly in recent years, as students have enjoyed the benefit of sharing time, ideas, and living space with others who have similar experiences and interests.
For instance, last year the University launched the Human Rights & Action Learning Community based in Eddy Hall; and Innovation House has been a popular residential destination for UConn's entrepreneurial students since it launched in 2013. In fact, Innovation House and Scholars House will share a common floor in Next Gen Hall starting this fall.
Several other communities have also become well-established homes for students with interests ranging from conservation (EcoHouse) to Caribbean and Latin American issues (La Comunidad Intelectual), pre-pharmacy and nursing, fine arts and humanities, women in the sciences (Women in Math, Sciences, and Engineering), and many others.