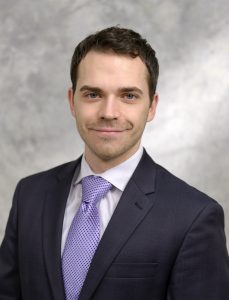 Growing up, Alex Hennessey considered medicine somewhat of a lofty dream.
It was a dream that could have gotten away from him altogether were it not for his pet rabbit.
Hennessey was a music major at the College of Charleston, S.C. He studied pre-med, but it was music that garnered most of his attention. He was a theatrical musical director, wrote some scores, and even wrote an opera based on the Hippocratic oath – an indication that medicine was still in his blood.
"The more I did the music stuff the more I just threw myself into that," Hennessey says. "I sort of forgot about the medical thing, because the music was going so well."
That's when the bunny intervened.
It was Fourth of July weekend 2010, going into his senior year at Charleston, when Hennessey noticed the family pet under medical duress. No local vets were open because of the holiday. Using his dissection kit from anatomy class, Hennessey intervened.
"Even though this was more of a veterinary thing, it sort of got me back into thinking of surgery, emergencies, and dealing with these problems," Hennessey says. "I found it very powerful. It was really fascinating to me, and I got into my mind that I wanted to do surgery."
When he returned to school, Hennessey took an emergency medical technician course, and after college, was a volunteer EMT in his hometown of Newtown. The UConn School of Medicine appealed to his desire to stay close to home.
As a third-year student, Hennessey started working with the chief urology resident, Dr. Gerard Pregenzer.
"He's been really amazing," Hennessey says of his mentor. "Since I started my first urology elective, he's been a huge resource and an incredible source of support."
And that same residency program Pregenzer is leaving this year is where Hennessey will continue his training this summer.
Looking back at his medical school experience, Hennessey says he learned what tests his limits and how to push past what he thought his limitations were.
"No matter how tired I was, or how much work there seemed to be to do, given the circumstances it was either sink or swim a lot of the time, and somehow I made it to this point, where I'm graduating," Hennessey says. "Between the hours worked and the volume of things to learn, the fact that we were all able to do it is pretty phenomenal."
And as for the group of future physicians he'll address at commencement?
"I feel like this is a class that never made me feel anxious to keep up, or was so hypercompetitive that it was cutthroat," Hennessey says. "I like that about our class. It was a really great environment of people to come up with."