Jeffrey Pan won't be the first dentist in the family. Not even close.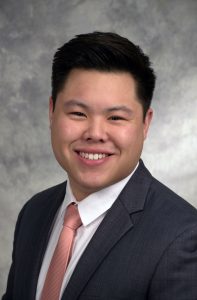 His father is a well-known family dentist in Melrose, Mass., and his mother is a professor at the Boston University School of Dental Medicine.
And he won't be the last. He has a younger brother who's a first-year student at BU Dental, and a younger sister who is considering dentistry.
"I always joke with everyone that I got brainwashed when I was a kid," Pan says. "I always wanted to be a dentist at a young age. We actually did live upstairs from the practice, and I would always come home from school and then go down and peak through the door and watch my father."
When it came time for choosing a dental school, the UConn School of Dental Medicine was little more than a name on the list of institutions in the Northeast.
"I didn't really know much about the program," Pan says. "At the interview, I got a really good feeling about the program. Then I heard a lot of great things from people who were in dental school, or who had graduated and had heard about the program. It seemed like a very competitive program to get into, and it looked like it had everything that I was looking for in terms of an education and clinic experience."
Pan chose UConn over BU, Tufts and Columbia. He describes his experience as a UConn dental student as tough and arduous.
"When they say in orientation this is not an easy program, they mean it," Pan says. "But I think in the end it really has made us more confident in what we do, and prepared to go out as solo practitioners."
One of the things he'll remember most about the UConn School of Dental Medicine is the class size. Pan is one of 35 students who make up the Class of 2016. Because they got to know each other so well, he says they will have a network of people they can call on for questions and rely on as they enter the profession.
"The latter two years of clinic especially, I think it really solidified our knowledge from medical school to dental school, being able to integrate that knowledge and apply that to patients," Pan says. "I think the workload they give us and the pressure they put on us, after a while it starts to inspire confidence."
Pan says he's always wanted to be like his father, and always wanted to work with his father. And that's the plan: a year in BU's general dental residency, and then back to the two-story building he grew up in, with Dr. Nelson Pan's practice on the ground floor. Only this time, father and son will practice side by side.