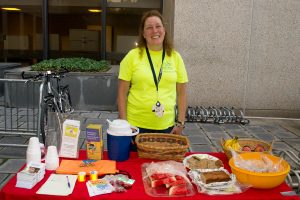 Once a month from May through September, Joyce Fritz puts out a breakfast spread for those who bike to work.
It's a way to combine two of her passions – baking and biking.
"I've always loved to bike and it's so wonderful to share this passion with other people," she says. "Personally, I bike to work for the exercise and the enjoyment of the sights and sounds I encounter being outside."
Fritz, who works in UConn Health's Department of Facilities Development and Operations, has been setting up monthly bike-to-work breakfast events on campus for nine years now. It's a completely self-funded, volunteer effort on her part.
"I'm always hoping to motivate faculty, staff and students to bike or walk to work," says Fritz, who often leaves the car at home in Plainville and pedals the 8 ½ miles to work instead. "Once they give it a try, they will see the benefits and enjoyment that biking or walking offers."
UConn Health has a group of regulars who take two wheels – not motorized – to work. Dr. Philip P. Smith, associate professor of surgery, is one of a hearty few who do it year round.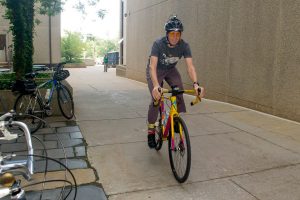 "We're really designed as creatures to be mobile, so we should figure out how to work mobility into our daily lives as part of our health," says Smith, who lives about 4 miles away in Farmington. "An awful lot of modern medicine is built on the idea of facilitating maladaptive lifestyles. People sit at home, they ride in their cars to work, they sit at work, they gain weight, their cholesterol goes up, they get high blood pressure, they get diabetes. There's a consequence to all these things."
Another daily cyclist is Josh Mills, an IT applications developer who bikes about 20 miles each way from New Hartford.
"It feels good to exercise in the morning, it saves on gas, and I really don't like driving a car. I try to cycle everywhere I can," says Mills, who jokes that if he wasn't married he wouldn't own a car. "Sometimes in the morning I get up very early and there's no traffic on the road when I'm traveling, and it's very pleasant to be on the road at that time, so sometimes I'll take a little detour coming in here."
Locker rooms with showers are available in the main building, on the basement level next to Reprographics, and in the Outpatient Pavilion, on the first floor.
"I challenge all employees and students who live a reasonable distance from here to try leaving their cars at home one day a week and bike or walk to work," Fritz says. "It's great exercise, good for the environment, with no worries about parking. Everything about it is rewarding."
And with a little planning, those who take her up on that challenge can score some homemade goodies as a reward for their efforts. Fritz will be back with her table outside the public safety entrance to the main building Aug. 19 and Sept. 16 from 6:30 to 8:30 a.m. Rain dates are the Mondays that follow.