Incoming UConn freshmen Cyrene Nicholas, Akriti Mishra, and Naaol Shupare have a lot of choices ahead of them in the coming years: which classes to take, which activities to join, their favorite Dairy Bar ice cream flavor, and many others.
But for all three, the choice to join UConn's Class of 2020 was easy. They cite UConn's exceptional academics, teaching quality, financial aid, variety of social opportunities, supportive atmosphere, and ability to prepare them for fulfilling careers.
The three students are among about 5,100 incoming freshmen starting classes Monday, Aug. 29 at UConn, including a record number of about 3,800 at the Storrs campus.
It's one of the largest freshman classes overall in UConn's history and, with 37 percent of students coming from minority backgrounds, it's also the most diverse.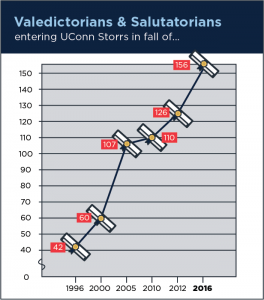 It also has the largest number of valedictorians and salutatorians – 181 – of any prior UConn freshman class, with nine of every 10 coming from Connecticut.
The Class of 2020 continues its predecessors' track record of academic excellence with an average SAT score of 1233; and about 71 percent of the freshmen are Connecticut natives who chose to enroll in their state's flagship university. They're joined by talented students from elsewhere who were drawn here by UConn's increasingly strong reputation nationwide and internationally.
In fact, UConn drew new students this year from 164 of Connecticut's 169 municipalities, with students coming from 44 states, Puerto Rico, and 22 countries worldwide.
"It was the smartest decision for me by far to go to UConn rather than any other school, and I love it here so far," says Nicholas, a Branford native and freshman majoring in physiology and neurobiology who has been taking classes on campus this summer. "I want to go to medical school after I graduate, and I feel like UConn is going to prepare me well for that."
About 80 percent of UConn's overall undergraduate student body hails from Connecticut. That percentage has held steady for about 10 years, and is expected to remain so for the foreseeable future.
Although the number of high school graduates has decreased in the state and region, UConn is drawing an even larger portion of that shrinking pool without compromising on its high acceptance standards and academic rigor.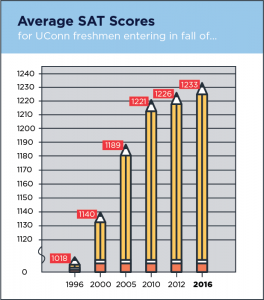 About 525 students with an average SAT score of 1402 are joining UConn's highly competitive Honors Program this fall, including Nicholas and Mishra. UConn will also enroll a record 156 valedictorians and salutatorians at Storrs, plus 25 more across UConn's regional campuses.
"UConn's class of 2020 is academically exceptional, very diverse, and highly ambitious," says UConn President Susan Herbst.
"UConn is keeping great students here in Connecticut and drawing many other outstanding students from across the nation and the globe to our state," she adds. "They are the leaders and citizens of tomorrow, and are in many ways the return on the remarkable and transformative investments the state of Connecticut has made in UConn."
Offering strong financial aid packages for talented in-state applicants is one important strategy that UConn employs to draw students from the shrinking pool of Connecticut graduates, helping keep their costs down.
In fact, Money magazine's 2016 ranking of best colleges lists UConn as the 18th best value among public universities nationwide and No. 38 among all public and private institutions, based on average financial aid received and graduates' early career earnings.
"It is a powerful statement that UConn continues to attract increasing numbers of top students from Connecticut and beyond," says Nathan Fuerst, UConn's director of undergraduate admissions.
"Ultimately, the passion that is shared among our faculty, staff, and students for UConn is what continues to draw new students in," he says. "Prospective students respond to the pride that they see when they visit our campus. There is something truly special about being a UConn Husky."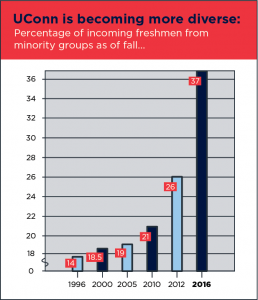 Shupare, a native of Brooklyn Park, Minn., plans to study electrical engineering with an emphasis in aerospace, and chose UConn because of its proximity to corporate leaders in that industry – and, as a fan of UConn Athletics, he already felt connected to the University despite growing up 1,300 miles away.
"I knew I wanted to study outside of Minnesota, and of all of the schools that I looked at, UConn had everything I was looking for as a good school and a cool environment," he says.
Many freshmen like Shupare, Nicholas, and Mishra are entering the fall semester with credits already on their transcripts due to participation in the UConn First Summer Program, or by taking Early College Experience classes while in high school, or excelling in Advanced Placement tests.
Mishra, of West Hartford, is among those students, having compiled so many early credits through those three approaches that she qualifies as a sophomore on paper, despite being a member of the freshman class. She hopes to graduate early, both to save money and to get a jump on her future plans for either medical or law school.
Mishra, Shupare, and Nicholas are also unanimous in their praise for the professors they have met so far: "I feel like they're really passionate about the subjects they're teaching, and that I can really connect to them and talk with them to keep learning more," Mishra says.
They're also excited about the university's social opportunities, with Mishra eager to learn more about the cultural centers; Shupare already making plans for road trips to UConn Football games; and Nicholas exploring horseback riding lessons.
All of this year's incoming freshmen have already crossed a major hurdle in their college careers by being offered spots in the Class of 2020, since they were competing in a record-high field of about 36,000 applications.
They will also witness several UConn milestones in their college careers, including the opening this week of the new Next Generation Connecticut residence hall; the opening next year of the new Engineering & Science Building; and the return of the Hartford campus to its city roots with the opening of a downtown campus in 2017. Freshmen at the Stamford campus may also be among the first to live in the new student housing that UConn is opening there in partnership with a developer starting in fall 2017.
In all, about 23,600 undergraduate students are set to resume classes on Monday, with about 19,000 of them based at Storrs.
Members of the freshman class will begin moving into Storrs residence halls on Friday, and will be joined by returning and transferring students throughout the weekend, with about 12,600 total students expected to live on campus.
In addition to the approximately 5,100 new freshmen joining UConn's ranks, the University also is welcoming about 1,100 students transferring from other schools, primarily from elsewhere in Connecticut.
About 850 of those transfer students are enrolling at the Storrs campus, including 60 who will be the first residents of the new Transfer Connections Learning Community in Busby Hall, which is specifically designed to help transfer students make a successful transition to UConn.
The other students joining UConn are at the Hartford, Stamford, Waterbury, and Avery Point campuses.