When Dr. Courtney Townsel sees an expectant mother with a rare, but serious condition called cervical insufficiency, she only has a few treatment options. Despite steady advances in how we treat mothers and their unborn babies during high-risk pregnancies, none of her options are ideal. In fact, the procedure most commonly performed to treat cervical insufficiency has remained largely the same since the 1950s.
An idea to improve the invasive, traditional procedure known as cervical cerclage came to Townsel, a Maternal-Fetal Medicine Fellow at UConn Health, after leaving the operating room one day. She is now transforming that idea into a viable product with the help of Accelerate UConn, the University's National Science Foundation Innovation Corps site.
Just because it's what we've always done doesn't mean we should keep doing it the exact same way. I thought we could do better. — Dr. Courtney Townsel
Also known as incompetent cervix, cervical insufficiency occurs following painless dilation of the cervix too early during pregnancy. This leads to premature birth, putting affected newborns at a much higher risk for health problems and prolonged hospitalization both immediately after delivery and throughout their lives. Worse still, in many instances labor begins so early that the fetus cannot yet survive outside the womb.
To prevent pregnant women with the condition from going into premature labor, highly trained maternal-fetal medicine specialists like Townsel currently use a needle to stitch or incisions to place an encircling suture below the surface of the cervix to tie it closed. This invasive surgical operation is known as cervical cerclage. Cerclage is usually performed transvaginally, but sometimes requires going through the patient's abdomen. Both methods have significant drawbacks: they are costly, difficult to perform, require hospitalization and anesthesia, and come with a laundry list of serious potential surgical complications.
"This procedure is widely accepted in the field, but it is far from perfect," says Townsel. "Also, it doesn't always prevent premature birth and is usually not performed beyond 24 weeks of pregnancy.
"Just because it's what we've always done doesn't mean we should keep doing it the exact same way," she adds. "I thought we could do better."
Townsel's technology, which is in the early stages of development, essentially removes all of the potential complications for the patients – mom and baby – associated with traditional cerclage because it does not involve surgery or require hospitalization. Instead of being performed in an operating room under general or spinal anesthesia, her technology has the potential to allow cervical cerclage to take place with a quick, in-office procedure.
Removing the need for an OR setting also cuts costs significantly. Hospital pricing data indicates that the traditional cervical cerclage procedure runs approximately $5,000 in Connecticut. Townsel anticipates her product would cost about one-fifth of that amount.
To move her product closer to market where it could potentially save the lives of unborn babies, Townsel applied to the University's I-Corps site, Accelerate UConn. She was among 11 applicants selected to participate in the entrepreneurship program's second funding cycle.
Helping UConn Entrepreneurs Get Started
Accelerate UConn was launched in 2015 and is funded through a grant from the NSF. Under the auspices of the Office of the Vice President for Research and the Connecticut Center for Entrepreneurship and Innovation (CCEI), Accelerate UConn aims to successfully advance more University technologies along the commercialization continuum.
"Providing this type of critical early-stage support to develop technologies that could potentially save lives is at the heart of Accelerate UConn's mission," says Jeff Seemann, UConn vice president for research. "Successfully commercializing more of the discoveries coming out of UConn not only benefits the University, but also has a positive impact on Connecticut's citizens and our state's continued economic development."
In the Accelerate UConn program, 'entrepreneurial leads' like Townsel spend much of their time conducting interviews with potential customers to evaluate their preconceptions about who their customers will be and why they would buy a future product. More often than not, would-be entrepreneurs realize their initial thoughts are off the mark.
"Discovering that your technology or business model does not resonate with potential customers is actually a positive outcome," says UConn professor of business and CCEI faculty director, Timothy B. Folta. "Getting this feedback early in the process, before spending a lot of time and money, lets the entrepreneur pivot, or reorient his or her venture strategy to prepare their next round of customer discovery."
Accelerate UConn also stresses the importance of a good team to propel technologies forward. Entrepreneurial Leads work with both an 'academic lead' – usually a faculty member with strong expertise in the field – and an industry mentor. The Accelerate UConn staff facilitates the team-building process for applicants who don't yet have a fully formed team.
Path to Commercialization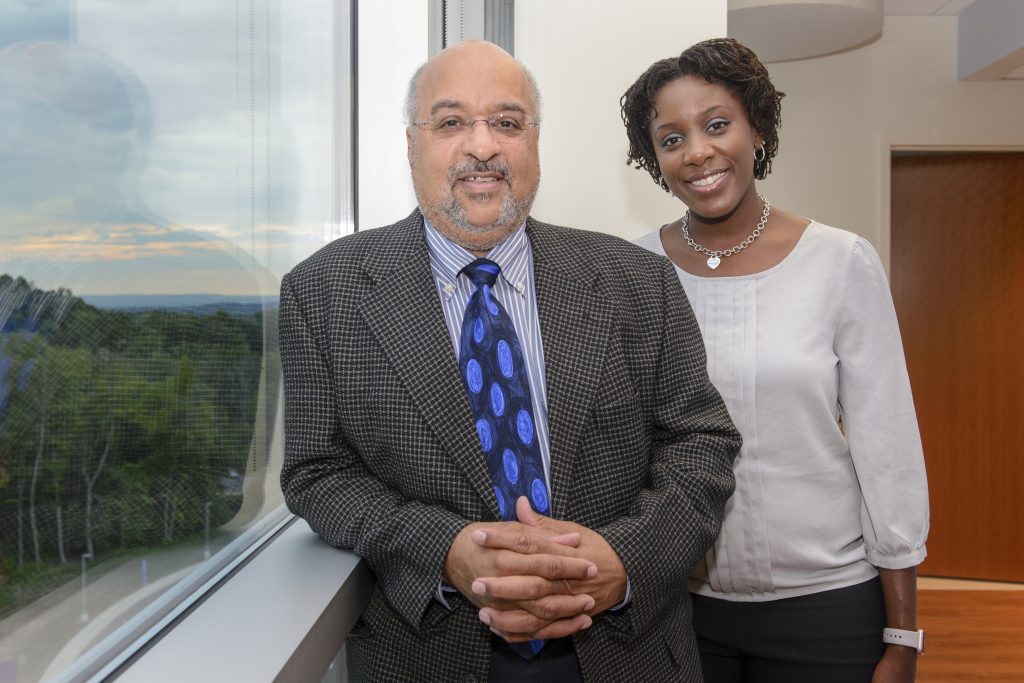 In Townsel's case, she had an existing relationship with an ideal academic lead, Dr. Winston Campbell, who is her program advisor and a renowned maternal-fetal medicine specialist at UConn Health. Accelerate UConn staff also helped her connect with an experienced entrepreneur named Wendy Davis. Davis is CEO of GestVision, a Yale startup developing diagnostic tests to identify patients with another pregnancy-related condition, preeclampsia.
The balanced team was crucial to her success, says Townsel.
"Both of my teammates have different knowledge and connections that I needed to transform this from an idea to a product," Townsel says. "Dr. Campbell has the clinical and research expertise; Wendy Davis knows how to move along the path of commercialization to get my product to the end user. I couldn't have done it without them."
During the rigorous six-week program, Townsel says, she learned a lot about starting a business, her potential clients, and herself.
"Before Accelerate UConn, I had an idea with no knowledge or skills to advance it. I was used to talking to patients, but I had never approached people or asked for feedback in this way before," she says. "Now I understand that I have a viable product, and I have a toolkit to move toward clinical use. I never viewed myself as an entrepreneur before, or thought this would be something I love."
Townsel has her sights set on some important milestones in her product's development: continuing to work on a prototype and seeking funding from internal and external sources to obtain patent protection. At the same time, she continues to treat expectant mothers and their unborn babies at UConn Health.
To date, approximately 20 teams have successfully completed the Accelerate UConn program. Applications are currently being accepted for the fall 2016 cycle, which begins in October. The deadline is Sept. 9. For more information and to access the application, go to www.accelerate.uconn.edu.