Gabriel Mesa has accomplished a lot in his young life. At 16, the math-loving Canton resident has a long list of awards and achievements to his credit that include three inventions, one of which earned him an invitation to a national science fair at the White House in April. By the time he graduates from high school in 2018, Mesa hopes to add one more accomplishment to the list: a patent.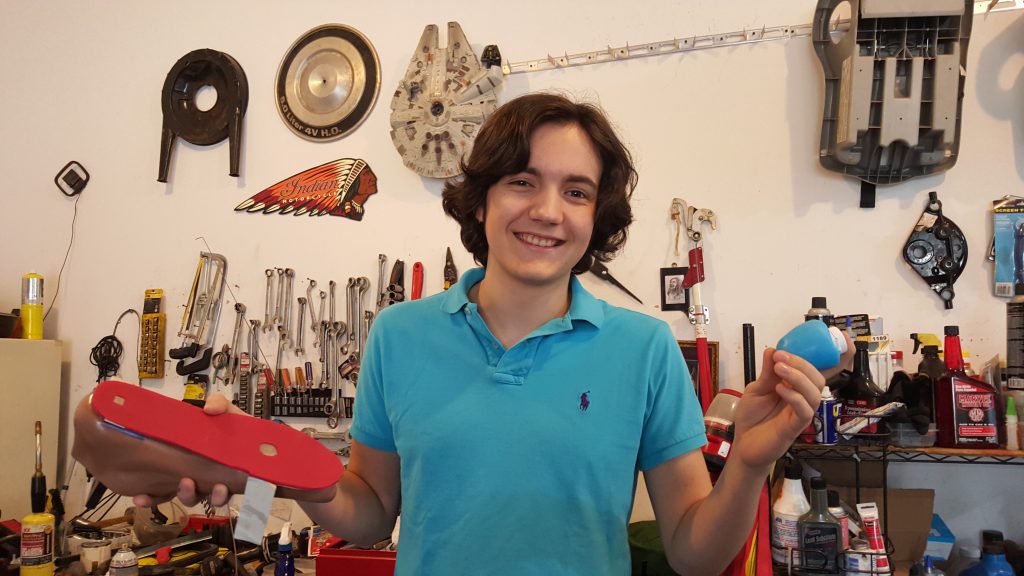 Since the fall of 2015, Mesa has been working with the Intellectual Property & Entrepreneurship Law Clinic at UConn School of Law to secure a patent for one of his inventions – a diabetic neuropathy aid called the Stimuped. With the help of clinic staff, students, and attorneys, he's been navigating the lengthy and complex application process. Those services, through a private attorney, would run about $400 an hour. The clinic provides them at no charge.
"I definitely could not have done this without the clinic," says Mesa, a junior at Canton High School.
His mom, Anne Hunter, agrees.
"The cost of the process is substantial and, if you're on your own, it can be cost-prohibitive," she says. "We would not have been able to get this level of assistance without the IP Law Clinic."
That's the kind of boost state lawmakers had in mind when they passed the legislation authorizing the creation of a center for entrepreneurship at UConn in 2007. The intellectual property clinic is part of a three-pronged strategy under the act that is ultimately intended to create jobs by providing the support and services needed by innovators to bring their ideas to market.
Mesa was taking part in a statewide invention expo at Gampel Pavilion when he learned of the IP Law Clinic. Representatives spoke at a presentation that he and his mom attended. His first application – an environmentally friendly battery – was turned down. He tried again with the Stimuped, and this time, he was successful.
Acceptance is based on a variety of criteria, including financial need and an evaluation of whether the invention is "new and novel" enough to pursue a patent. The United States Patent & Trademark Office (USPTO) receives hundreds of thousands of patent applications each year, says Linda Gebauer, director of the IP Law Clinic and an assistant clinical professor at UConn School of Law. The process typically takes from two to three years, from the time an application is accepted until the USPTO completes its examination. The preparation work to even get the application filed can take many months.
"It's not a trivial matter," Gebauer says. "To obtain a patent is complicated."
Eight years = 369 clients served,  159 trademarks registered, 23 patents issued
UConn Law was one of the six original law schools accepted into the USPTO Law School Certification Program, which was established in 2008. Partner schools are admitted to the program based on, among other things, the rigor of their intellectual property curriculum and the prominence of their IP faculty. The purpose of the program is train law students to pursue or "prosecute" trademark and patent applications before the USPTO on behalf of individuals and small business owners unable to afford the services of a private patent or trademark attorney.
Of the 40 schools now participating in the program, UConn is the only one in Connecticut. To date, the clinic has helped 369 clients, registered 159 trademarks, and had 23 patents issued.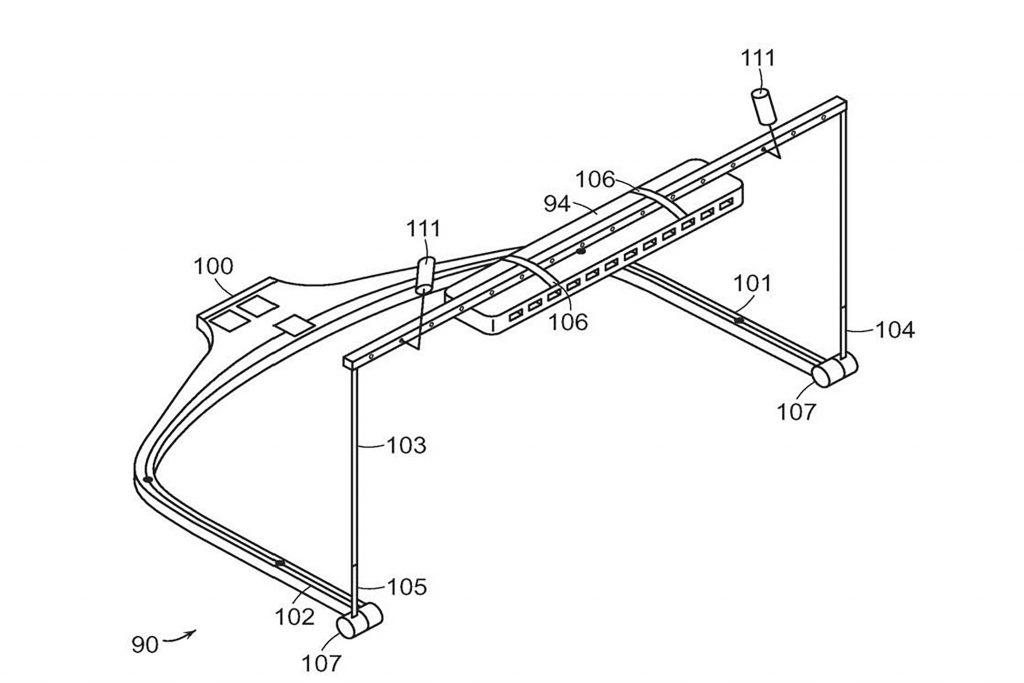 Inventor Joseph Paresi holds one of the more recent patents the clinic helped secure – a motorized harmonica holder, or rack, called the HAP 5.0. A Madison resident and electrician by trade, Paresi, 51, has played the guitar since his teen years and always found the traditional harmonica holders to be a nuisance. "I found they got in my way," he says. "The rack was in my face."
The HAP 5.0 has a small motor that allows the user to lower it to the chest when not in use. Paresi is also exploring therapeutic uses for the device. Harmonica Therapy, for example, has been found to help  people suffering from Chronic Obstructive Pulmonary Disease (COPD).
Other inventions for which the clinic has pursued patents run the gamut, says Gebauer, ranging from a portable support system for working on boats to a device for examining eye tissue in a non-invasive way. Others include a golf and sand bunker simulator, a combination bug umbrella and gazebo, and a walker promoting improved mobility on stairs and inclines.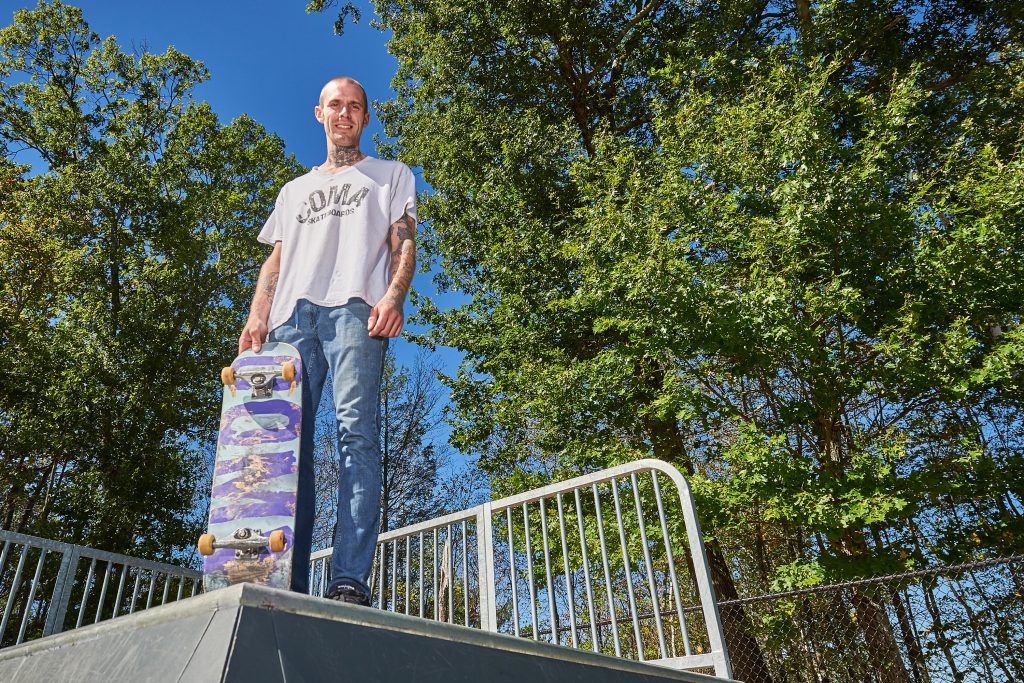 Brent Cordy, a 27-year-old Mansfield resident, is one of the clinic's trademark clients. He reached out to clinic staff after discovering a video on social media featuring skateboards that he hadn't made, bearing the name of his small detailing company, Coma Skateboards. Cordy traced the unauthorized users to Colorado, but had no luck getting them to stop using the name on his own. Feeling frustrated and helpless to prevent the theft of a brand he'd been building since he was a teenager, Cordy figured he was out of options. Then his wife heard about the clinic and urged him to call.
"I just had an overwhelming feeling of 'well, this is it'," Cordy says. "I really didn't know what to do."
Within four days, Cordy had a copy of a cease and desist letter in his inbox and, soon after, the infringement stopped. He is now working with the clinic to get the name of his company registered.
Hands-on 'First Chair' Experience for Students 
But the benefits of the clinic don't stop at clients. Third-year law student Chantelle Ankerman '17 (SJD) says the combination of classroom learning and hands-on experience in the IP Law Clinic have helped her immeasurably. The clinic operates like a very small law firm, and students generally begin working there in their second year.
As a USPTO partner, UConn Law students are granted limited recognition to practice before USPTO examiners. The hands-on or "First Chair" experience for students includes working with clients, writing legal opinions, and under the guidance of practicing attorneys, defending a client's application before USPTO examiners.
A career in intellectual property law was not what she had originally planned, says Ankerman, who has an undergraduate degree physiology and neurobiology and was set to attend UConn School of Medicine. She credits her husband, a lawyer who recognized her debating skills, with getting her to apply to law school. Though an untraditional track for a law student, she says her science background has been an asset to her work in the clinic, which includes writing provisional and non-provisional patent applications and patentability reports.
Says Ankerman, "I can't imagine starting my first day at a law firm and not having done this stuff."