Revamped Wolff New Venture Competition Surprises Audience with Two Medical-Device Champs
The late Thomas John Wolff '56 was an entrepreneur, and UConn School of Business alumnus, who ran five businesses simultaneously. He exemplified values like enthusiasm, mentorship and appreciation.
If he were here to witness the revised Wolff New Venture Competition on Sept. 29, his children said, there is no doubt he would have loved it all—especially the hard-fought, unexpected, first-place tie that crowned two UConn-led medical innovation teams as the champions.
The two winners were Protectiscope, a hands-free method to improve stethoscope hygiene in health-care settings, and LambdaVision, a protein-based retinal implant for the treatment of blinding degenerative eye diseases. Both startups will be able to take new steps on their path toward market readiness because of their victories and $15,000 in prize money.
"I was pretty excited. This award is exactly what we needed to propel forward with our next step," said Protectiscope inventor Elizabeth Pouya, who is in business with Ryan Cordier. "We're looking to speak with people in healthcare about what we should include in the design in order to make it attractive to buyers. It's really important to validate our market before we invest a lot in the development."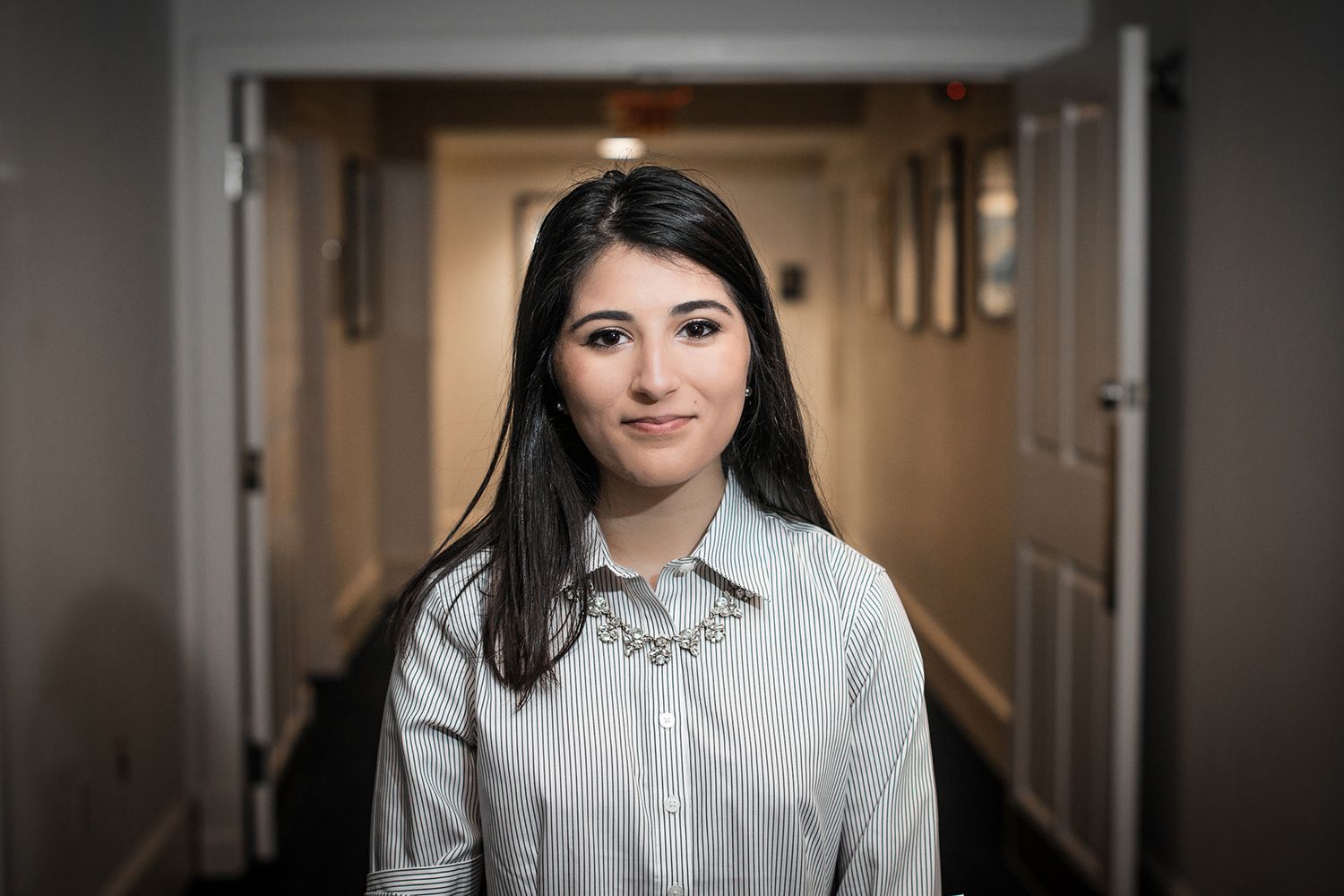 Protectiscope has accrued many new venture awards, including first-place in the School of Business' Innovation Quest (iQ) competition last spring, and a $10,000 award from CTNext earlier this fall. If field trials go well, ProtectiScope could potentially be available to the market in a year, she said.
LambdaVision, the treatment for eye diseases, was created by Dr. Nicole Wagner '07 (CLAS), '13 Ph.D. and Dr. Jordan Greco '10 (CLAS), '15 Ph.D.. They, too, have won numerous awards, including the Connecticut Innovations Commercialization & Acceleration Grant and they were selected to participate in the MassChallenge Accelerator Program, competing against teams from all over the world.
"We are thrilled to be named one of the recipients of the Wolff Prize, and will put the funds to good use," Wagner said. "We plan to use the funds to hire a regulatory consultant to help us to develop a regulatory strategy for FDA-approval of our technology.
"LambdaVision has been incredibly fortunate to have the continued support of UConn and the State of Connecticut, and we owe much of our success to the incredible mentors that have helped us to propel the research and development and commercialization of the technology," she said.
Although the Wolff competition has been in existence for 20 years, this year it was broadened to include competitors beyond the business school to teams from all university disciplines.
A vital part of the program was the work of 10 summer fellowship students who aided the teams in advancing their creative ideas. The program was implemented by the Connecticut Center for Entrepreneurship and Innovation (CCEI), and run by its managing director, Michelle Cote. It is similar to fellowships offered at other prestigious universities, including Harvard, Yale, Brown and Carnegie Mellon.
"Programs like the CCEI fellowship are great opportunities for students (and faculty) to learn about what it takes to run a business," Wagner said, while also praising event organizers Tim Folta (CCEI Faculty Director), Michelle Cote, and Rae Asselin (CCEI Administrative Support). "I would encourage more people to take advantage of the resources that are being offered throughout the State."
"Undergraduate students Audrey Gallo and Molly Zgoda were two of our interns this summer, and we couldn't have asked for better students to represent LambdaVision during the CCEI fellowship and again at the Wolff competition," she said. "Audrey delivered an excellent pitch, and was well prepared to answer the tough questions from the judges.  We are very lucky to have such driven and dedicated students be part of our team."
Other student participants included: Gazment Sosoli; Gopinath Rajadinakaran; Guanwei Tao; Yue Zhang.
Other top five finalists included: Eleframes, by Rosse Gates, a free-form interlocking easy-to-mount and remove photograph display; EVA Systems, by Joseph Warren and Dr. Penny Vlahos, a device that measures contaminant levels in the water with fast and consistent results; and Oral Fluid Dynamics, by Dr. Robert Kelly, a dental solution developed to solve medical problem of dry mouth through the use of an artificial salivary gland implanted into mouth of patient. They were selected for the Summer Fellowship Program from among 27 applicants.
The purpose of the event, organizers said, is to "lengthen the runway" of support for the university's top entrepreneurial teams to take them from concepts to market readiness. The CCEI program provided cash toward intern salaries, intensive training, professional accounting and attorney services and networking with the venture community.
Judges for the Wolff New Venture Competition included Konstantine Drakonaikis, director of Launch Capital; Kevin Bouley '80, president of NERAC; Mary Anne Rooke, founder and mentor at Rooke & Associates and fund manager for UConn's new Innovation Fund; and Patrick O'Neill, director of CT Innovations' Venture Team. Also, three entrepreneurs-in-residence volunteered their time to assist the startups through the Summer Fellowship Program, including Scott Drozd '02, Mario Leite '98 and Rick Kollmeyer '82.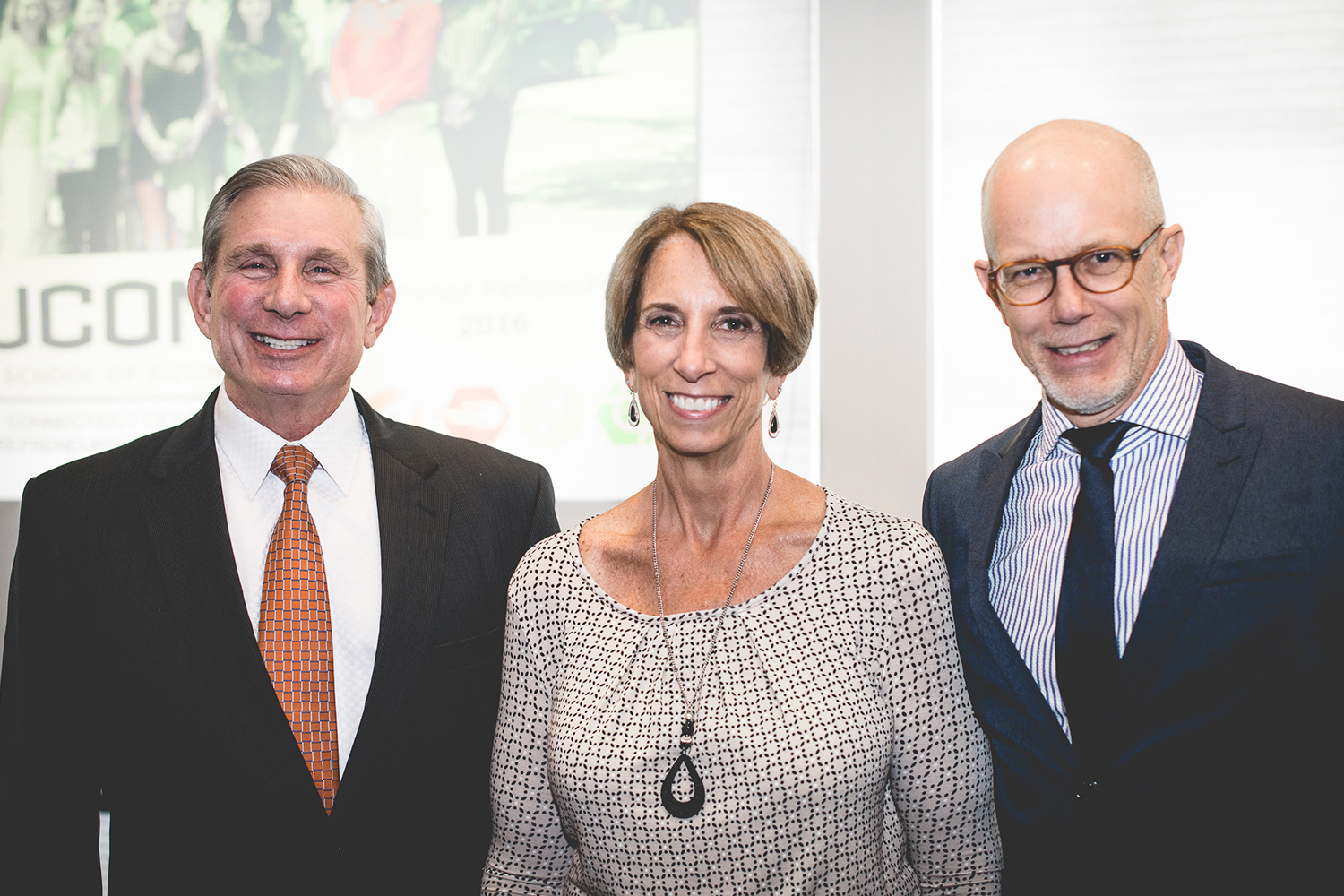 The Wolff Prize is endowed through the Thomas John and Bette Wolff Family Chair in Strategic Entrepreneurship, established to provide leadership for teaching and research in the field of strategic entrepreneurship. Thomas John Wolff was the former CEO of Wolff-Zackin Associates and Vernon Publishing Services. His insurance career made him one of the best known and widely respected. He was involved in many civic activities and authored columns on "How to Get the Most Out of Life." He was on the Board of the UConn Foundation and he endowed athletic scholarships. The entrepreneurial fund also bears the name of his wife, Bette.
Greg Wolff '75 (ED) and his sister Deb (Wolff) Davis '79 (CLAS) said their hope is that the winners will continue to be successful.
"This is an exciting day for our family," Greg Wolff said. "We have a lot of passion for both UConn and entrepreneurship. I want to thank UConn from the bottom of my heart for making this day happen. You're all winners here in what you've done. Entrepreneurship has fueled our country. I wish you all the best of luck."