For the fifth consecutive season, the No. 4 UConn field hockey team is the Big East champion. It is the 12th time since 2000 and 16th time overall that head coach Nancy Stevens has won the conference crown with the Huskies.
The Huskies (20-1, 7-0 Big East) defeated Liberty 3-2 on Sunday, after a tightly contested game at Howarth Field, a newly-constructed facility at Temple University in Philadelphia.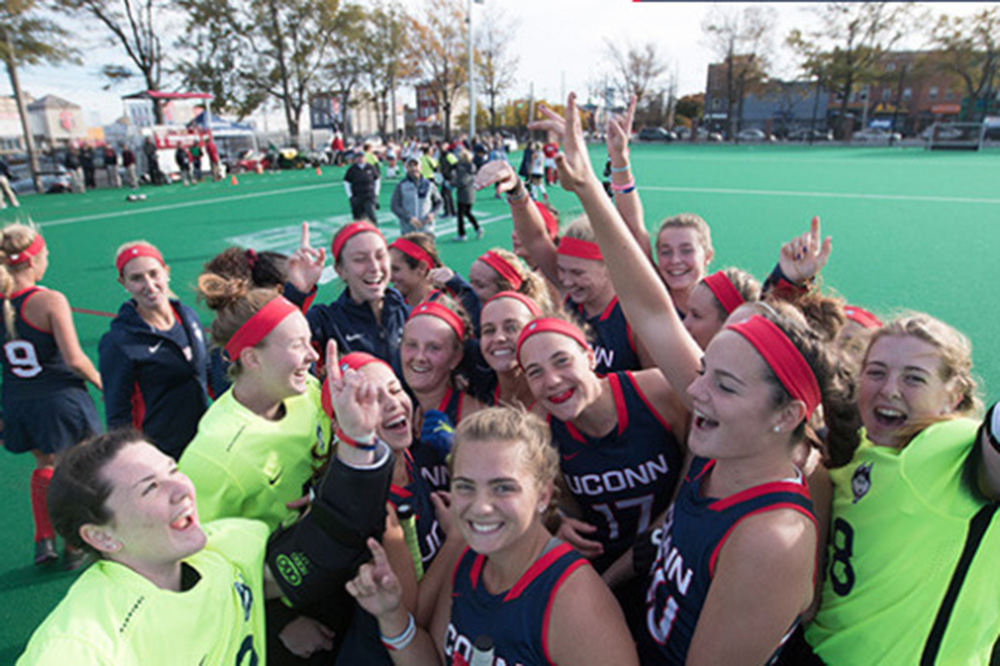 Junior Charlotte Veitner, senior Anna Middendorf, and sophomore Amanda Collins all notched goals for the Huskies in the win. Veitner, along with seniors Olivia Bolles and Darby Smith, recorded assists against the Flames.
Veitner, Collins, Boker, Middendorf, and junior Casey Umstead were all named to the All-Big East Tournament Team. With three goals and six points in wins over Temple and Liberty, Collins was awarded the Big East Tournament's Most Outstanding Player in the postgame ceremony.
Including Big East regular season titles, Stevens has now gathered 32 Big East championships in her 27 seasons at UConn. With the win, the Huskies earned an automatic bid in the NCAA Tournament.
The No. 4 UConn field hockey team will play Boston College in the first round of the NCAA Tournament. It will be the 28th NCAA Tournament appearance in UConn field hockey history.
The Huskies (20-1, 7-0 Big East) will take on the Eagles for the second time in two weeks, following a 4-3 overtime victory on Oct. 30. Game time on Saturday is 2 p.m. (ET) at Syracuse, N.Y.
Third-seeded Syracuse and Harvard will play in the early game on Saturday, and the winner will face the winner of the UConn-Boston College matchup on Sunday in the NCAA second round. Sunday's winner goes to the Final Four in Norfolk, Va.
UConn field hockey is one of three teams in the upcoming NCAA Tournament (UConn, Princeton, and Stanford) that earned NCAA APR academic awards last season.
The last time the Huskies played the opening rounds in Syracuse, N.Y. was 2013 – which resulted in UConn's third national championship.