Valentine's Day is her company's third biggest holiday, after Christmas and Easter, says Karen Munson '86 (CLAS), president of Munson's Chocolates.
Talking with UConn Magazine at her flagship store in Bolton, Conn., Munson quickly adds that this holiday is entirely different than any of the other holidays. "Valentine's Day is defined by its last-minute nature," she says. "It's unbelievably concentrated, basically the 12th to the 14th. The industry tells us that's because it's male-driven and post-Super Bowl."
Valentine's Day is defined by its last-minute nature. It's unbelievably concentrated, basically the 12th to the 14th. The industry tells us that's because it's male-driven and post-Super Bowl. — Karen Munson
Munson grew up in the biz. She says she was always a popular kid because she brought candy to school for every special occasion: "You could do that back then; it's something my daughter, who's now a freshman at UConn, was unable to experience." She says she feels incredible pride having her daughter be a third-generation Husky, and that it hit her recently while tailgating with her college roommates, who are still her best friends: "Our kids are there now!"
Munson still brings chocolates to all sorts of occasions. "I never lose sight of how special it is to show up at someone's house with a platter of chocolates." You have to watch your timing in some cases, though. "For the rest of dinner, you end up playing 'guess the chocolate center.'"
More from UConn Magazine's interview with Karen Munson:
What's likely to be your biggest seller this Valentine's Day?
Not long ago we were asked to participate in a Connecticut Chocolate Trail. And it gave us the idea to develop wine-infused chocolates with wines from the Connecticut Wine Trail. They sold out at Christmas and will be a big Valentine's Day hit as well.
But it will be the heart box. The heart box will always rule the holiday.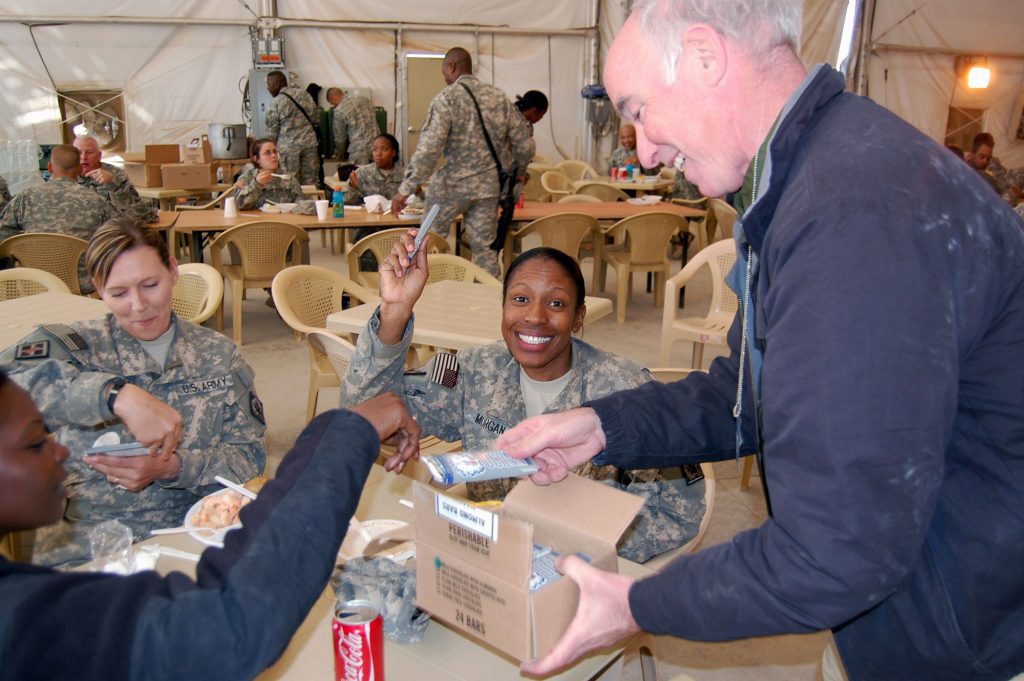 You've said that product development is a big piece of your job at the company. There is always something new in the stores. Where do you find your inspiration?
Unexpected places. One example is our camouflage Easter eggs and rabbits. Good friends of ours lost their son in the service and they became involved with the Wounded Warriors Project.
We decided to make camo eggs and bunnies and donate proceeds to the project. To say it took off would be an understatement. It went viral. People were driving hours to get these products. We try to create things that engage customers, and we put a tremendous amount of time and energy and passion into charitable giving.
Any notable product development missteps?
I like out-of-the-box thinking, but I'm also risk-averse. When we do a launch, if I'm at all on the fence we will definitely test it with customers first. When you come into the store, you may be asked if you would like to be involved in testing a product. We did that with a bourbon caramel and the response was not enthusiastic. You could just tell right away. So that never made it to market.
Why do you take such pains to use locally-sourced ingredients?
With the specialty food market growing so quickly, it's one of the things that makes Munson's unique. And it is important to me to have a connection to the community through the products we make. My grandparents were passionate about community. One of my biggest responsibilities is to honor their legacy. They made such tremendous sacrifices.
That's an awesome responsibility. I'm thinking inheriting the family business may be more difficult than it sounds?
Family business is not for the faint of heart. I used to have a sign in my office comparing it to natural childbirth! Work-life balance is even more challenging in a family business. My husband also works here, and my daughter grew up in a household where our latest creation was dessert. At dinner we would talk about: Does it need more peanut butter? Is it too sweet? What else can we do?
It's always been a big part of everything. After school I would go do deliveries with my dad.
My grandmother and I would talk about the business all the time, too. And we lived it in the same way. Thanksgiving was always hurry up and eat and then go convert the store for Christmas. The day after Valentine's Day, it was get ready for Easter.
But it can't be everything. It's a delicate balance.
Do you think your daughter will follow in your footsteps?
My daughter is studying psychology at UConn, which was my undergraduate major, too – psychology and business. She works here now. But we will give her time to figure out whatever it is she wants to do.
What does UConn mean to you?
UConn means a tremendous amount. We're very connected to the school. We officially license the UConn Husky bars, which we're extremely proud of. I have spoken at the School of Business and the Geno Auriemma Leadership Conference. Giving back to the University is extremely important to us; it is one of our most highly valued relationships.
My best friends are my roommates and friends from UConn. We were all tailgating recently and realized how wonderful it is that our kids were there with us now!
For more stories from UConn Magazine, go to the Magazine website: http://magazine.uconn.edu/.