It was called the "Circle Play" back in the days of the Jim Calhoun-coached UConn men's basketball teams. That best described the action when the Huskies ran it.
It might have been more accurate, however, to name it "Perpetual Motion," or "Catch Me If You Can," or perhaps, "Rip Hamilton's Bread and Butter."
Hamilton might well have had a thought or two about the Circle Play on Sunday at the Palace of Auburn Hills when his No. 32 was retired and raised to the rafters by the Detroit Pistons, and he became the first UConn men's basketball alum to be so honored by an NBA team.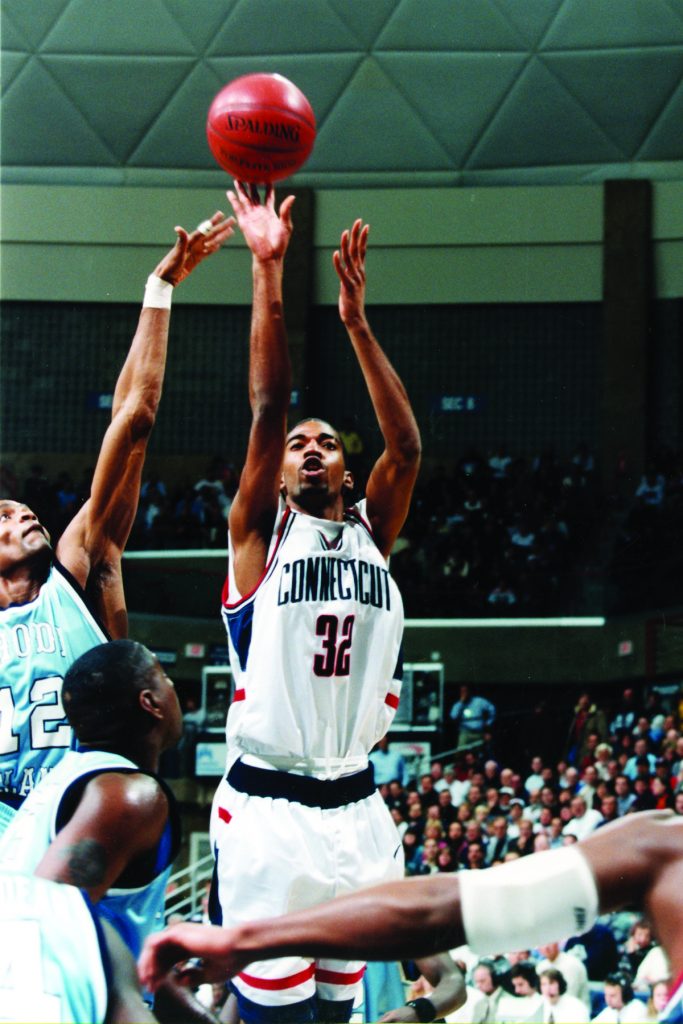 It was hardly complicated, as far as basketball plays are concerned, starting with the setup – Ricky Moore at the top, Kevin Freeman and Jake Voskuhl on the foul line, Khalid El-Amin and Hamilton down low on either side of the lane. Freeman and Voskuhl, arguably two of the best screen-setters in UConn basketball history, come to the same side of the lane and form an impenetrable wall. El-Amin comes around, but he's just the decoy. Hamilton follows, his defender blocked off, leaving him open for a midrange jumper. If it didn't work, the cutters simply ran it all the way through and set it up again.
Simple, but effective. Effective, because the Huskies ran it to perfection. Perfection, because more times than not, it ended with a UConn basket. It ended with a basket because Hamilton was such a superb mid-range shooter.
"I knew one thing for sure when we ran that play," Moore said. "No matter how many times we had to run it through, Rip was going to take the shot."
Nobody counted how many of the 2,036 points that Hamilton scored in his three years at UConn came off the Circle Play, but suffice to say, it was plenty. More important, however, was the tone it set for his career that carried over to the NBA.
Moving without the ball became a Hamilton trademark. He was constantly in motion. Defenders who drew the Hamilton assignment knew they were in for a long night of running. Eventually, he was going to slip away. Inevitably, that was the moment he was going to be open for that deadly midrange jumper. He made a championship career out of it – an NCAA championship career and an NBA championship career.
Coming out of Coatesville, Pa., Hamilton became the second all-time leading scorer in UConn history, was a two-time Big East Player of the Year, a two-time All-American, and the 1999 Final Four Most Outstanding Player. He led the Huskies to two Big East regular-season championships, two Big East Tournament championships, and UConn's first NCAA National Championship in 1999. His UConn No. 32 jersey hangs on the wall of Gampel Pavilion as part of the Huskies of Honor.
Sunday, another of Hamilton's No. 32 jerseys will be retired, this time to honor his accomplishments after his college career. If the foundation of Hamilton's basketball life was built at Coatesville High, then the structure was formed at UConn, and the NBA provided the furnishings.
Drafted seventh overall in 1999 by the Washington Wizards, Hamilton's NBA career blossomed when he got to the Pistons in 2002. He spent nine seasons in Detroit, leading the Pistons in scoring in eight of those years, totaling more than 11,000 points, including 51 in one 2006-07 game against the Knicks. During his time with the club, the Pistons made six straight trips to the Eastern Conference Finals, made the NBA Finals twice, and won the NBA Championship in 2004. He was named an NBA All-Star for three consecutive seasons.
In all, Hamilton had a 14-year NBA career with Washington, Detroit, and Chicago. In 921 games, he scored 15,708 points, averaging 17.1 points, 3.1 assists, and 3.1 rebounds. Always a popular teammate, Hamilton's involvement in the community is well-known in Motown.
UConn was well-represented at Hamilton's ceremony, which took place at halftime of Sunday's game against the Celtics. Athletic director David Benedict represented UConn athletics, Hall of Fame coach Jim Calhoun was there, as well as Hamilton's 1999 UConn teammates Freeman, Moore, El-Amin, and Voskuhl.
It was a celebration of Hamilton's career with the Pistons, but also a tribute to what got him there. Hamilton has never forgotten where he came from, and UConn has every right to feel proud of one of its own.
There's no chance they were going to let those former Huskies run the Circle play as Hamilton's number was raised to the rafters, even for old times' sake. But if they had, one thing is certain – Rip would take the shot.
Watch video of the jersey retirement ceremony:  https://www.youtube.com/watch?v=u50ALhIN9KU