One of UConn's largest and most heavily used academic buildings will soon undergo a major renovation to support the University's expanded enrollment and research in STEM fields (science, technology, engineering, and math).
The UConn Board of Trustees approved an $85 million budget Wednesday for Phase I and infrastructure improvements to the Edward V. Gant Building. The 285,000-square-foot complex is comprised of three wings and the plaza building with program space allocated to STEM-related academic programs, including Physics, Ecology and Evolutionary Biology, Molecular and Cell Biology, and Physiology and Neurobiology. The University Information Technology Services (UITS) data center will also remain and continue to be fully operational throughout the project renovation.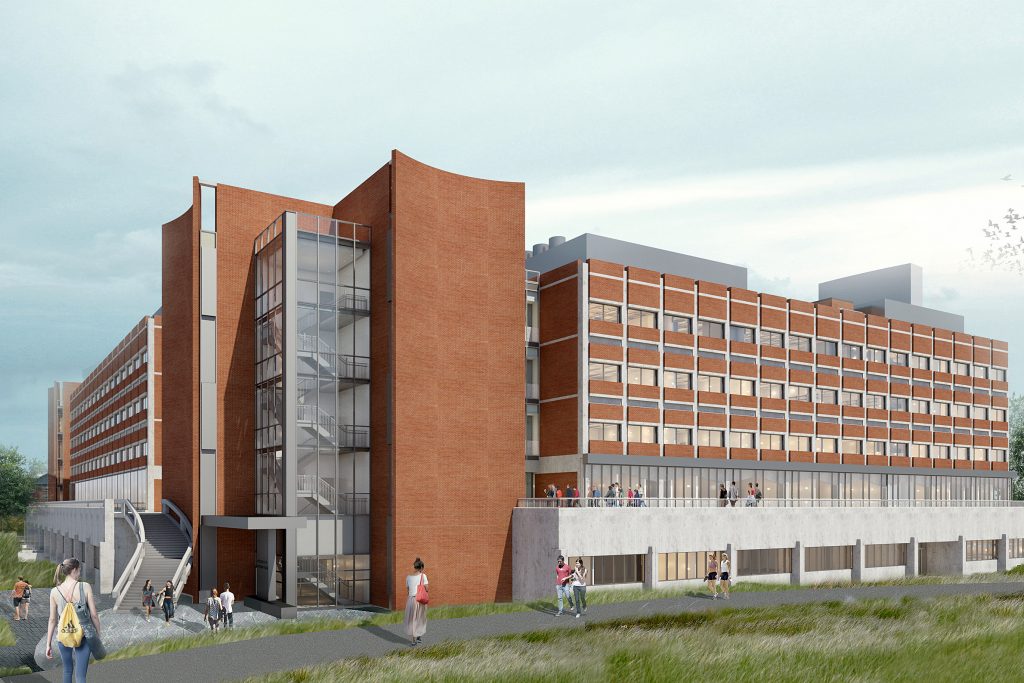 The renovations will include work to classrooms, lecture halls, teaching and research laboratories, faculty offices, and support space.
Also, the building's façade and roof will be reconstructed to better prevent leaks and save energy – with the added benefit that the building will look more attractive – while the outdoor plaza area will be improved to be more inviting and accessible to the campus community.
The U-shaped complex, which fronts North Eagleville and Auditorium Roads, was built in two phases, with the first portion opening in 1970 and the second in 1974. Some renovations took place in 2002 – primarily involving the building's exterior – and a small 16,000-square-foot addition was added.
Scott Jordan, UConn's executive vice president for administration and chief financial officer, told trustees on Wednesday that the newly approved renovations will be implemented in three phases so the building's occupants can be moved elsewhere while work is done on their area:
Phase 1: South wing and plaza area, with construction starting this summer and finishing in late fall 2018.
Phase 2: West wing, with construction starting in winter 2019 and finishing in summer 2020.
Phase 3: North wing, with construction starting in fall 2021 and tentatively finishing in summer 2022, depending on when the wing's occupants can be relocated to a new science building tentatively scheduled for completion in summer 2021.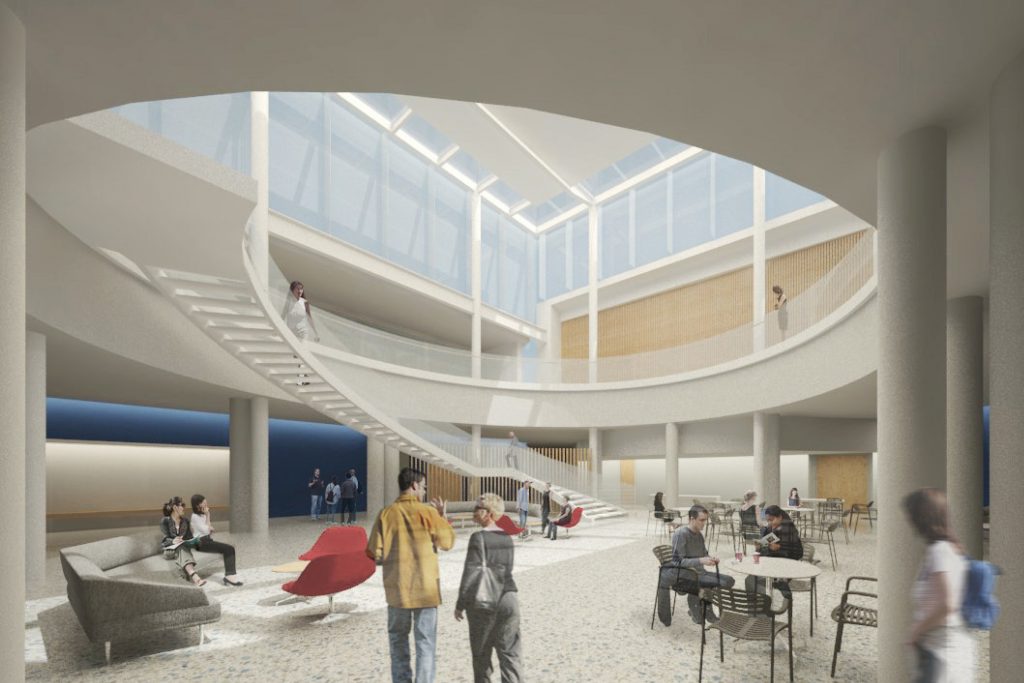 The $85 million Gant renovation cost is being covered with $81 million from a state bond package to support UConn's Next Generation Connecticut program, along with $4 million in University funds.
The Gant Building was named for Edward V. Gant, a longtime civil engineering professor at UConn who also served as acting president in 1969, 1972-73, and 1978-79. He died in 1985.
The Gant project was one of several capital improvement items reviewed and approved by trustees on Wednesday, including:
Renovating Koons Hall, with improvements to teaching and research labs, classrooms, offices, and the air-handling systems. The 1913-era building, located in the core campus, will become the new home of the Department of Allied Health Sciences after the renovation.
Creating a South Campus Commons in the area primarily between Whitney and Gilbert Roads. The space, bisected by a north-south pedestrian route called Academic Way, is adjacent to the new Student Recreation Center site and is conceived in UConn's Campus Master Plan as an area for passive recreation and outdoor events. The project includes adding new sidewalks, plantings, lighting, furnishings, and improved storm water drainage, during the summers of 2018 and 2019.
Transforming the first level of Homer Babbidge Library with new finishes and furniture, and improvements to technology and infrastructure to support electrical and data needs. The trustees' action Wednesday approved the start of design, and the project will come back to them again later for approvals on the construction costs. The work is anticipated to start in June 2017 and be completed in January 2018.