In a windowless kitchen on the third floor of UConn's Student Union, Rob Landolphi carefully plates a serving of his award-winning Vegan Crab Cakes. He then places it on a stainless steel table covered with an assortment of other dishes – a delectable array of established campus favorites and new offerings still in development.
It's almost lunchtime, and the aroma wafting up from the display makes it all the more inviting. Landolphi, who is culinary operations manager of campus dining services, encourages a pair of visitors to dig in. Besides the crab cakes, the offerings include a Buffalo Chicken Wrap, a Mediterranean Salmon Salad with Whole Grain Mustard, and Garlicky Cheesy Pull-Apart Bread – a made-to-be-shared comfort option introduced just six weeks earlier.
The excitement in his voice makes it plain how much Landolphi enjoys his job. It's a big one. He oversees the feeding of what amounts to a small city of about 30,000 people. The eight dining halls and assorted campus food venues under his direction – which include eight cafes, a food court, food truck, and Chuck & Augie's restaurant – serve well over 200,000 meals a week. Annually, his department serves up nearly 5.8 million meals on the Storrs campus alone, making UConn one of the largest dining plans in the country in terms of meals served, Landolphi says.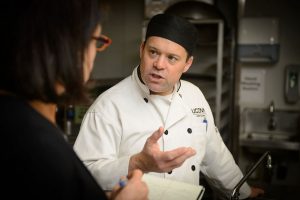 Coming up with dishes that appeal to the diverse palates and dietary needs of a campus community is a never-ending process that is equal parts art and science. In formulating recipes, Landolphi and his team factor in everything from sales and meal plan data to on- and off-campus culinary trends and feedback from student focus groups. Roughly 10 percent of students on the meal plan have food allergies, Landolphi says. One fifth of the 12,000 recipes on the campus menu are gluten free – enough to prompt Dining Services to open a gluten-free bakery last year. Ethnic dishes have been expanded for the growing number of international students.
"Kids are more discriminating about food than they have ever been before," Landolphi says. "We're all about seasonal, sustainable, locally sourced food that's as clean as possible; and bigger, bolder flavors."
In July, UConn's "Not So Crabby Vegan Crab Cakes with Remoulade Dressing" earned the top nationwide prize from the National Association of College & University Food Services. The previous year, its Sweet Potato Gnocchi was awarded a gold medal by NACUFS for Best Local Food Recipe.
Other foodie favorites include regular and vegan versions of Pad Thai Sandwich at the Benton café, and two sandwiches sold at coffee shops around campus – the Roast Beef Focaccia with Caramelized Onions and Gorgonzola, and Trumbull Turkey, a combination of smoked turkey, bacon, and avocado.
Students often choose comfort and convenience over fancy, however, says Landolphi, which explains why three dishes in that category hold the top three spots on the Top Ten list. Mac & Cheese  – No. 1 on the list – is perhaps UConn's best known comfort food. Chicken Parmesan is second on the list, followed by the Buffalo Chicken Wrap. South Dining Hall Manager Steve Anthony says he sells about 800 Buffalo Chicken Wraps a night at the Grab & Go there. That's about 98 percent of the sandwiches he serves in that location, he says. The option comes with a drink, chips, and a cookie.
"Students tell me it's great for when they want to stay in their rooms and study," says Anthony.
Other favorites include:

Cubano Sandwich at Gelfenbien

Crepe Bar at North Dining Hall

Chicken Apple Chipotle Burger at One Plate, Two Plates
Like other campuses around the country, UConn has greatly improved the quality of its food over the years, turning a service once viewed as a necessity into an amenity. The days of cafeteria menus featuring liver and onions, tuna casserole, and chicken à la king – three dishes Landolphi found on some old UConn menus – are long gone.
We're all about seasonal, sustainable, locally sourced food that's as clean as possible; and bigger, bolder flavors. — Rob Landolphi
About eight years ago, UConn upgraded its Mac & Cheese recipe, swapping out the old powdered cheese for organic milk, butter, and Cabot cheese, Landolphi says. This fall, the food truck started serving breakfast and lunch instead of lunch and dinner. New dishes on the truck include a Pulled Pork Skillet with home fries, peppers, onion, and fried eggs; and Poutine, a Canadian delicacy that is essentially French fries doused in beef gravy and cheese curds. Still in development: pasta and pesto croquettes.
Landolphi continues to push boundaries. He is part of a nationwide effort to expand the number of plant-based dishes on campus menus. As a member of Menus for Change, UConn has committed to increase the number of fish- and plant-based offerings by 20 percent by the end of spring semester, while reducing the amount of meat on the menu by 10 percent. Landolphi is working to perfect a blended burger being undertaken by the group that adds mushrooms to reduce fat.
Still, students like what they like and many of their favorites are not in the Top Ten. At South Dining Hall, chicken tenders and wings are also hot, Anthony says.
"I love the jalapeno poppers whenever I go to Northwest [dining hall]," says Courtney Dawless '18 (ENG), between bites of her lunch at Putnam Refectory.
Keyion Dixon '20 (ED), enjoys a bowl of Fruity Pebbles every night after studying.
"It's fast and easy," he says.
"Last night, I had French toast for dinner," adds Sara Nelson '18 (ENG). "Sometimes I have pancakes. It's college. Anything goes."