UConn Health hosted 150 high school student science standouts from thirty-five schools across Connecticut at the annual 54th Connecticut Regional Junior Science and Humanities Symposium (CT-JSHS). The CT Area Health Education Center (AHEC) of UConn Health organized the March 11 event.
At the symposium students presented their own original research to compete for prizes including scholarships and cash awards. Research topics ranged from Zika virus to the benefits of a low-cost tattoo-based biosensor for atherosclerosis self-diagnosis. The five top finishers earned an expense-paid trip to the upcoming National JSHS meeting in San Diego, CA this April to present their research.
The first place CT-JSHS finisher is Shobhita Sundaram of Greenwich High School. Her research focused on "Detection of Premalignant Pancreatic Cancer via Computational Analysis of Serum Proteomic Profiles." She has been offered the University of Connecticut's Junior Science and Humanities Symposium Scholarship, which is a half-scholarship for in-state tuition for four years, thanks to UConn's Office of Undergraduate Admissions.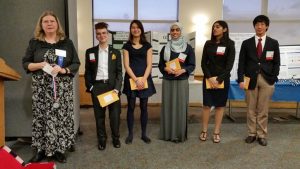 "JSHS brings some amazing young minds to campus and helps prepare them for a career in science by giving them experiences comparable to those of professionals in the field," says Joy Erickson, director of CT-JSHS.
As part of the symposium, all students toured UConn Health's research labs, participated in hands-on science activities, and learned more about careers in health and research. The keynote speaker at the event was Julia Oh, PhD, of The Jackson Laboratory for Genomic Medicine based on the UConn Health campus, who lectured on the human microbiome's impact on human health and disease.
"The UConn Health community is delighted to have organized this top-notch symposium," says Dr. Bruce Gould, director of CT AHEC. "It's an incredible forum for the state's high school learners, to share their ideas, research and accomplishments. Faculty, students and staff of the UConn Graduate School, the UConn School of Medicine and the UConn School of Dental Medicine pitched in, including many of CT AHEC's Urban Health Scholars."
Other UConn campus participants included the College of Liberal Arts and Sciences and its School of Engineering. Also, several of the CT AHEC Network's AmeriCorps members volunteered.
JSHS is organized by the Academy of Applied Sciences with the sponsorship of the U.S. Army, Navy and Air Force to encourage young people to pursue careers in STEM (science, technology, engineering and math) and to provide recognition for their achievements.
About 10,000 secondary students nationwide participate through 47 university-based regional symposiums.
Participating Connecticut High Schools
Academy of Aerospace & Engineering, Windsor, CT
Amity Regional High School, Woodbridge, CT
Bridgeport Regional Aquaculture Science & Technology Education Center, Bridgeport, CT
Coginchaug Regional High School, Durham, CT
Common Ground High School, New Haven, CT
Conard High School, West Hartford, CT
Darien High School, Darien, CT
East Hartford High School, East Hartford, CT
Engineering & Science University Magnet School, Hamden, CT
Fairfield Ludlowe High School, Fairfield, CT
Glastonbury High School, Glastonbury, CT
Greater Hartford Academy of Mathematics & Science, Windsor, CT
Greens Farms Academy, Westport, CT
Greenwich High School, Greenwich, CT
Haddam-Killingworth High School, Higganum, CT
Hall High School, West Hartford, CT
Hamden Hall Country Day School, Hamden, CT
Hamden High School, Hamden, CT
Highville Change Academy, New Haven, CT
James Hillhouse High School, New Haven, CT
Joel Barlow High School, Redding, CT
Jonathan Law High School, Milford, CT
Killingly High School, Dayville, CT
Manchester High School, Manchester, CT
Mercy High School, Middletown, CT
Newington High School, Newington, CT
Old Saybrook High School, Old Saybrook, CT
RHAM High School, Hebron, CT
Ridgefield High School, Ridgefield, CT
Shelton High School, Shelton, CT
Simsbury High School, Simsbury, CT
South Windsor High School, South Windsor, CT
Staples High School, Westport, CT
Tourtellotte Memorial High School, North Grosvenordale, CT
Wamogo Regional High School, Litchfield, CT
Yale Peabody Museum of Natural History Evolutions Program, New Haven, CT
For more information visit www.ctjshs.uconn.edu and www.jshs.org.