Sudden Infant Death Syndrome can strike fear in the heart of a new parent – something Olivia Briggs '17 (NUR) knows well. When her nephew was a newborn, her sister obsessively bounced in and out of his room to make sure he was still breathing, she recalls. Not long before, a friend of her sister's lost her baby to SIDS, the cause of 4,000 sleeping-related deaths annually in the United States, according to the American SIDS Institute.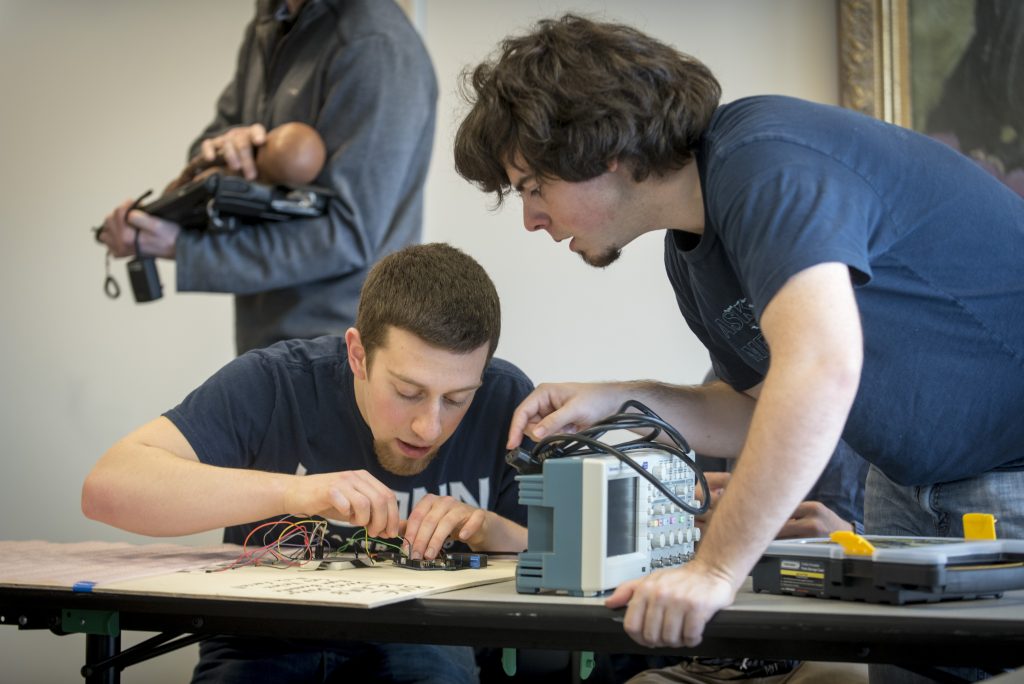 Briggs' experience is the inspiration for the Baby Breathing Bed, a sensor-equipped mattress designed to detect impaired breathing in infants and alert parents in time to prevent SIDS. The innovation is one of 21 concepts being presented by teams of UConn seniors on April 19, when the School of Nursing is scheduled to hold its annual Healthcare Innovation "Shark Tank" event, which is part of the school's ATHENA Research Conference.
"I came up with the idea and brought it to my group thinking that maybe this would be something that parents could use, even if only for peace of mind," says Briggs. "It might be enough of a comfort for parents just knowing that their child is on this bed and if something were to go wrong, they would get an alert, instead of having to go into the room all the time and check on the infant."
Last spring, the then third-year nursing students began working in a range of clinical settings. They were organized into teams and asked to come up with an innovation to address a healthcare need they were encountering and that had broad, real-world applicability, says Professor Christine Meehan, who with Professor Anna Bourgault co-directs the Healthcare Innovation Program.
"We are always amazed at the healthcare opportunities these students come up with," says Meehan, a School of Nursing alumna, adjunct professor, healthcare entrepreneur, and member of the UConn Consortium Board for Innovation and Entrepreneurship.
The competition is based on the well-known television reality show and grew out of a course in nursing leadership. Other concepts being presented this year include a home pregnancy blood test, a multi-functional electronic medical alert bracelet, a device to extract pills from difficult-to-open blister packaging, and a reusable over-the-bed awning that allows patients to sleep better.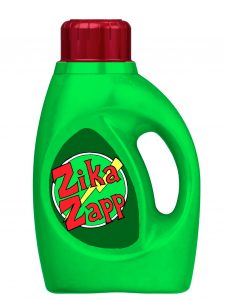 Yet another concept,  Zika Zapp, is an insect repellent-laced laundry detergent designed to combat the spread of Zika and other mosquito-borne viruses. The idea was devised by a group of students who learned about the Zika epidemic during a semester abroad in Puerto Rico. Mosquitoes and bugs are ever-present in the tropical, humid environment, explains a student on that team, Haley Malin '17 (NUR).
"That was definitely on our minds, and our professor suggested we do something on Zika because it's relevant," she says.
The concept is one of several that involved students from different disciplines working together. To formulate the insect repellent-laced detergent for Zika Zapp, Malin and her team enlisted the assistance of a junior in the chemistry department, while the students working on the Baby Breathing Bed worked with students from the biomedical engineering department.
"We ordered some sensors and started testing to see if they could detect the motion of breathing," says Derek Dodge '17 (ENG), a member of the team working on the Baby Breathing Bed. "Basically, we experimented, which is what engineers do, to see if we could find a sensor that would work for us."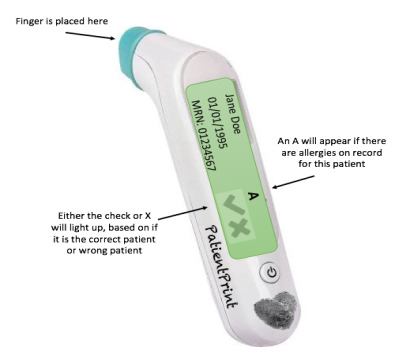 Lauren LeBlanc '17 (NUR) is part of a team behind the Patient Print, an electronic patient identification device.
The device resembles a thermometer like the ones used to scan a patient's temperature, according to a rendering created by the team. Using the same technology as a smart phone, the device will be programmed to read finger prints and used primarily to ensure that patients are receiving the correct medication.
"When you scan the patient's fingerprint, their full name would come up as well as their medical record number, " says LeBlanc. "If they have an allergy, an 'A' would appear. A green light would come on if the medication you're about to give the patient matches up with their identity."
Besides their concepts, the teams each developed a business plan and, in recent weeks, have been hard at work preparing PowerPoint presentations and practicing for the contest. Each team has 10 minutes to present their concept, with members taking turns presenting various aspects of their innovation.
Judges include School of Nursing alumni, industry leaders, entrepreneurs, and assorted University innovation and entrepreneurship development entities. The first- and second-place winners of the competition will receive certificates of recognition from the dean and a cash award.
The competition is not solely about creating a new product, says E. Carol Polifroni, dean of the School of Nursing. Innovation can lead to system redesign, new processes, and new ways of assessing a situation, she says.
Briggs, whose experiences inspired the Baby Breathing Bed concept, says the project has been a valuable one for her. Team work and collaboration are a big part of nursing, she says, and she will put her expanded knowledge about SIDS to use doing her capstone work in the labor and delivery department at Hartford Hospital.
"This new research can be incorporated into the education I provide my patients," she says.