Within a day of commencement festivities wrapping up, renovation work at Homer Babbidge Library had already begun. The library is open as usual, but don't be surprised by the sound of chattering jack hammers when you walk through the front door.
The transformation of Level 1 is expected to be complete by August 15. Students returning in the fall will find an open floor plan with moveable furniture, ample space for working in groups, and all sorts of high-tech tools that support both traditional and digital learning and collaboration.
The changes adapt to an evolution in academic libraries driven by the surge in digitized information and the changing way campus communities use library facilities. — Martha Bedard
The work is the first phase of a five-year, $20 million upgrade of the roughly  395,000 square-foot building, says Martha Bedard, vice provost of the library. All but a small section of Level 1 will be completed over the summer, with a final section on the east side of that floor expected to be finished in October.
"What we want to accomplish as a library, our vision, is to quite simply be the knowledge and inspiration hub of the campus," says Bedard. "While the collection is important and will still stay a very important part of this facility, we are transforming the facility itself to promote more partnership, more collaboration, and more effective ways for students to study and work together."
During a recent visit, Bedard and assistant vice provost Holly Jeffcoat walked through the floor plans, excitedly explaining the features and high-tech amenities planned for Level 1. These include writeable surfaces, maker spaces equipped with 3-D printers and laser cutters, a data visualization lab, a small recording studio, and a collaborative space dubbed Greenhouse Studios, a partnership of the library, Digital Media and Design, and The Humanities Institute, where faculty and students are teamed up with librarians, information technology specialists, web developers, and other experts to develop ideas.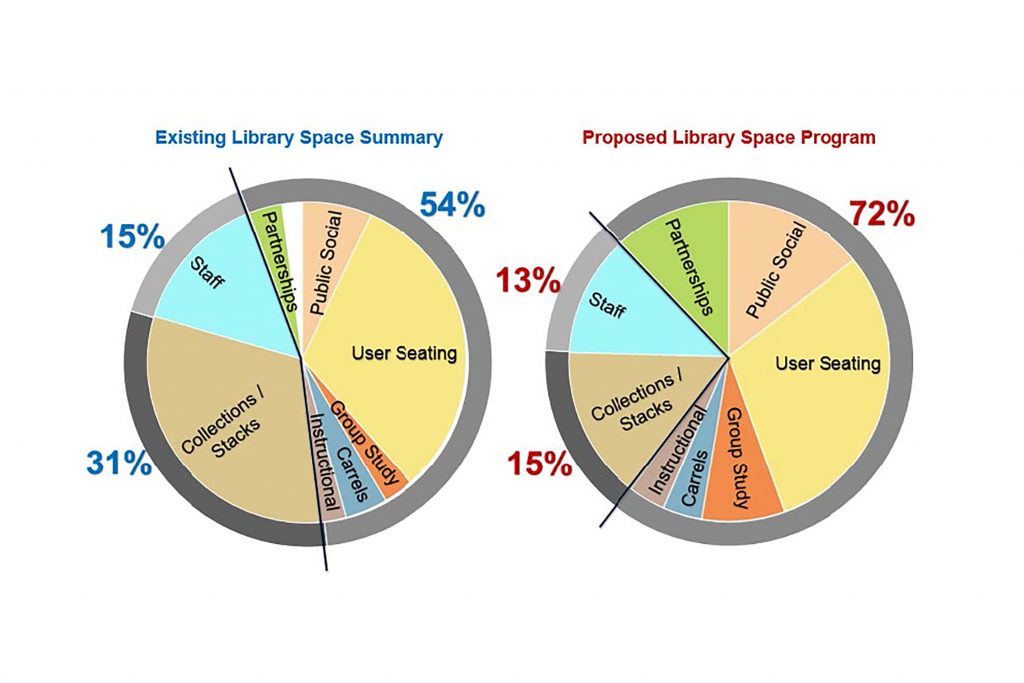 Furniture, some of which dates back to the opening of the library in 1978, is being refreshed or replaced with an eye toward comfort and flexibility of use. Lobby areas near elevators and stairs will also get new furnishings and carpet, and the Fairfield entrance to the building will be given a warmer, more welcoming look. Stacks are being moved away from windows to the center of the floor to let in more light and window views. The library's center for writing and quantitative tutoring will be moved to Level 2, and the University Information Technology Services Help Center will be moved to Level 1 of the library from the Gant Science Complex.
The changes reflect an evolution in academic libraries driven by the surge in digitized information and the changing way campus communities use library facilities. UConn is one of many campus libraries around the nation undergoing updates and renovations. Georgia Tech, for example, is moving most of its print books from its library to an off-site facility to make room for maker spaces and collaborative areas consistent with its tech-focused mission. Massachusetts Institute of Technology is moving in that same direction, Bedard says.
UConn is taking a slightly different approach as it reconfigures its collection to make room for communal spaces – one that plays up technology and digital assets while promoting its tradition of strong programs in the humanities. Large runs of print journals, for example, are being moved to compact storage units on the lower levels of the building while monographs are being displayed more prominently according to subject themes on each floor. The concept is already taking shape on Level 4 of Babbidge. Dubbed the Heritage Floor, the Humanities Institute is now based there. Later phases of the renovation call for a new conference and symposium room on that floor, as well as carrels and common areas for graduate students in the humanities.
"So there will be a large meeting space up there, but it will also be surrounded by books and materials that represent related areas of study, such as English literature and history," says Bedard.
Relocating the University Information Technology Services Help Center to Level 1 recognizes its importance to library users and to the University as a whole. In addition to providing IT support to the wider campus, center and library staff will now be able to work together to oversee library computers and provide support to students and faculty using those and other  technology in the building, Bedard says. Babbidge is also a central switching hub for IT data on campus. Part of the work on the building includes a $4 million electrical upgrade.
Both space and technology at the library are already heavily used. Reservations are required to use meeting and instruction rooms. During the academic year, an estimated 5,000 to 6,000 people use the library per day, Bedard says, with usage jumping to an estimated 12,000 people daily during exams.
During the renovations, users should expect disruptions. Instruction rooms will be off-line. The public computers normally on Level 1 have been relocated temporarily in other parts of the building.
"We hope people will be patient and tolerant," says Bedard, "because the result at the end of the summer will be worth it. There is almost no way to avoid the noise, but we are trying our best to stage things during the summer intersession to keep the disruptions to a minimum."
Follow the progress of the renovations: blogs.lib.uconn.edu/babbidgebuildingblog/